Around the World with Lynn Gilmartin: Samba, Soccer and Poker in Sao Paulo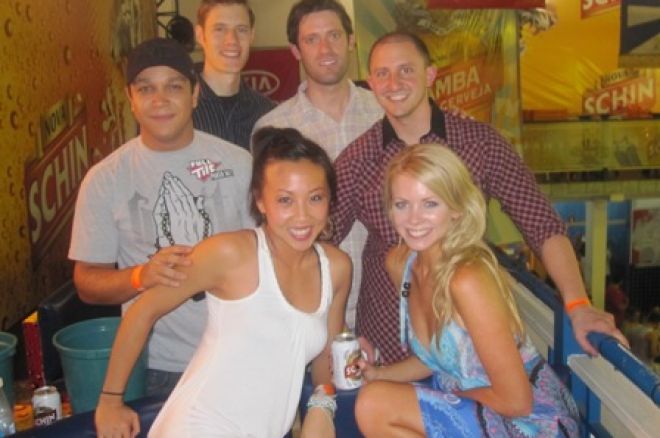 I knew I was in for a good time at the first stop of the PokerStars.net Latin American Poker Tour's fourth season when I found out it was in Sao Paulo, Brazil. Many of my friends are from that city and they have raved on for as long as I've known them about how amazing it is. Now I know why!
We've all heard the reputation Brazil has for its gorgeous women, and to prove this theory correct, upon first arrival you're greeted with some of the most stunning female immigration officers. There was one in particular who was so gorgeous that when I brought her up that night to other friends who traveled separately they knew exactly who I was talking about. On our first night a local friend, Sergio Prado, who so kindly supplied all of my pre-game tips on Sao Paulo, took the PokerNews video team out to my now-favorite area in Sao Paulo, Vila Madelena, for our first round of Caipirinhas. We had the traditional kind with Cachaça, a Brazilian liquor, and boy-oh-boy were they strong. I could only handle one and it took us about an hour to finish!
That night was Team PokerStars Pro Jose Ignacio Barbero's birthday, so we all ended up at a samba club nearby. It was only a Wednesday night, but the club was still full with the most amazing dancers decked out in the most extravagant costumes shaking their hips all over the stage. Full Tilt Poker Red Pro, and local resident, Felipe "Mojave" Ramos organized a VIP table for Nacho's birthday with fellow Team PokerStars Pro's Angel Guillen, Christian De Leon and the latest addition to Team PokerStars Online Jorge 'Baalim' Limon. It was here that the stunning women continued to appear, which you can see a sample of thanks to Felipe's tweet.
The next day was our first day of shooting around the city. It got off to a very hot and sweaty start at our first few sights until the biggest, most unexpected storm came bucketing down around us. This was when we learned all about Sao Paulo's unreliable and extreme weather trend during the summer. After braving the rain for half, and realizing it just wasn't going anywhere, we prematurely wrapped up our video and jumped in the first cab we could find for what was supposed to be a 15-minute ride home. Three-hours later we pulled into our hotel. Three of the longest and possibly most frustrating hours of my life! Sao Paulo traffic is like no other, and then add flooded roads on top of the already stand-still rush hour, and you have yourself a three-hour journey. Once we got back to the hotel it was straight into the party dress for the Welcome Party and round two of the Caipirinhas, but this time just with vodka!
The next day was a historic one for the PokerStars.net LAPT with the Main Event attracting 536 players — the most we've ever seen in a live poker tournament south of the border — setting the fourth season off to a brilliant start. Despite having a field (and final table) of mostly Brazilians, the locals still couldn't keep the title on their home turf and it was Chilean Alex Manzano who pocketed the R$615,000 and prestigious trophy.
One of the most celebrated events in all of Latin America is football (or soccer). Our very own Kristy Arnett also shares this passion, so I took her, Felipe Ramos and Team PokerStars Pro Andre Akkari to a local park for a "soccer-off." Kristy absolutely blew us away with this little maneuver she pulled, rightfully winning the competition.
The next most-celebrated event in Brazil is the world-famous Carnaval, and again Akkari and Ramos took the PokerNews video team (pictured above) to samba school, Império de Casa Verde, to watch (and take part in) a practice session for one of the participating schools in the upcoming competition. This was definitely one of the most incredible experiences of my life. I can't even begin to imagine what the "Main Event" is like, and all I know is that this addition has been made to my bucket list. That night was topped off with an early-morning visit to Joakins, where I can promise, you will find the best burgers in all of Sao Paulo.
I'm sure most of you will enjoy this edition of Calling the Clock. You really can't get much hotter than ESPN Argentina's LAPT Hostess Luli Fernandez. If you've never heard of her, then do yourself a favor and type her name into Google Images. You're welcome.
Lastly, if all of that is not enough of a nutshell of our fabulous week in Sao Paulo, Brazil, then here's even more of our highlights wrapped into less than 5 minutes.
Be sure to follow us on Twitter for up-to-the-minute news.