Around the World with Lynn Gilmartin: Pumped for Sao Paulo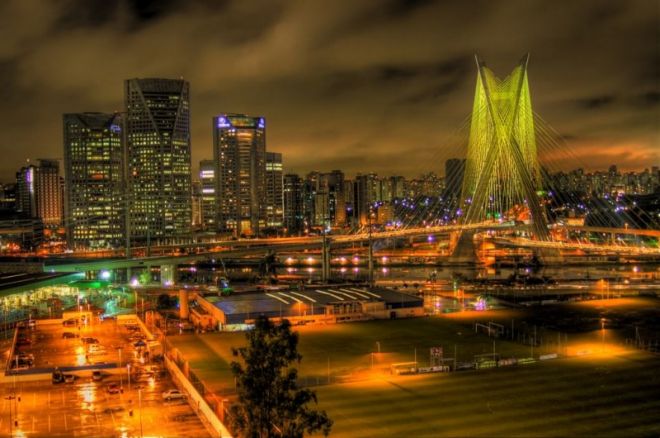 The PokerStars.net Latin American Poker Tour is returning for its fourth season next week, starting in Brazil's concrete jungle, Sao Paulo. The LAPT has been to Brazil before (how could we forget the stunning Florianolpolis last August?) but never to Brazil's largest and most cosmopolitan city, and never in the heart of summer, which is just perfect timing for a famed Caipirinha in one of Brazil's many bars. This will be mine and Kristy Arnett's first time to grace the paths of Sao Paulo, so as always, we're beaming with excitement to get there and start working on more PokerNews videos. I even hear that Paulistanos (residents of Sao Paulo) love a good barbeque - I might feel right at home, in that case!
The Vitals
Language: Portuguese
Currency: Real (R$). R$1 = USD $0.60
Weather: A perfect 82ºF average
Legal Age: 18 years and up can drink and gamble
The Venue
The host venue of the LAPT is the Sheraton WTC São Paulo, the largest convention space in all of Latin America, so it's due to hold plenty of eager players ready to cough up 5,000 BRL on February 17th for the kick off to the Main Event. With almost 300 hotel rooms and situated in the heart of the city, it's the perfect start to another successful season of the PokerStars.net Latin American Poker Tour.
Where to Go, What to See
As I've never been before, I enlisted the help of a dear friend, PokerStars Blogger and resident of Sao Paulo, Sergio Prado, to guide me around his fabulous city. Of course, my most important query was, where is the best place to have a Caipirinha? According to Sergio, "there are two famous neighborhoods near Sheraton. There is Vila Olímpia, with intense nightlife on the clubs, more focused on the playboys and high society people, and there is Vila Madalena, which is kind of like SoHo, more hippie, more relaxed vibe, with a lot of bars." So as soon as I arrive, you will find me at Vila Madalena sipping on that lime-flavored goodness with my Brazilian friends.
After the success of the football video above, which we made in Florianopolis last year, I'll be sure to take some of the boys for a rematch to the Ibirapuera Park, which Sergio calls "the biggest one in town, our little version of the Central Park."
Keeping to the nearby sights includes one that you really can't miss "if you open the window of your Sheraton room, you'll see Estaiada Bridge, a bridge that's becoming a landmark here in Sao Paulo." By taking a look at the main picture above, you will understand why. Last, you might recognize Paulista Avenue if you've seen any postcards of Sao Paulo. The 2.8-kilometre thoroughfare atop of the highest point in Sao Paulo is one of the most important avenues in this city for financial institutions and retail businesses, and is home to Latin America's most comprehensive fine-art museum, MASP. It's easy to make your way to Paulista Avenue on a subway line and various bus routes serving this most expensive real estate area in all of Latin America.
Living with a severe shopping addiction means that the part I'm most excited about is sneaking off during dinner break to the giant shopping malls all within one mile of the venue!
For a real taste of what to expect in Sao Paulo, check out the following video with all of our PokerNews highlights from Florianopolis last season:
To stay up to date with all of our live coverage throughout the PokerStars.net Latin American Poker Tour, follow us @PokerNews_Live on Twitter!