The Nightly Turbo: Federated Sports + Gaming's Poker League Announces Schedule, Sorel Mizzi Back on Tilt, and More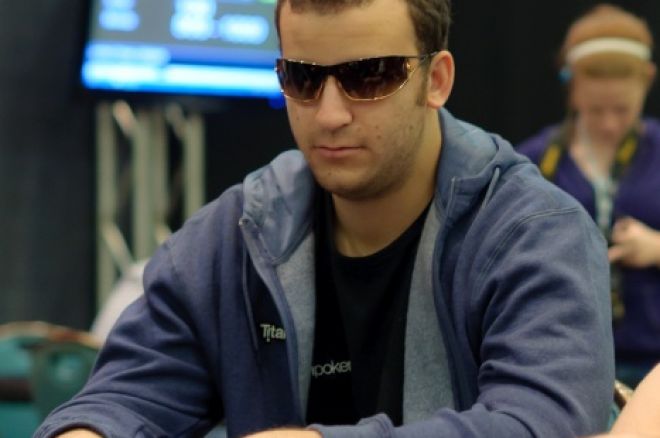 If you're looking for the top poker news stories of the day, you've come to the right place. In tonight's Nightly Turbo, we've got the schedule for the Federated Sports + Gaming's Poker League, and we'll tell you who's playing on Full Tilt again after being banned. Read on for more.
In Case You Missed It
The PokerNews Live Reporting Team was in Tunica, Mississippi, for the World Series of Poker Circuit earlier this week. We're sure you followed the Main Event coverage, but here's a look at results from the preliminary events.
The European Poker Tour Copenhagen is just around the corner. Headed to Denmark's capital for the event, but don't know what to do when you get there (besides play poker)? Lynn Gilmartin is here to help with the latest edition of Around the World with Lynn.
The end is near for the 19th installment of the Full Tilt Online Poker Series. Check out the results from this week's events.
Ashton Griffin's latest prop bet has sparked a little debate at PokerNews HQ. Is Prop Betting Good for Poker?
Federated Sports + Gaming's Poker League Schedule Released
The schedule for the first season of the professional poker league that was announced in January by Federated Sports + Gaming has just been released. Every event will take place at the Palms Casino Resort in Las Vegas. Four events are on the schedule, along with a championship event. Each "event week" includes three tournaments: a Pro-Am event, a charity tournament, and the Main Event which is a $20,000 buy-in. The four Main Events will feature different variants of no-limit Texas hold'em.
"We decided to vary the format of our events to showcase and challenge the skill of the best live tournament players in the world," Annie Duke, Commissioner of the new Federated League, said. "Our Pro-Am events will create opportunities for break-out stars to shine."
Players who don't qualify for a league card will be able to qualify for a seat in the Main Event. Each event week will begin with a $1,500 Pro-Am event that will be open to all players 21 years of age or older. The top nine players from that event will awarded a temporary league card.
"Because the Main Events have four or more days to play down to a winner from a start of approximately 200 players, we believe it will offer the best, most friendly structures for the skilled player out there," Duke said. "Great structures, no rake and generous overlays are integral to our celebration of the best live tournament players in the world."
2011-2012 Federated Sports and Gaming Season 1 Tournament Schedule
| Event | Pro-Am | Charity Event | Main Event |
| --- | --- | --- | --- |
| Event #1 | August 12-15 | August 14 | August 16-19 |
| Event #2 | Sept 20 - Oct 3 | October 2 | October 4-7 |
| Event #3 | December 1-5 | December 4 | December 6-10 |
| Event #4 | January 20-23 | January 22 | January 24-27 |
| Championship | -- | -- | January 29-30 |
For more, read the press release at FederatedInc.com.
Back on Tilt
Sorel Mizzi was permanently banned from Full Tilt Poker in late 2007. If you don't know the story, it was revealed that he had taken over the account of Chris Vaughn late in the Full Tilt $1 Million Guarantee and then went on to win it. Soon after, both Vaughn and Mizzi were banned from Full Tilt Poker.
It seems as though Mizzi's ban has been lifted and he is back at the Full Tilt Poker tables, playing under his screen name, "Imper1um." Wednesday night, Mizzi tweeted, "19/25 in FTOPS #33 $300Rebuy- already won a ton in prop bets seeing if I can close big on first day back on FTP." Imper1um ended up finishing in 24th place.
PokerKingBlog.com has more.
LAPT Announces Chile National Poker Championship
The PokerStars.net Latin American Poker Tour has announced its return Viña del Mar for the fourth season of the LAPT. The LAPT did not make it to Chile in season three due to the devastating earthquake that struck the country. The $1,100 buy-in LAPT Chile National Poker Championship will take place March 17 through 20 at the Enjoy Viña del Mar Hotel & Casino.
"It feels great to be returning to Chile. Poker has grown since we were last here and we look forward to helping it grow even more. Our partnership with the Enjoy Group, the leading live poker operator in Chile, is very strong, and we are looking forward to an exceptional tournament," President of the LAPT, David Carrion said.
There are five events on the LAPT Chile docket with a wide range of buy-ins including a $4,000 High Roller event.
"This will be the second LAPT to take place in Viña del Mar, and we are very proud to bring this type of event to Chile. We believe this is a great opportunity to give our players a chance to take place in a tournament of high calibre and worldwide recognition, providing a significant push to the development of tourism within the region," Juan Pablo Covacevich, gaming marketing manager of the Enjoy Group said.
Sign up for a PokerStars account and qualify for your seat at one of the LAPT events!
On the Big Screen
Beth Raymer's memoir Lay the Favorite is being adapted to film and some well-known stars are attaching their names to the project. The best-seller is the personal story of Raymer about her rise from a Las Vegas cocktail waitress to a top sports gambling bookmaker.
Bruce Willis has already signed on to play the role of Dink, an ex-New York bookmaker who becomes Raymer's mentor. Raymer will be played by Rebecca Hall. You may recognize her from 2010's The Town. Rumor has it that Justin Timberlake and Catherine Zeta-Jones have also accepted roles — Timeberlake as Rosie, a Long Island bookmaker, and Zeta-Jones as Tulip, Dink's wife.
MovieWeb.com has more.
Welcome to Sao Paulo!
The PokerNews Live Reporting Team is in Sao Paulo, Brazil, for the first stop on season four of the Latin American Poker Tour. While we're here sitting in our offices, Lynn Gilmartin got to tour the city that she and a number of poker players and poker media will be calling home for the next few days. Maybe we're a little jealous, but at least we didn't get rained on.
Get your PokerNews Live Reporting fix by following all the action from Sao Paulo.
Are you following us on Twitter? Go follow us now. While you're at it, there's no reason why you shouldn't like us on Facebook.
We have just announced three more $15,000 Sunday Million Freerolls with PokerStars, with $1,000 to the winner and 260 tournament tickets, including 45 Sunday Million Tickets on offer.