The Nightly Turbo: Sorel Mizzi Wins, Full Tilt Poker Introduces Rush Poker Tournaments, and Jeff Madsen's Prop Bet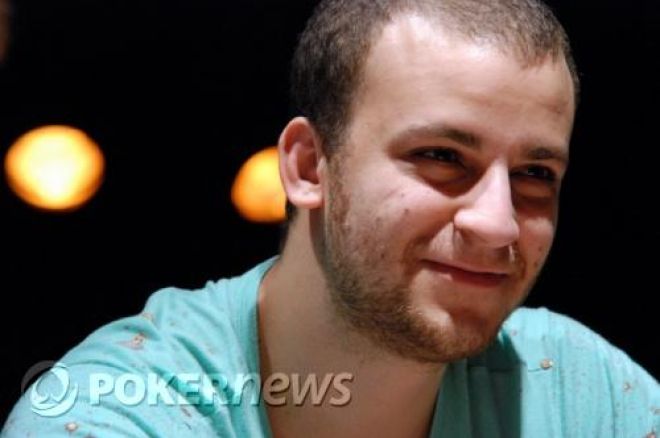 One day, we'd like to run like "The Miz." He has just taken down another tournament, Full Tilt Poker has released Rush Poker tournaments, and Jeff Madsen's prop bet deadline is upon us. Check out all these stories and more in tonight's Nightly Turbo.
In Case You Missed It
Day 1a of the European Poker Tour San Remo saw 585 players hit the felt. Of those, 274 were left at the end of the day. Alexey Rybin ended the day sitting pretty on top of the chip leaderboard, but there was another interesting situation that occurred. Find out about it in the Day 1a recap.
Yesterday we brought you the first part of Three-Handed Tournament Strategy with Eric Baldwin. What good would we be if we left you hanging? Here's the second part.
Although poker is obviously on our brain most of the day, sometimes we like to take a time-out to check out what else is going on in the gaming world. That's what we did today and that's how we can bring you Inside Gaming: Good News, Weak CityCenter Sales in Las Vegas; Bad News, Big Nevada Returns not so Big, and a Casino Canned in Louisiana.
Gus Hansen may have been having a bad run, but all bad things must come to an end at some point. He's on a heater now and has a session with Phil Ivey and Cole South to thank for that among other things, we're sure. The Online Railbird Report has this week's high-stakes winners and losers.
The Miz Wins
Sorel Mizzi is on fire. Since his third-place finish at Aussie Millions in January, he has had three first-place finishes: two at the European Poker Tour Snowfest and one at the 2010 Wynn Classic in Las Vegas. He also had numerous cashes in between. You can add the Borgata Spring Poker Open's East Coast Championship to that list, too.
There were 62 entrants in the $7,500 buy-in tournament in Atlantic City, and Mizzi had to beat a stacked final table to take home the $170,313 first-place prize. Gavin Smith and Lee Markholt finished in eighth and ninth respectively, and Mizzi took on Chris Klodnicki heads-up for the title. Oh, and he did it all on the eve of his birthday.
For full BSPO results, heat on over to TheBorgata.com.
WSOP-Circuit Las Vegas
The World Series of Poker Circuit event is making its way to the city of sin for the fifth consecutive year. Running through April 30 at Caesars Palace in Las Vegas, there are 18 events. Buy-ins range from $230 to $1,080 with the Main Event coming in at $5,150.
PokerNews will be covering all the action from the Main Event, so you can catch your live updates here.
Las Vegas isn't the last stop on the Circuit. Check out WSOP.com for the remaining schedule.
Joke's Over
Well, it seems that the prop bet that was on everyone's mind was in fact an elaborate hoax played on the entire poker community by prankster Jeff Madsen. He didn't leave for Israel, there is no prop bet, and he played the longest April Fools' joke on anyone at PokerNews and we're sure most of you all.
Here's your proof, and thank God they're not wearing matching outfits.
PokerStars Express Now Boarding
Gloria Balding caught up with Jason Mercier after a 20-hour bus ride from London to San Remo in what the Live Reporting Team has dubbed "the PokerStars Express." Six poker pros and a masseuse (as if there would be that many poker players in the same place for that long without one) made the trip through the Alps because a volcano in Iceland grounded most flights throughout Europe. Woah! Hear about it firsthand below.
Make sure you're following us on Twitter. It's the best way to get up-to-the-minute news. Also become a fan on Facebook.
Everyone's a Winner
PokerStars is launching a new promotion running from April 16 through 19.Everyone's a Winner is a regional promotion for U.K. and Irish players. There are three freeroll tournaments scheduled on the 16th, 17th, and 18th at 20:00 BST with a $.50 rebuy option and $1,000 added to the prize pool. Each player who takes part in one of these freerolls gets a ticket to an $11 buy-in tourney on April 19 at 20:00 BST with a $5,000 guaranteed prize pool. Players looking for the tournaments can find them under the "Tourney" tab, followed by the "Regional" tab.
Not a PokerStars player? You can be. Sign up for an account here.
Rushin' Around the Table
For all you Rush Poker fanatics out there, you've now got a new way to feed your need for speed. Full Tilt Poker has released Rush Poker Tournaments. Essentially, it's the same as Rush Poker cash games. Players will be part of a larger player pool and will face a different table of opponents each hand. As soon as a player's hand is folded, he or she will be moved to a new table.
When play reaches fewer than 30 players, tables will convert to short-handed play just to ensure that things are moving as quickly as possible. At the final table, play will revert to standard play and players will play one hand at a time until the tournament is completed.
Try it out. Let us know what you think. Sign up for a Full Tilt account today.
Spend Your Summer at the Series
Read our live reporting coverage every day? Ever wanted to see what it takes to put it all together? Well, here's your chance. PokerNews is looking for interns to spend the summer with our entire team, learning the ins and outs of tournament reporting. There are a few requirements of course, like age, poker knowledge, and the ability to work "poker hours."
Sound like something you're interested in? Why don't you check out the rest of the requirements here, and then ship us an e-mail.