The Nightly Turbo: Tom Schneider and the WSOP TOC, Poker2Nite, and More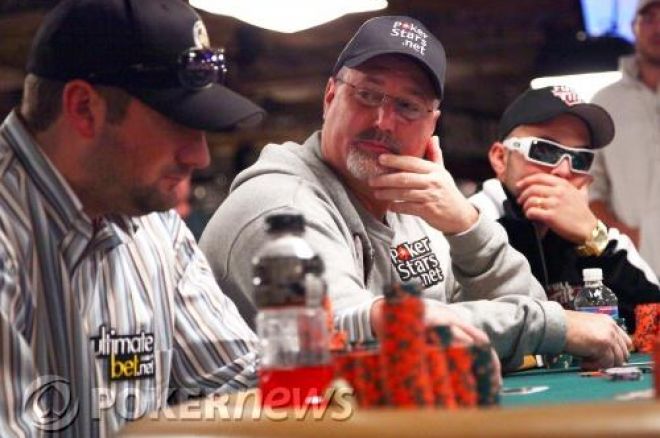 How is Tom Schneider trying to win your vote for the World Series of Poker Tournament of Champions? Money of course! Tonight's Nightly Turbo has the bribe, the latest from the Poker2Nite set, and more.
In Case You Missed It
The field is shrinking at the PokerStars European Poker Tour Snowfest. Players made their way into the money on Day 3 and down to the final three tables as well. Find out how the bubble burst in this recap.
It didn't take long for iMEGA to produce the documents that were requested by the Kentucky Supreme Court. IMEGA refiled with the Kentucky Court of Appeals just five days after the ruling. Read about it here.
Did The Matador tie Gus Hansen and move Daniel Negreanu down a notch on the World Poker Tour all-time money list? Our recap of the WPT Hollywood Poker Open has the answer.
We're back with Part 2 of building your bankroll Rush Poker PLO style. Check it out and let us know what you think.
Poker2Nite's Latest
Thankfully, the latest episode of Poker2Nite wasn't as awkward for host Scott Huff as last week's was. If you missed the show last night on Versus, you missed Joe Navarro dissecting Phil Ivey tells, the latest Girl of Poker interview with the "Hottest Girl of Poker" Lacey Jones, and Jeff Madsen trying to rap.
That's the Joe Navarro segment below.If you want the rest (and you might, because Huff does a pretty funny Christopher Walken impression in the outtakes), you'll have to go to Poker2Nite.com.
Schooling Sarwer
Gloria Balding called the clock on Jeff Sarwer on a break at the European Poker Tour Snowfest. She stumped him (which we thought was impossible) and then she asked him about unicorns and superusing Shaun Deeb's mind.
Follow us on Twitter for up-to-the-minute news and be sure to add us on Facebook.
Can Your Vote Be Bought?
What's the easiest way to get something you want from someone? Bribe Promise someone something of course. So when the World Series of Poker left it up to the masses to vote on 20 of the 27 entrants of the 2010 Tournament of Champions, besides Twitter spamming the heck out of us, poker players had to come up with another way to get votes.
Tom "Donkeybomber" Schneider, in an effort to get votes, is promising to split half of what he wins with his voters. His stipulation is that you must vote only for him. Schneider isn't even in the Top 50 yet, but who knows, promising money has a strange effect on people. If he wins, it's a $250,000 freeroll for his voters.
Read the email he sent out over at Pokerati.com.
Are the Aussies On To Something?
The Joe Hachem Deep Stack Series at the Crown Casino in Melbourne is introducing an interesting event. It's called the Accumulator. What exactly is it? Well, its a deep-stack freezeout but instead of having to choose which starting day you want to play, players who survive Day 1a will be able to play Day 1b with a completely new stack of chips and then add whatever chips they accumulate to their Day 1a stack.
Tournament directors everywhere are coming up with new and interesting formats for tournaments. They are trying out different numbers of players at tables and structures. Matt Savage introduced the Iron Man tournament last year.
The Cake Poker Blog has more. Have an opinion on the Accumulator? Let us know in our forums.
Full Tilt Poker Has WSOP Seats
Full Tilt Poker has launched its 2010 World Series of Poker promotion. The promo runs from March 24 through June 27. There are tournaments for all bankroll, starting as low as $1. The $1 Main Event Seat tournaments guarantee at least five $12k Main Event prize packages per tournament. They run every Sunday, beginning March 28, during the promotion.
There's even a chance for you to win your WSOP ME seat for free with Full Tilt's Race to the Main Event. Or if your bankroll is a bit more padded, you can try out one of the higher buy-in qualifying tournaments.
There are more than 600 seats up for grabs. Does one have your name on it? Sign up for a Full Tilt Poker account today and find out.