The Nightly Turbo: Hollywood Multi-Accounting, Jayde Nicole on the Strip, and Who Is The NAPT Hostess?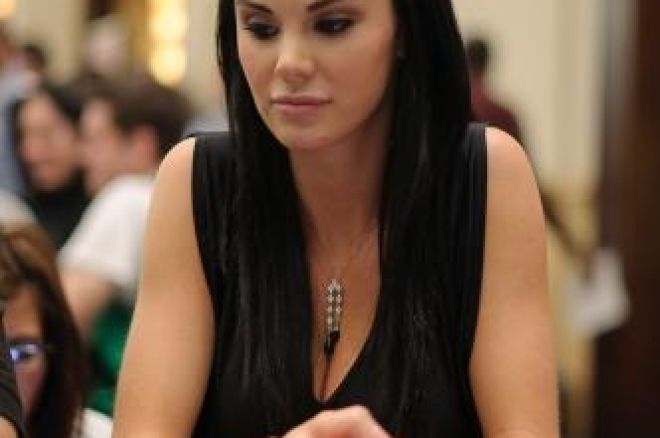 Hollywood Dave may have outed himself as a muli-accounter, Jayde Nicole is suing over a photo, and it seems there is some confusion over the hostess for the PokerStars NAPT. Find out all the news in tonight's Nightly Turbo.
In Case You Missed It
Day 1a of the European Poker Tour Copenhagen saw 191 players hit the felt. Quite a few notables showed up for play and most of them made it to Day 2. Our Day 1a recap has the scoop.
Have you missed the crazy that was "Isildur1" in the nosebleeds at Full Tilt Poker? Quit crying into your pint of Ben & Jerry's, because he's back at it and making quite a scene. Find out how his 30 hour session went here.
The PartyPoker Premier League IV is closing in on its final days. Heat 5 wrapped up last night and every player is still in contention for the finals. Take a look at how the leaderboard is shaping up in this recap.
The California Senate Governmental Organization Committee held a hearing last week to discuss the possibility of intrastate poker in California. This is how it went.
Stunt Double?
A tweet from Dave "Hollywood Dave" Stann, brought to our attention by Allen "Chainsaw" Kessler on TwoPlusTwo, has a few of us here at PokerNews HQ, as well as the 2p2 community, raising an eyebrow.
The tweet in question: "In tha $$$ in ftops horse on secret acct...that obv some of u already know lol...good practice for 2moro 1k horse @LAPokerClassic! 1xxxx 70k"
What is this secret account he speaks of? Is it an admission of multi-accounting? Leave it up to the 2p2ers to do the detective work. And to make it easier on the sleuths, Dave posted this tweet an hour later: "Out in 20-ish place for $2100. Not bad for a $15 super satellite entry! But F the dude in razz who called my 27 on 4th w TQ ftw lol"
The "secret account" has been narrowed down to a few screen names based on the "evidence." The thread on TwoPlusTwo has all the info.
Another Poker Song
We think it's going to be pretty hard to top Lady Gaga's Pokerface. Marcel Luske has released an album of songs centered around poker, and now Jason Mershon has released a song called Playin Poker for a Livin.
To promote his album, Luske performed in the Fontana Lounge at the Bellagio in December during the Doyle Brunson Five Diamond. Mershon is taking a different approach. He's offering 50% of any final table winnings he happens to earn at the 2010 World Series of Poker to the first 15,000 people who download and purchase his song.
The song will cost you $1.49. Think of the ROI if he wins the Main Event or something. (Yes, we realize its wishful thinking.)
"I wrote the song to humorously tell what it's really like being a professional poker player; the sarcastic attitudes of many professional poker players; and the monotony of actually playing poker for a living and grinding out the long hours in a casino card room," said Mershon.
We're not going to lie. We've yet to listen to the song. If you do, let us know what you think. You can read more about it at 4Flush.com.
Jayde Nicole: Escort?
According to TMZ, Jayde Nicole's image has been printed on the cards that litter the Las Vegas Strip and are being flicked at you as you walk by the casinos. The photo is straight from Jayde's Playboy spread. The card advertises her name as Tanya and at first glance she seems to be available for only $35.
The staff at TMZ conducted some research and were told that the girl on the card would be the same one to show up to your room. We highly doubt that, however, as TMZ has also learned that lawyers for the former Playmate of the Year turned poker player have already sent out cease and desist letters on behalf of Jayde and Playboy.
TMZ.com has more.
PartyPoker Premier League IV
Kristy Arnett caught up with PokerNews head honcho Tony G at the M Resort and Casino during the PartyPoker Premier League IV. The G talks about Yevgeniy Timoshenko riding the bike and his bets with Phil Hellmuth and Roland De Wolfe.
If you're not following us on Twitter by now, you should be, and there's really no reason you shouldn't be a fan on Facebook. What are you waiting for?
NAPT/WPT Confusion
There is a bit of confusion surrounding the World Poker Tour and the PokerStars North American Poker Tour hostess situation. Joanna Krupa was named the NAPT hostess and we all know the face of the WPT is Amanda Leatherman.
Well, rumors are swirling that Leatherman has been confirmed as the NAPT's new hostess. That leaves the WPT hostessless and Krupa without a tournament.
According to Pokerati's sources at the LA Poker Classic, a temporary hostess will do the honors at the Celebrity Invitational while the WPT looks for a full time face.
Read about it at Pokerati.com.