The Nightly Turbo: UB's Newest Team Pro, Another Poker Robbery in Texas, and More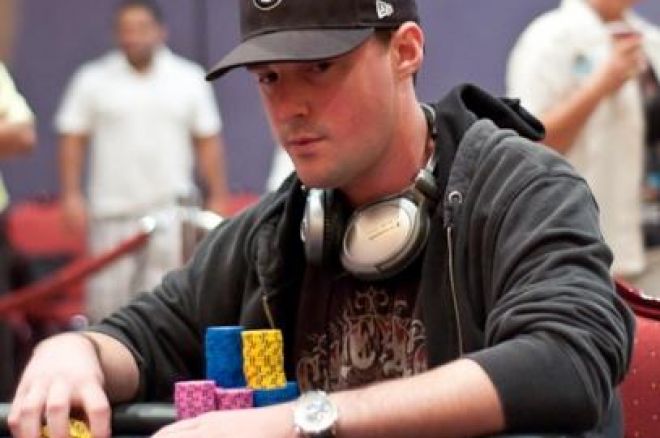 In tonight's Nightly Turbo line-up, we tell you who UB recently signed as their newest Team Pro, about another poker robbery in Texas, and more.
In Case You Missed It
We've been pretty consumed in the poker world recently, but somehow we found a way to distract ourselves from it for just a little bit to bring you some other news. If you want to broaden your knowledge base, check out Inside Gaming. Now back to poker.
We brought you Part One of out Jet Set guide to Melbourne last week. And then we got pretty busy over here at PokerNews HQ, but we didn't forget you, for too long at least: PokerNews Jet Set: Melbourne, Part 2.
No, we still don't know who the mystery Swede, "Isildur1" is. Everyone has their opinions, but opinions are like - never mind. PokerNews' Editor-in-Chief, Matthew Parvis did the dirty work yesterday and talked with Isildur1 about his $4 million loss to Brian Hastings. Yes, we said talked. There's no more speculation here. We have the first interview with the international man of mystery. Now go read it.
New EPT Stop
The PokerStars European Poker Tour has announced a new stop for this season. EPT Berlin will run March 2 through March 7, 2010, and is billed as the biggest professional poker tournament ever held in Germany.
"We are excited to be making our first stop in the beautiful city of
Berlin. We have experienced great success throughout the first half of EPT
Season 6, with thousands of players competing in the initial six events,"
said John Duthie, CEO of the PokerStars.com EPT.
A two-story glass palace is being built especially for the EPT event on the distinguished Marlene-Dietrich-Platz at Potsdamer Platz. Over 1,000 player are expected to take part in the Main Event. The first place prize is a guaranteed €1 million.
Check out the entire EPT schedule at EuropeanPokerTour.com.
Remember to follow us on Twitter and become our friend on Facebook. And if you haven't signed up for The Nightly Turbo newsletter yet, what are you waiting for?
A New Team Pro for UB
He has won over $1.5 million on the tournament circuit this year alone. He was named 2009's CardPlayer Player of the Year, and he just recently signed with UB.com. Is it Superman? Well, maybe, but his name isn't Clark Kent, it's Eric "basebaldy" Baldwin.
We can't imagine winning player of the year, we can barely beat our home game. "Winning POY means the world to me. Even before 2009 my friends and I talked about how much fun it would be to go after winning the award. After the WSOP I found myself in the running and dedicated the rest of the year to chasing this goal. It's flattering and an honor to be in the company of the great winners of years past. It's something I'll always have and be able to tell my grandkids about," Baldwin said.
Just this year, UB has signed Joe Sebok, Billy Kopp, Liv Boeree, and re-signed Tiffany Michelle. Baldwin is the latest pro to join the UB.com team. "Eric Baldwin isn't just a new UB pro, he is UB," stated Annie Duke, UB.com's Cardroom Consultant.
When Joe Sebok signed with UB, he came under quite a bit of scrutiny. Baldwin is not worried about his peers looking down on him for his signing though, "UB is second to none in terms of security. While discussing sponsorship opportunities with friends not once was I discouraged from taking this tremendous opportunity," he said.
"I really like UB's new brand and the direction it's headed. It's exciting to be a part of it. The UB pros and staff are amazing. There really seems to be a family atmosphere, and I have no fear of being just another pro on a huge roster that gets lost in the mix," said Baldwin when asked why he made the decision to sign with UB as opposed to another site.
Congratulations on a steller year Eric!
You can find Eric under the screen name ericbaldwin on UB.com, but you have to sign up for an account first.
New World Record Attempt
In December last year, PokerStars set the record for the largest online poker tournament and then in July of 2009, broke it when 65,000 players hit the virtual felts. Well, PokerStars wants to break it again. On December 27 at 14:45 EST (or PokerStars time), you have a chance to be a part of history. The buy-in is $1 and PokerStars is guaranteeing a first prize of $50,000 (yes, we said first prize). The total prize pool is guaranteed at $300,000. If you grind it out and make it to the top 30,000 players, you get paid. You have to make sure to register before the event starts though, there will be no late registration for this event.
"Players really enjoy these events, and so do we. There is a real thrill when the tournament begins and everyone realizes just how many people are taking part from all over the world," said Bryan Slick, PokerStars tournaments team leader.
Sign up for a PokerStars account today for your chance to be part of history.
2010 Aussie Millions
Practice makes perfect and what better way to increase your chances of going home a winner at the Aussie Millions than taking a class right before your event begins. Crown Casino and DeucesCracked.com have formed a strategic alliance that will offer poker seminars, The Aussie Millions Academy, throughout the Aussie Millions Poker Championship.
"We're proud to be presenting The Aussie Millions Academy at Crown. The Aussie Millions is a tournament we have wanted to attend for a long time, and it has a great range of events. We've set up a series of seminars that reflects the tournament schedule and are bringing all our DeucesCracked specialists to make sure each topic is fully covered," said DeucesCracked founder, Jay Rosenkrantz.
Seminars will take place prior to play each day of the Aussie Millions. Each seminar is 90 minutes and then there will be a 30 minute Q&A with the team. The four-hour Main Event seminar is $500 and all others are $250.
The Aussie Millions Academy Schedule
January 15: 10am–12pm - No-Limit Hold'em Seminar
January 16: 10am-12pm - No-Limit Hold'em Seminar
January 21: 10am-12pm - H.O.R.S.E. Seminar
January 23: 10am-2pm - Main Event Seminar
January 26: 10am-12pm - Heads-Up Seminar
January 28: 10am-12pm - Pot-Limit Omaha Seminar
January 30: 10am-12pm - No-Limit Hold'em 6Max Seminar
"DeucesCracked team were chosen because they have a solid reputation for being an industry leader in uniquely tailored poker related courses, ensuring long-term opportunities at the poker tables for players, who are the ones who have invested in the Aussie Millions and ensure it's longevity,'' said Jonno Pittock, Crown's Director of Poker.
Check out the Aussie Millions website for more.
Texas Robberies
We can't stress enough how careful you guys need to be when running your nightly home games. Two robberies occurred at home poker games in Texas recently, one in Houston and one in Austin.
In Houston the $1/$2 game that was being played was running a tad bit bigger than normal. There was about $8k on the table when the attack happened. According to a post on PocketFives, a player went outside to smoke and when he returned, there were three masked men following him. The PocketFives poster insists the poker player who was out smoking was not in on it. One of the players was hit on the head for trying to hide a Rolex and the robbers ended up duct-taping the players before stealing one of their cars. The robbers were caught by the police and all the money was recovered.
In Austin, things didn't go as well. There was about $25k on the table and the robbers got away with it all. The investigation for this case is deadlocked because the victim is not cooperating with the authorities.
Pokerati has more about the Houston robbery here and more on the Austin robbery here.