The Nightly Turbo: ESPN Talks About Full Tilt and the NAPT, a Clarification, and More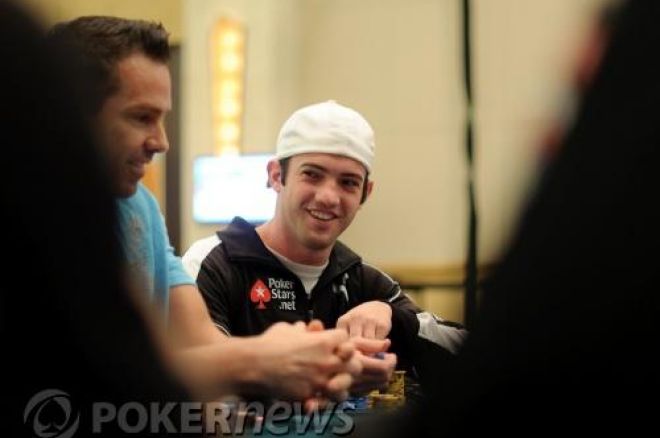 We're bringing to light a story that ESPN did on Full Tilt Pros playing the PokerStars North American Poker Tour, making a clarification, and bringing you some FTOPS results all in tonight's Nightly Turbo.
In Case You Missed It
Day 1b of the European Poker Tour Copenhagen is in the books. Find out who made it to Day 2 and who was sent packing in this recap.
Heat 6 of the Party Poker Premier League IV saw Darth Vadar, Kermit the Frog, and a monkey take their seats at the table. See what we're talking about here.
We recently sat down with Joey Lawrence (no, not from Blossom) to talk a little poker, school, and being a CardRunners instructor. Check out the interview.
In between practicing for their shot at gold medals, some Olympians like to play poker. See which of your favorite Winter Games Olympians mix it up on the felt in this story.
"Isildur1" was back at it last night. He had a rematch with a certain someone too. You'll have to read this to find out how it went.
Industry Divided?
In an article, Gary Wise of ESPN takes a look at a rumor that Full Tilt Poker Pros will not be attending the PokerStars-branded North American Poker Tour, which is about to begin at the Venetian in Las Vegas.
Wise says, "There's been plenty of news recently regarding Full Tilt Poker guarding its player-brands from events controlled by other rooms. According to one member of the poker industry, waves were created when FTP pros were told to not play in Victory Poker's charitably-inclined Trash Talk Championships...."
We have no confirmations that these rumors are true, we're just bringing you the story. Read the whole piece on ESPN.com..
Clearing The Air
Yesterday we reported on a story we found on the TwoPlusTwo forums by Allen "Chainsaw" Kessler. It has since been brought to our attention that all the speculation regarding a tweet by Dave "Hollywood Dave" Stann was just that, speculation.
"What I meant by my tweet was, I'm sponsored by UB, so I don't play as Hollywood Dave on FTP. I have a generic name, so I don't like to promote it or make it public because I am sponsored by a competing site. I don't have more than one account and I have never multi-accounted or cheated in my life," said Stann in a comment to PokerNews.
Kessler cleared things up on the TwoPlusTwo forum too.
EPT Copenhagen
Gloria Balding caught up with Luca Pagano at the European Poker Tour Copenhagen. They talked about sightseeing, why he's at every EPT, and his EPT records.
If you're not following us on Twitter by now, you should be, and you should be a fan on Facebook. What are you waiting for?
PokerStars NAPT Charity Event
PokerStars is getting ready to kick off the North American Poker Tour at the Venetian in Las Vegas and is starting with a charity poker tournament on Friday night.
The tournament will benefit Three Square, an organization that aims to end hunger in the Las Vegas Valley by providing meals to nonprofit organizations that serve families in need in Southern Nevada.
On tap to appear are Joe Cada, Tony Hawk, Christian Slater, Joanna Krupa, Daniel Negreanu, and Vanessa Rousso, and more. The buy-in for the event is $500 and all proceeds will benefit the charity.
Sign up for a PokerStars account and qualify for the next stops on the PokerStars tours.
FTOPS Results
The Full Tilt Online Poker Series is coming into the home stretch with the Main Event coming up this weekend. But it's not over yet. Eli Elezra hosted the $200 + $16 seven-game last night. "And Chips" took bested the 740 player field and went home with $32,250.
That wasn't the only event that went on last night, Peter Feldman hosted the $300 + $22 no-limit hold'em six-max rebuy. There was a $1,000,000 guarantee for this event. "StackedYa" came away with the gold jersey this time, besting the 1,032 field.
Full Tilt FTOPS Event #16 seven-game mixed
Buy-in: $200 + $16
Prize Pool: $150,000
Entrants: 740
1. And Chips - $32,250
2. Magic_ip - $22,200
3. Burnzeye - $15,075
4. locoPocoMaloco - $9,750
5. BrandonPL - $6,150
6. Maciek Gracz - $4,350
7. bizaar- $3,150
8. Kerith - $2,115
Notable Finishes: Nikolay Evdakov (14th - $1,230), dsindy (33rd - $750), Lee Watkinson (45th - $660)
Full Tilt FTOPS Event #17 NL Hold'em 6-max Rebuy
Buy-in: $300 + $22
Prize Pool: $1,101,000
Entrants: 1,032
1. StackedYa - $229,558.50
2. AGame18 - $153,039
3. WMACHINE - $108,999
4. goodvibe - $81,474
5. ButrossButross - $58,353
6. Jeremiah "Believer8219" Vinsant - $37,434
Notable Finishes: Peter "Nordberg" Feldman (23rd - $4,954.50), Frank "Gator93" Hernandez (33rd - $4,954.50), Brock "bobcards2" Parker (33rd-$4,183.80), Dan "imabigkidnow" Kelly (35th-$4,183.80), Joe "bigegypt" ElPayaa (36th-$4,183.80), Craig "HU4ROLLZ" Bergeron (38th-$3,523.20), Marco "CrazyMarco" Johnson (45th-$2,972.70)
You still have a shot at gold. Sign up for a Full Tilt Poker account today.