Olympic Athletes Bring the Competition from the Slopes to the Felt in Vancouver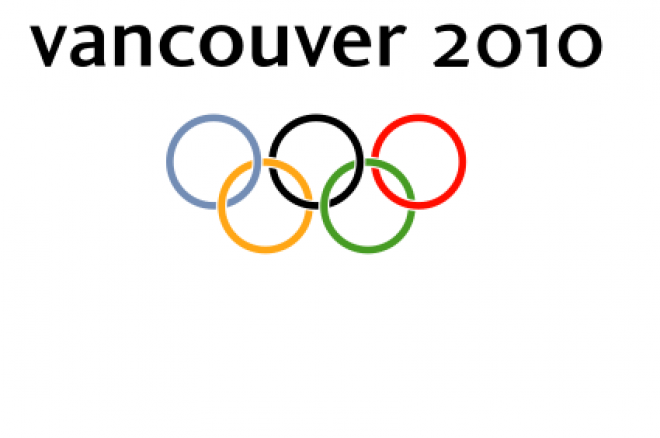 The 2010 Olympic Winter Games are in full swing in Vancouver. While it looks like nonstop action on TV, the competitors have plenty of downtime between events. Athletes from around the world are living in the Olympic Village, and many are turning to the international language of poker to help pass the time.
Things get competitive quickly when the U.S. snowboarding team sits down for a "friendly" game of cards. "I think poker brings out everyone's competitive side," said Hannah Teter, who won a gold medal in women's halfpipe in Torino. She regularly plays with teammates Jack and Luke Mitrani and fellow gold medalist Shaun White. "Shaun hates to loose," Teter admitted. "It's funny to play with him."
There are already a few summer Olympians who are also known for their poker prowess. Michael Phelps captured headlines during the 2004 Athens games and the 2008 Beijing games with his superhuman swimming feats. While racking up a record 14 gold medals and 16 total medals, Phelps found time to develop his poker game. He's cashed in several tournaments and has proven that he is a formidable opponent at the table, as well as in the water.
Boris Becker is another well-known olympian-turned-poker-player. In addition to winning six grand slam events, the tennis pro won a men's doubles gold medal in Barcelona in 1992. More recently, he has been channeling his competitive energy into poker. Becker, who joined Team PokerStars in 2007, said he started to play poker to improve his concentration on the tennis court. Now he's using his skills to play in tournaments around the world.
Will the Winter Games produce any poker stars? It's too early to tell, but the 2010 U.S. Olympic Team has several contenders. Here are some poker-playing athletes to look for during the games:
Hannah Teter, a 23-year-old snowboarding phenom, has been playing poker for more than six years. She captured hearts in 2006 and hopes for a repeat gold-medal performance in Vancouver. Cheer her on in the women's halfpipe on Thursday, Feb. 18.
Ben Agosto is half of the most decorated ice dancing team in U.S. history. Along with partner Tanith Belbin, he won a silver medal in Torino. They take to the ice on Sunday, Feb. 21.
John Shuster won the first U.S. curling medal ever, a bronze, in Torino. The Minnesota native comes from a long line of curlers and is proudly carrying on the family tradition. Curling matches continue in round-robin style throughout the games.
Katie Uhlaender is a TV writer and producer who has worked on location for the show Survivor. She also happens to be a world-class skeleton racer. Uhlaender lost her father, MLB great Ted Uhlaender, during the Olympic trials, and she carries his World Series ring with her for good luck. Her first heat is Thursday, Feb. 18.
Like Uhlaender, Zach Lund is also a poker enthusiast and a member of the U.S. skeleton team. After missing out on the last two Olympic games, Lund is ready to make his mark on Vancouver. He starts the process with the first of four runs on Thursday, Feb. 18.
Tune in to cheer on these multi-talented athletes. You never know when you'll meet one of them over a game of cards. For more on these athletes including photos, videos and a full schedule of events, visit NBCOlympics.com or TeamUSA.org.
Follow us on Twitter for up-to-the-minute news, and also become our fan on Facebook.