PartyPoker Premier League IV, Heat 6; Negreanu Wins Despite Circus Around Him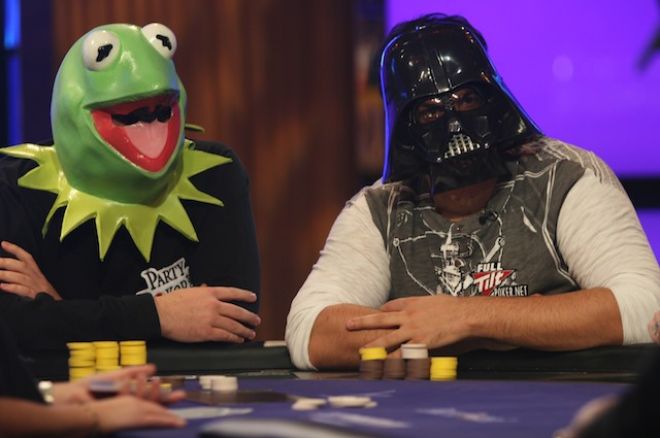 Wednesday marked the sixth and final heat of the PartyPoker Premier League IV with all the players still mathematically in contention for a spot at the six-handed final table. In a day that could have doubled as a circus sideshow, Daniel Negreanu clawed out a much needed victory earning him 16 points, and a chance to play in a heads up match this morning to qualify for this afternoon's PartyPoker Premier League IV final.
As players were getting ready to take the set before the match, Phil Hellmuth was seen off to the side of the Ravello bar doing some Yoga while Roland De Wolfe came in wearing a Darth Vader costume and wielding a red light saber. The antics did not stop there, as within the first few minutes of play, De Wolfe handed Hellmuth a card with the words "Happy Retirement" on it and a note wishing him well now that his poker career was over. Then, Luke Schwartz, who had more points than many of his opponents, opted to immediately get up from the table and allow himself to get blinded off. The producers placed a stuffed monkey behind his chip stack to play for him.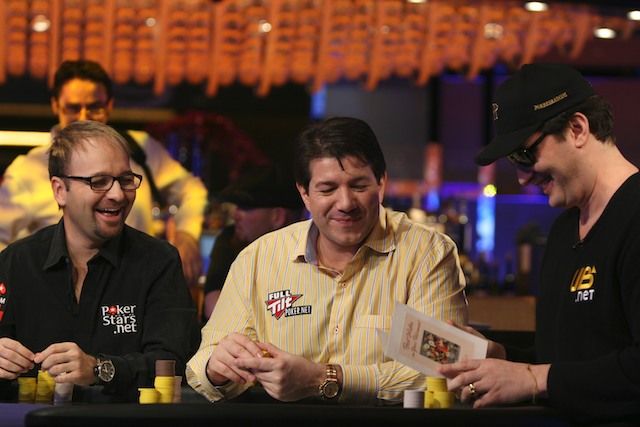 The monkey then took the early chip lead when Schwartz came back to the table, and, on the first hand, raised to 11,000 with pocket aces. Negreanu, in the big blind, did not believe him and moved all-in with
after a little bit of banter between the two. Schwartz snap-called and the board was no help to Negreanu coming
. Schwartz doubled up to 572,000 and promptly let the monkey take control of his stack again.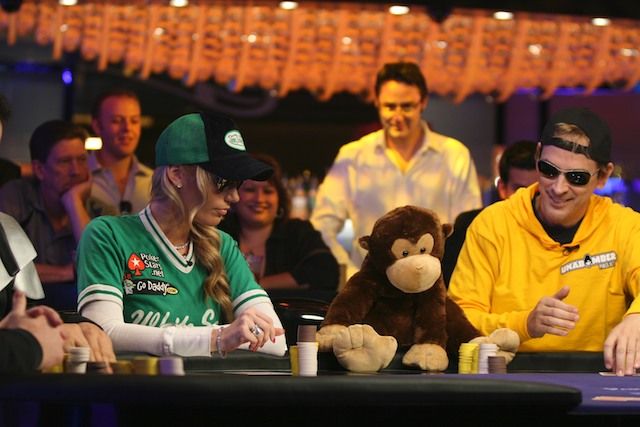 Negreanu was left with chips and would double back to contention just a few moments after the blunder when his pocket tens outraced Phil Laak's ace-king. Laak was out the door shortly thereafter and the first to exit.
With seven remaining players, Roland De Wolfe decided Darth Vader might have been a little harsh and had a Kermit The Frog mask on instead. In one of the more comical hands of the night, David Benyamine raised with king-nine offsuit, and Phil Hellmuth called from the small blind with pocket fives. Tony G, in the big blind, moved all-in with pocket sixes. Benyamine folded and Hellmuth went into the tank. De Wolfe then gave Tony G the Kermit mask, and G put it on before De Wolfe put the Darth Vader mask on. Both were seated next to each other, and Hellmuth stared the duo down before finally folding.
The masks caused some controversy, as Negreanu wanted a ruling stating that Nevada gaming regulation prohibit anyone from covering their faces. The tournament director confirmed this, and De Wolfe's masks were taken from the stage. He and Tony G looked like two kids having their favorite toys taken away.
Tony G's run at this years Premier League title ended a few moments after the dinner break, when sitting in the big blind his pocket sevens were out-flopped by Hellmuth's
. Hellmuth had open-shoved from the small blind to put the pressure on G, and the move paid off when an eight fell on the river.
David Benyamine was next to go in sixth place, and Vanessa Rousso followed, finishing in fifth place. While Benyamine had locked up a final table spot, Rousso's elimination took her out of contention for the final table.
Luke Schwartz, who took over for the monkey, was eliminated in fourth place by Negreanu's pocket queens. The six points earned by Schwartz were enough to give him a locked-up seat in the final.
Three-handed play was very interesting as a lot rode on how the three finished out. The first to go was De Wolfe, who with his finish will get a chance to qualify for the final table via the heads-up matches today. That left Hellmuth and Negreanu to battle it out. Hellmuth needed a win to give himself a shot at the final table; Negreanu had already locked up his spot in the heads up matches. Waiting on the sidelines was JC Tran who would get a shot at the heads up matches if Negreanu won but was eliminated if Hellmuth won.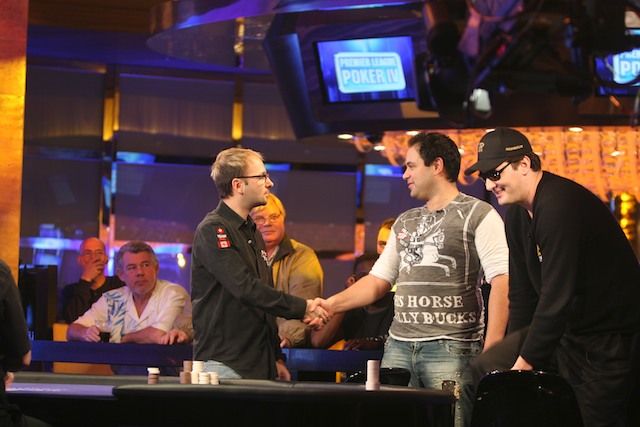 The final hand of this crazy heat saw Phil Hellmuth limp on the button with
. Daniel Negreanu, holding
raised it up to 180,000. Hellmuth moved all in, and Negreanu beat him into the pot with a call. The board rolled out
and that would be the end of the day, and the Premier League for Phil Hellmuth.
Here are the final standings.
x-1. Phil Laak – 48 points
x-2. David Benyamine - 38 points
x-T-3. Giovanni Safina - 29 points
x-T-3. Luke Schwartz – 29 points
5. Daniel Negreanu – 26 points
6. Ian Frazer – 26 points
7. Roland De Wolfe – 22 points
8. JC Tran – 20 points
9. Phil Hellmuth - 19 points
10. Yevgeniy Timoshenko – 16 points
11. Vanessa Rousso – 16 points
12. Tony G - 11 points
x - clinched final table berth
Daniel Negreanu will face off against JC Tran, while Ian Frazer will battle Roland De Wolfe for the final two spots at the final table.
PokerNews will be recapping the heads up matches which begin at 11:00 a.m. in our Live Reporting pages, and we'll be bringing all the final table action to life as soon as the heads up matches are complete. Also be sure to check out the Party Poker Blog for more updates.
Follow us on Twitter for up-to-the-minute news, and also become our fan on Facebook.
*Photo Credit - Mickey May, MatchRoom Sports