The Nightly Turbo: Million-Dollar Prop Bet Part 2, Is Caesars Entertainment Selling the Rio, and More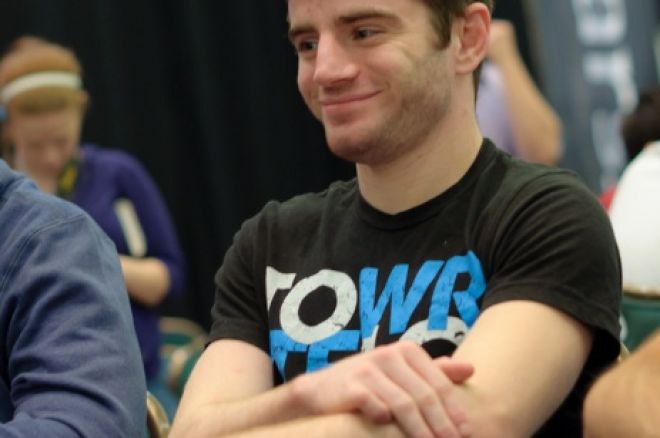 If you're looking for the top poker news stories of the day, then you've come to the right place. We're here to bring you the news and get you on with your day so you can go exploit all the fish at the tables of course. Today, we're going to fill you in on Part 2 of the Million-Dollar Bet blog post, let you in on the rumors swirling around the sale of the Rio, and more.
In Case You Missed It
Lynn Gilmartin and part of Team PokerNews are headed to Sao Paulo, Brazil, next week for the PokerStars.net Latin American Poker Tour. If you're making the trek, as well, and want to know more about Sao Paulo, or you're not and just wondering how much fun they're going to have, then you should check out Around the World with Lynn.
Shane "Shaniac" Schleger recently signed with PokerStars to be part of Team PokerStars Online. We sat down with Schleger shortly after the announcement to talk poker, his recent win in the PokerStars $109 Rebuy, and more. You can find it all in this edition of Off the Felt.
This past Sunday, Liv Boeree won the PokerStars Sunday Warmup for just under $148,000. In our latest strategy article, she discusses her win and recounts a hand she played when she was heads-up against James Mackey.
It was announced on Wednesday that the World Series of Poker Europe would be moving from London to France. We sat down with Vice President of Caesars Interactive Entertainment, Ty Stewart to discuss the move and and what it means for the WSOPE.
The Conservative Political Action Conference is being held this week and the Poker Players Alliance is set to have a large presence. See what John Pappas has to say about the Conference.
Million-Dollar Bet Part 2
In Wednesday's Nightly Turbo, we brought you Part 1 of Haseeb "InternetPokers" Quereshi's blog post regarding the prop bet that Ashton Griffin performed recently. He posted Part 2 this morning, and we've got the rundown for you.
Quereshi gives a detailed discription of how painful it was for him to watch Griffin perform this bet, as well as how Griffin's family was there to support him.
"I sat there blankly for some time as he was running, just feeling my brain slowly process everything. All I could hear was the mechanical whirr of the treadmill, and the pounding as his feet hit the tread. It was so perfect and continuous, like a metronome. I studied him carefully. He was stripped down only to his boxers. His skin seemed to be stretched taut over his musculature. His face was looking down and toward the left as he ran... his gait almost seemed like he was scurrying to catch up with the treadmill. His eyes were blank. I didn't know what he was looking at or thinking about. I remember thinking that he looked pitiful. Like a caged animal. I knew it was all in my head, but the longer I looked at him, the more my heart sunk. I felt so enormously guilty in that moment, I couldn't even look at him," he wrote.
Griffin even offered a buyout when when he had 10 miles left, but neither Quereshi or Doug, the other bettor, took the offer.
If you want to find out how Griffin completed the bet, Quereshi's guilt, and their friendship after the fact, you're going to have to check out his blog on CardRunners.
Light Group to Buy the Rio?
Rumors are swirling again regarding the Rio All-Suites Hotel and Casino. Robin Leach's recent story on Las Vegas Weekly alludes to giant nightlife company The Light Group as the purchaser of the property. The Light Group owns night clubs up and down the Las Vegas Strip, including Jet, The Bank, and Haze.
According to Leach, he has heard from three reliable sources that The Light Group was looking to purchase the Rio. The Light Group has started expanding since last year and there was a rumor that TLG owner Andrew Sassoon was looking to buy the Hard Rock Hotel. "That rumor was promptly denied, but I had a hunch that I'd gotten the right information but the wrong hotel," wrote Leach.
Nothing has been confirmed or denied yet, but we'll be sure to bring you any news once we hear it.
Read more from Leach at LasVegasWeekly.com.
Eastgate Speaks
On Wednesday, we brought you some news about the NBC National Heads-Up Championship, including when it would be held and some of the participants. We were surprised, as we're sure you probably were, to see Peter Eastgate's name on the list, and wondered if he was coming out of retirement for good. Eastgate has since released a statement about his return.
"Sometimes in life a person can feel lost and wake up one morning not recognizing who he is. Last summer that was how I felt. Prior to winning the WSOP in 2008, my life was very much a good solid routine of playing online poker and hanging out with my friends and family. Winning the WSOP changed that. I relocated to London and started a new life, the life of a high profile poker pro. For almost 2 years I was in a constant spotlight, travelling from poker tournament to poker tournament, doing thousands of interviews and never had a chance to catch my breath. In the whirlwind that followed winning the WSOP I lost track of the most importing thing in my life, myself....I do not consider this a comeback, as I always knew there was a good chance I would play poker again. During my hiatus from poker, PokerStars have been very supportive. Therefore, I am pleased that I will start out with playing two events where I will be sponsored by PokerStars."
There's plenty more where that came from, but you'll have to check out the PokerStars Blog for the full statement.
WPT Paris
As part of the new line of national events that the World Poker Tour has added, WPT Paris kicked off Wednesday. The Aviation Club de France saw 91 players take their seats at the felt for Day 1a in hopes of making it through to Day 2. Ten hours after play began, just 37 were left, with William Darcourt leading the way. Those 37 will meet the remaining players from Thursday's field.
Among the 97 players who entered the field on Thursday were Tony G, Ludovic Lacay, Freddy Deeb, Isabelle Mercier, and Pierre Neuville. As of dinner break, there were 64 players remaining.
You can check out all the action on PartyPoker.fr.
Follow us on Twitter and like us on Facebook for up-to-the-minute news.