The Nightly Turbo: NBC National Heads-Up Championship, the Story Behind Ashton Griffin's Million Dollar Prop Bet, and More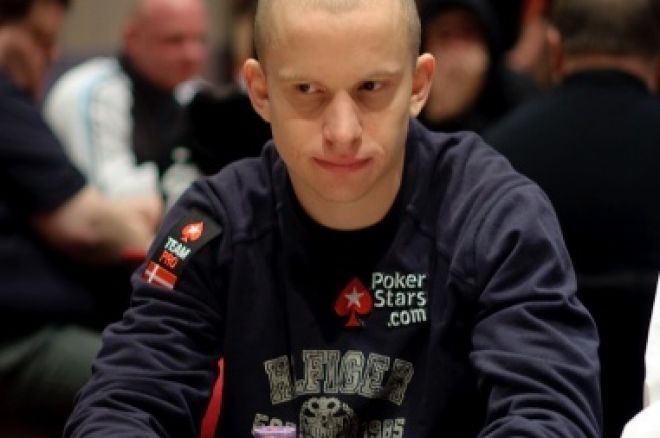 Someone has announced that he's coming out of retirement in March, not that you can't guess from the above photo or anything. We'll give you the scoop on where he'll be playing, and how the Ashton Griffin million-dollar prop bet came about. That's not all, but you'll have to read on for the rest of it.
In Case You Missed It
World Poker Tour Venice crowned a winner Tuesday: Alessio Isaia, who took down the 523-player field, taking home €380,000. Check out how it all went down in our WPT recap.
Foxwoods Casino opened its doors Tuesday for a November Nine reunion. The 2010 November Niners joined 18 amateurs to play in a $15,000 freeroll. Did Jonathan Duhamel take it down, or did another November Niner best the field? The November Nine Reunion recap has the results.
Recently David Chicotsky caught up with Yuval "Yuvee04" Bronshtein to discuss poker, traveling, and more. Check out Mingling with the Maven for more.
The World Series of Poker Europe is on the move. The tournament is headed to Cannes, France, and you can find out more about it in our breaking news story from this morning.
NBC National Heads Up Championship; Eastgate Out of Retirement
It's that time again. The NBC National Heads-Up Poker Championship is just around the corner, and some of the players have been announced, including one who has come out of retirement.
The seventh annual NBC National Heads-Up Poker Championship kicks off on March 3 at Caesars Palace in Las Vegas. The event will run through March 6 and will bring together 64 of the world's best poker players to compete for their part of the $1.8 million prize pool.
"We are proud to broadcast the National Heads-Up Poker Championship for a seventh consecutive year for our viewers to see some of the most exciting poker in the world," Jon Miller, president of programming of NBC Sports and Versus said. "You never know what match-ups you are going to get in Heads-Up. Every year we are amazed with the outcome of who beats who when the best of the best battle it out."
Players already confirmed include, last year's winner, Annie Duke, Phil Ivey, Vanessa Rousso, Doyle Brunson, Daniel Negreanu, 2010 WSOP Main Event champion Jonathan Duhamel, Erik Seidel, and Peter Eastgate, who has come out of retirement for this event.
"Year after year, I look forward to competing among the toughest competition out there that the Heads-Up tournament brings together for fans to see nationwide," Annie Duke said. "I am excited to compete against the skill and mental toughness that my fellow poker players will showcase on the tables."
For more, check out the press release.
The Million Dollar Bet
Haseeb "InternetPokers" Quereshi took to his blog to recount the million-dollar prop bet that went down recently with Ashton Griffin. Quershi talks about how the bet began and how the money was booked. Then he recounts Griffin actually performing the bet and how he called his mother and sister for support and his mother telling them the bet was over and how horrible his "friends" were for making him do this.
"It was almost 11:00PM and Ashton was still in his bedroom. He had completed 30 miles of the 70. Midnight would be the halfway point in the bet, and it seemed that he still had not gotten a wink of sleep. At this point, I was positive that the bet was over. Ashton had simply underestimated his own exhaustion. He had not even reached half of the mileage - and the first marathon would be the easiest. There was no way he could run the second and third marathons at a faster pace. I thought my role would be to explain to his parents what all had happened and why. I thought it was over," wrote Quereshi.
Want to read all of Part 1? You can at CardRunners.com.
Welcome to the Team!
Team PokerStars Online has announced the addition of 15 new members, doubling its roster. The mysterious Mer "PeachyMer" Brit is one of the newest faces on the team, along with Shane "Shaniac" Schleger, Andrew "foucault82" Brokos, Dale "daleroxxu" Philip, among others.
Regarding Brit's signing, Team PokerStars Online member and PokerNews Strategy's Randy "nanonoko" Lew said, "I have so much respect for Mer's tournament game. Her success in tournaments has inspired me to work on my game to reach her level. Beyond poker, I can confidently say she's one of my best 
friends."
The new pros will be blogging, tweeting, and chatting with their fans at the tables at PokerStars.
"I have always been able to relate to a wide range of players, from the 20-something crowd to the guys who have been playing since before I was born; and although I enjoy live poker, travelling the circuit and meeting players from around the world, I am, and always have been, the most happy and comfortable grinding PokerStars tournaments from my living room," Schleger said.
Read more on the PokerStars Blog.
Opa!
PokerStars has announced a partnership with Club Hotel Casino Loutraki in Athens, Greece, which will bring the first major poker tournaments to take place in Greece. The collaboration will begin March 24 with the Greek Poker Cup Main Event. The €1,000+€100 no-limit Texas hold'em tournament will run through March 27 and will have a 200-player cap.
"We are honoured to have the privilege of producing this historic event with Club Hotel Casino Loutraki at their incredible holiday resort of Loutraki, easily accessible from the historic capital of Greece," Jeffrey Haas, spokesman for the Greek Poker Cup said. "We expect the best poker players in Greece to compete for their first poker Championship title, and I'm sure we'll see exciting visceral action from the moment the cards are in the air."
Club Hotel Casino Loutraki opened the first poker room in Greece in September and with 14 tables is the largest live poker room in the country. "We are very happy with this new collaboration and we see PokerStars as a strategic partner. Club Hotel Casino Loutraki is the first casino in Greece that introduced Texas Hold'em in the country and we are looking forward to this international gaming experience," General Manager of CHCL Alexandros Doukas said.
Qualify for the Greek Poker Cup on PokerStars today!
Follow us on Twitter and like us on Facebook for up-to-the-minute news.
Have you seen our new $40,000 Freeroll Series from Lock Poker? Lock Pro Supremacy not only has two more $7,500 Freerolls, but it also has 25 $100 Lock Pro Bounties in each tournament, so you can boost your bankroll even if you don't make the money.