The Nightly Turbo: Negreanu Not Headed to High Stakes Poker Set, Royal Flush Girl Wins Maxim's Hometown Hotties, and More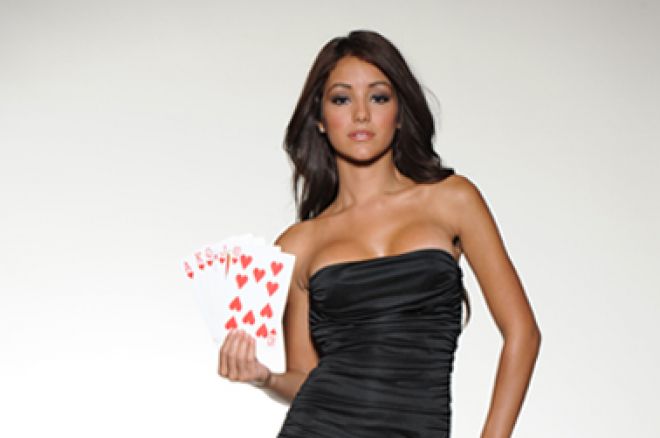 You're halfway through your week and we're pretty sure we're looking forward to the weekend just as much as you are. Tonight, we can confirm that High Stakes Poker will be missing one of its staple faces (maybe this will shake off his HSP curse). Also, so you can have something pretty to look at today, we're going to tell you who won Maxim's Hometown Hotties (and yes, it has something to do with poker). Enjoy!
In Case You Missed It
The year is coming to a close and with that, we know that that trip to the Bahamas is coming closer and closer. To get you pumped up, we take a look at what you can expect from the 2011 PokerStars Caribbean Adventure.
On the latest PokerNews Podcast, Kristy Arnett, Donnie Peters, and Jay Rosenkrantz from DeucesCracked join Matthew Parvis to discuss everything from Kristy's MiniFTOPS win, the Bellagio robbery, and the future of online poker. Check out the podcast for more.
Tom Dwan and Daniel Cates put another notch in the 50,000 hands they're playing. Want to find out which one of them is ahead? You're going to have to read the "durrrr" Challenge recap for that.
In Tuesday's Nightly Turbo, we told you which brave soul accepted the SuperStar Showdown challenge put out by Isildur1.Now, we break it down for you, and tell you when you can expect to see Issac Haxton and Isildur1 battle it out.
Thinking about getting a HUD but don't know what all the numbers mean? David "The Maven" Chicotsky discusses HUD's and how they benefit you our latest strategy article.
Dirk Richter went into Day 2 of the PokerStars.net European Poker Tour Prague as the chip leader and at the end of the day, he was still on top of the leaderboard. Find out how many players will be making their way to Day 3 in the EPT recap..
No Negreanu on HSP
According to Daniel Negreanu's Twitter page, Kid Poker won't be appearing on the new season of High Stakes Poker. We told you in Tuesday's Nightly Turbo that the possibility of Full Tilt Poker pros appearing on the show weren't too likely because of PokerStars sponsorship of the show. (Say it ain't so!)
We're not much for speculation around here, so besides Antonio Esfandiari and Barry Greestein (who have confirmed via Twitter), we're not going to try and figure out who will be on set at the Bellagio when the show begins filming, but as soon as we hear anything, we'll let you know.
Hottest Hottie
If you've been living under a rock, you haven't noticed the Royal Flush Girls at the World Poker Tour stops and you're probably kicking yourself now that you've seen the above photo of Melanie Iglesias. Get out from under that rock! Those of you who are well aware of the RFGs presence on the WPT, are probably also aware that Iglesias made it to the top ten of Maxim's 2010 Hometown Hotties search. Well, pat yourselves on the back folks, because all of your votes gave her the win.
"I was so excited and shocked when Maxim called to tell me. What an amazing honor!" said Iglesias. "First, I get picked to be a Royal Flush Girl, then I'm fortunate enough to win this great contest – it's been an unbelievable year."
She beat out thousands of contestants to win and will be featured in an upcoming issue of Maxim.
"It's no surprise Melanie won," said WPT CEO Steve Heller. "She has grace, beauty, smarts, wit and ambition. She's the total package. We're thrilled for what this victory will mean for her career and how it will elevate even more the tremendous impact of the Royal Flush Girls as brand ambassadors for the World Poker Tour."
Want to see more photos of Melanie? Head on over to Maxim.com.
*Photo courtesy of the World Poker Tour
Not Racing
Since Monday, we've heard rumblings that Maria Ho and Tiffany Michelle would be reprising their roles on the Amazing Race in Season 18's all-star format. Sorry Amazing Racers, but the cast list has been announced and the poker duo is not on it. Former NFL cheerleaders, cowboys, and Harlem Globetrotters are, though, so at least you have that to look forward to.
Find out more at AssociatedContent.com.
Sunday Kickoff
While we probably would have timed this new poker tournament with the first game of football season, a new poker tournament with a $50,000 guarantee is OK with us at any time of year. PokerStars is introducing the Sunday Kickoff to its Sunday Majors lineup. The $109 buy-in tournament begins at 8 a.m. EST, for those of you early birds in the U.S. The start time is perfect for players in Central Europe — 2 p.m., but if you're on the West Coast of the U.S., you should probably think of partying all night Saturday and just staying up for this one because it starts at an awesome (note the sarcasm) 5 a.m.
The first-ever Sunday Kickoff gets under way Sunday December 19 and if you're looking to satellite your way in, you can do that for a mere 11 bucks — and you'll need a PokerStars account too.
The PokerStars Blog has more.
It's Beginning to Look a lot Like....
To get you in the holiday spirit, Gloria Balding takes you on a tour of the lit streets of Prague while on a break from the PokerStars.net European Poker Tour.
Follow us on Twitter and like us on Facebook for up-to-the-minute news.
Have you seen our new $40,000 Freeroll Series from Lock Poker? Lock Pro Supremacy not only has four $7,500 Freerolls, but it also has 25 $100 Lock Pro Bounties in each tournament, so you can boost your bankroll even if you don't make the money.