The Online Railbird Report: Hansen Finishes January Strong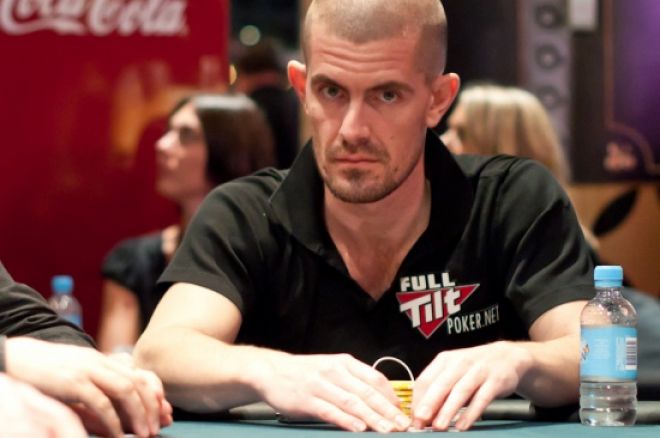 The online high-stakes cash games at both Full Tilt Poker and PokerStars have had their fair share of winners the last few days, none bigger than Gus Hansen and Will "molswi47" Molson, on both sites respectively. Hansen's recent heater concluded a very profitable start to 2011 for the Dane, only trailing Di Dang in overall profit.
Hansen Stays Hot
Gus Hansen's swings online are always quite tumultuous, but he certainly had an excellent January. He ended the month about $900,000 in the black and most recently, he has found success at playing the $500/$1,000 pot-limit Omaha cap games. Yesterday he played against Scott "URnotINdanger2" Palmer where the two had no problems risking $40,000 each over and over.
Hansen had the button and raised to $3,000. Palmer made it $9,000 to play from the big blind and after Hansen called, the flop fell
. Palmer bet the $18,000 pot, Hansen stuck in another $13,000 to reach the cap, and Palmer called with
for middle pair with a draw to broadway. Hansen opened
for top pair and an open-ended straight draw. They ran it twice and Hansen managed to hold on both. First the
turn and
river fell making two pair for each, but Hansen's queens and jacks bested Palmer's jacks and tens. On the second run, the
turn and
river only improved Hansen's hand to trips, securing him the roughly $80,000 pot.
Hansen managed to get a bit lucky in their session, as well. Palmer raised to $2,000 on the button and Hansen called from the big blind. The flop came down
and Hansen checked it over to Palmer who bet $3,000. Hansen made it another $10,000 to call, only to see Palmer cap it. Hansen called with
for top pair with a straight draw, while Palmer turned over
for two pair. Once again they ran it twice and unlike Hansen on the first hand, Palmer was unable to hold. Hansen made a better two pair on both runs as first, the
turn and
river secured the first half of the pot for Hansen with kings and queens. On the second run, the
turn and
river gave Hansen kings and sevens, locking up another $80,000-ish pot for the Dane.
Molson Wins Battle of Canada
On PokerStars, the big winner the last few days was Will "molswi47" Molson. 2011 has certainly been kind to Molson thus far, as he is less than two weeks removed from winning the $25,000 High Roller event at the PCA for $1,072,850. At the other end of the spectrum was Daniel "KidPoker" Negreanu. The two Canadians tangled a bit played $100/$200 no-limit hold'em where Molson emerged victorious.
Playing six-handed, the action was kicked off with a raise to $600 by Bijan "Mr Zahmat" Zahmat. Molson called from the hijack and Negreanu did the same from the cutoff, leading to a
flop. Action checked to Negreanu who bet $1,600. Molson was the lone caller and the
followed on the turn. It was more of the same on turn as Molson check-called $4,200 from Negreanu. The river brought the
and Molson checked for a third time. With $13,700 in the pot, Negreanu overbet the pot with $17,200. Molson, though, put in a raise all-in for $43,830. Negreanu called all-in for just shy of that amount with
, but found himself on the wrong end of set over-set. Molson tabled
and won the $101,000 pot.
Who's Up? Who's Down?
This week's biggest winners (1/28-1/31): Gus Hansen (+$319,000), Rui Cao (+$281,000), *Will "molswi47" Molson (+233,000), *Viktor "Isildur1" Blom (+$236,000)
Week's biggest losers: Daniel "jungleman12" Cates (-$403,000), *gordo16 (-$137,000), Esvedra (-$135,000), Daniel "KidPoker" Negreanu (-$133,000)
Year-to-date winners: Gus Hansen (+904,000), Di "Urindanger" Dang (+$898,000), Scott "URnotINdanger2" Palmer (+$862,000), Patrik Antonius ($835,000), *Di "ilvdnfl" Dang (+797,000)
Year-to-date losers: NEKOTYAN (-$837,000), Phil Ivey (-$612,000), *Sauce123 (-$579,000), Kpederson (-$543,000)
*(PokerStars)
Be sure to follow us on Twitter for up-to-the-minute news, and if you want to rail any of the action, sign up for an online poker account today.