The Weekly Turbo: Schedule Announced for Federated Sports + Gaming Poker League, Party in the USA (Maybe), and More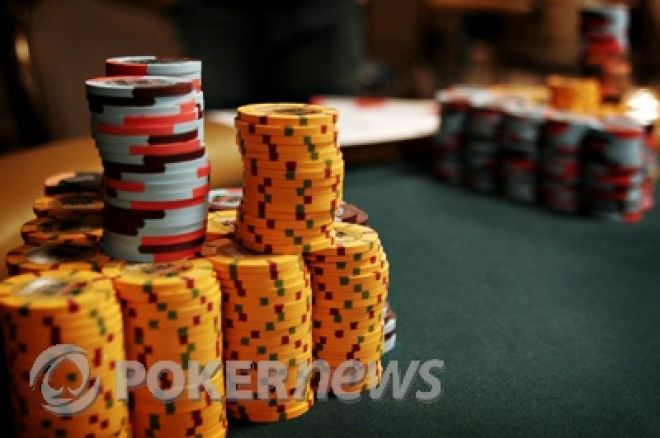 We know life can throw you curveballs and you might miss a Nightly Turbo every now and again (you can sign up for the newsletter so that won't happen by the way), so that's why we're bringing you the Weekly Turbo. In the lineup tonight, we've got the schedule for the new poker league, news on PartyPoker's return (maybe) to the U.S., and more.
Federated Sports + Gaming's Poker League Schedule Released
The schedule for the first season of the professional poker league that was announced in January by Federated Sports + Gaming has just been released. Every event will take place at the Palms Casino Resort in Las Vegas. Four events are on the schedule, along with a championship event. Each "event week" includes three tournaments: a Pro-Am event, a charity tournament, and the Main Event, which is a $20,000 buy-in. The four Main Events will feature different variants of no-limit Texas hold'em.
"We decided to vary the format of our events to showcase and challenge the skill of the best live tournament players in the world," Annie Duke, commissioner of the new Federated League, said. "Our Pro-Am events will create opportunities for break-out stars to shine."
Players who don't qualify for a league card will be able to qualify for a seat in the Main Event. Each event week will begin with a $1,500 Pro-Am event that will be open to all players 21 and over. The top nine players from that event will awarded a temporary league card.
"Because the Main Events have four or more days to play down to a winner from a start of approximately 200 players, we believe it will offer the best, most friendly structures for the skilled player out there," Duke said. "Great structures, no rake and generous overlays are integral to our celebration of the best live tournament players in the world."
2011-2012 Federated Sports and Gaming Season 1 Tournament Schedule

| Event | Pro-Am | Charity Event | Main Event |
| --- | --- | --- | --- |
| Event #1 | August 12-15 | August 14 | August 16-19 |
| Event #2 | Sept 20 - Oct 3 | October 2 | October 4-7 |
| Event #3 | December 1-5 | December 4 | December 6-10 |
| Event #4 | January 20-23 | January 22 | January 24-27 |
| Championship | — | — | January 29-30 |
For more, read the press release at FederatedInc.com.
Rumor: Party in the USA?
The rumor mill is buzzing about PartyGaming's return to the U.S. According to reports in London's Daily Mail, PartyGaming has signed a deal with at least one major U.S.-based casino so that once the U.S. has regulated online gambling, PartyGaming will be able to provide an online poker platform.
No casino has been named, but Boyd Gaming, MGM, Las Vegas Sands, and Caesars have been mentioned.
You can read more at GamblingOnlineMagazine.com.
From Russia, With Love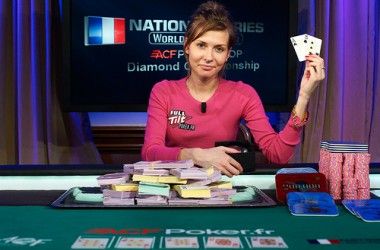 No, Natalia Nikitina is not the newest Bond girl, but she did take down the World Poker Tour National Series Euro Finals of Poker Diamond Championship early Wednesday morning. Nikitina was the last woman standing at the end of play, besting the 188-player field and taking home €243,830.
Nikitina battled Alexandre Brivot heads up, with the chip lead transferring hands a number of times before Brivot moved all in with king-jack and was called by Nikitina. Nikitina's ace-three held and all the chips were pushed her way.
"That was a long and hard contest," she said shortly after her first live major tournament win, "Three hours before the end I was actually finding it hard to stay awake and keep concentrating on my game but I am delighted to win. I am going to celebrate by buying a BMW 6 Series," she said shortly after her win.
Sam Trickett, who has had a stellar year so far, was part of the final table, finishing in sixth place, good for €43,545.
Final Table Results
1. Natalia Nikitina - €243,830
2. Alexandre Brivot - €174,170
3. Jean-Louis Tepper - €113,210
4. Benjamin Pollak - €69,670
5. Tobias Wagner - €52,250
6. Sam Trickett - €43,545
7. Ingo Paulus - €34,835
8. Nicolo Calia - €26,120
Head on over to the PartyPoker Blog for more, including an interview with Nikitina.
*Photo courtesy of the PartyPoker Blog
LAPT Announces Chile National Poker Championship
The PokerStars.net Latin American Poker Tour has announced its return to Viña del Mar for the fourth season of the LAPT. The LAPT did not make it to Chile in season three because of the devastating earthquake that struck the country. The $1,100 buy-in LAPT Chile National Poker Championship will take place March 17 through 20 at the Enjoy Viña del Mar Hotel & Casino.
"It feels great to be returning to Chile. Poker has grown since we were last here and we look forward to helping it grow even more. Our partnership with the Enjoy Group, the leading live poker operator in Chile, is very strong, and we are looking forward to an exceptional tournament," President of the LAPT, David Carrion said.
There are five events on the LAPT Chile docket with a wide range of buy-ins including a $4,000 High Roller event.
"This will be the second LAPT to take place in Viña del Mar, and we are very proud to bring this type of event to Chile. We believe this is a great opportunity to give our players a chance to take place in a tournament of high calibre and worldwide recognition, providing a significant push to the development of tourism within the region," Juan Pablo Covacevich, gaming marketing manager of the Enjoy Group said.
Sign up for a PokerStars account and qualify for your seat at one of the LAPT events!
Back on Tilt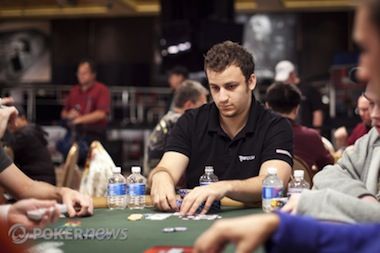 Sorel Mizzi was permanently banned from Full Tilt Poker in late 2007. In case you don't know the story, it was revealed that he had taken over the account of Chris Vaughn late in the Full Tilt $1 Million Guarantee and then went on to win it. Soon after, both Vaughn and Mizzi were banned from Full Tilt Poker.
It seems as though Mizzi's ban has been lifted and he is back at the Full Tilt Poker tables, playing under his screen name, "Imper1um." Wednesday night, Mizzi tweeted, "19/25 in FTOPS #33 $300Rebuy- already won a ton in prop bets seeing if I can close big on first day back on FTP." Imper1um ended up finishing in 24th place.
PokerKingBlog.com has more.
Team PokerStars Challengers
While we'd like to say we stumbled across the Team PokerStars Challengers while playing online, it wouldn't be accurate because these guys are playing higher than our $.05/$.10 bankroll will allow us to play. We came across a thread on TwoPlusTwo titled New "team pokerstars pro' [challenger] ??, and we decided to investigate. After an email or two to our sources, we figured it out.
Team PokerStars Challengers are three players from Greece, George Kapalas (gkap13), Alexis Zervos (J0hnny_Dr@m@), and Stavros Kalfas (IDOLLS). The Challengers, who will gradually be introduced over the next few months, are professional players who are well-known in their local market by their performances online and on the European tournament circuit.
The three have agreed to take on a challenge to determine which will be the best overall performer in 2011. Online tournament ROI, most live-event cashes, and SCOOP and WCOOP performances are some but not all the categories the three are competing in.
We've been told that PokerStars will be releasing more information on the Challengers soon, as well as a way to find out how they're performing.
Why don't you sign up for a PokerStars account and rail their tables, or take advantage of our sign up bonus.
Jared Huggins Gets Loose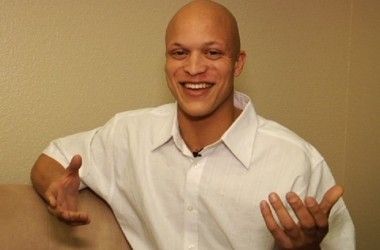 A year-and-a-half ago, Jared Huggins was down on his luck, losing his job and becoming homeless. He started a thread on TwoPlusTwo about his situation, and before you knew it, the TwoPlusTwo community stepped in and began helping him out. Soon, a petition was started to get Huggins on the PokerStars Big Game, as one of the Loose Cannons.
Initially, it seemed as though Huggins didn't make the cut for a Loose Cannon spot, but Sunday night, PokerStars Steve posted the Loose Cannon list for the 2011 taping of the Big Game, and Huggins was on the list. Filming for the Big Game begins in just a few weeks in Las Vegas.
If you want to find out more about Huggins' story you can check out the Sin City Series or listen to the PokerNews Podcast.
Event Betting Returns
Will you be able to make bets at Las Vegas sportsbooks on the World Series of Poker this summer? Technically, yes. The Nevada Gaming Commission recently amended its regulations on event betting and approved it. This means, among the lines for football games and basketball games, you might see odds on the Grammys or the Oscars.
"I think it will be good for the state," Cantor Gaming race and sportsbook director Mike Colbert said. "I don't think it's going to add all that much revenue, but anything that creates more action I'm in favor of."
Cantor Gaming operates sportsbooks at The M Resort, Hard Rock, Tropicana, and The Cosmopolitan. It was also the organization at the forefront of getting the amendment passed. The gaming board is now requesting that sportsbooks show how they plan to monitor the betting to prevent cheating.
"There's a million ways we could swing that," Colbert said regarding the World Series of Poker. "All of the poker guys would love it. They bet amongst themselves anyway about who's going to last longer, who's going to win a tournament and who's going to win the most bracelets. There's really a market for a variety of different poker wagers."
Read more at Covers.com.
Like us on Facebook, and follow us on Twitter for up-to-the-minute news.
We are tired of tiny freerolls; no doubt you are too. If so, then check out our $34,000 Monster Pot Freeroll series with Poker770 – only a $20 deposit and 20 poker770 points to qualify.