The Nightly Turbo: PCA Main Event Final Table to Air on ESPN, LAPT Season 4 Announced, and More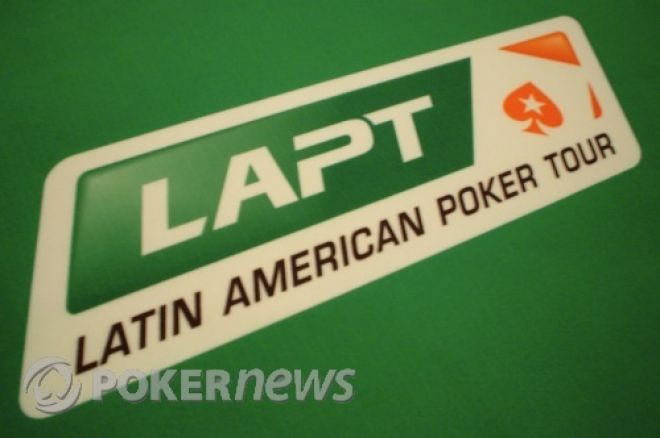 If you can't get down to the Bahamas for the PokerStars Caribbean Adventure, at least you'll be able to watch it on TV. We'll tell you how, bring you the details of season four of the PokerStars.net Latin American Poker Tour, and more in tonight's Nightly Turbo.
In Case You Missed It
Lynn Gilmartin got to experience the PokerStars Asia Pacific Poker Tour first hand, while the rest of us sat back and watched from the couch. She tells you all about her time in Sydney and being back home in Melbourne in the latest edition of Around the World with Lynn.
While most of you were deciding which running back to start in your fantasy football playoffs, some of poker's biggest names were tweaking their fantasy poker picks. Check out how the 2010 ESPN Fantasy Poker League played out and find out more, who knows, maybe you'll add this to your list of things to do next year.
Wondering how the midweek online poker tournament scene looked?You can find the results in the Midweek Briefing.
Placing your bets on the NFL's week 15 match ups? You might want to check out the Pigskin Diaries first.
After much speculation, it has been confirmed that Harry Reid's Internet poker bill is dead. Read the article to find out what the Poker Player's Alliance had to say about it.
PCA to Air on ESPN
ESPN2 and ESPN3 will provide same-day coverage of the 2011 PokerStars Caribbean Adventure Main Event final table in HD on a one-hour delay, meaning all the players who bust will be able to regain their composure and relive the gut-wrenching agony 60 minutes later.
"For the first time viewers at home will see a poker telecast from start to finish, with all the strategy of world-class poker players playing in real time and completely unedited," Matt Volk, ESPN manager of programming and acquisitions said.
Coverage will start at 5 p.m. EST on ESPN3, then at 10 p.m. EST, ESPN2 HD will join in to simulcast the show and run until a winner is crowned.
"This is one of the most exciting announcements ever in televised poker. This is the first time people watching online or on TV will be able to see everything that happens at a poker table. So much happens in poker that never makes it to the final TV edit, but this will show exactly how top-level players go about winning a massive tournament. There's so much money on the line – it's going to be gripping," Joe Versaci, PokerStars.net North American Poker Tour marketing director said.
Read the entire press release on ESPN.com.
Ole! Latin American Poker Tour Season 4 Announced
Put your sombreros on and get ready to head South, because season four of the PokerStars.net Latin American Poker Tour has just been announced. It all begins February 16 in the largest city in the southern hemisphere, Sao Paolo, Brazil. The Main Event will be a R$5,000 (or $3,000 USD) buy-in and there will be numerous side events going on, as well.
There are five stops on the Tour so far including Peru, Argentina, Chile, Colombia and Brazil.
"During Season 4 of the LAPT we will introduce new venues, such as Sao Paulo and Bogota, create two new National Poker Championship events, in Chile and Colombia, and start searching for the best player in the region through our new Player of the Year awards," LAPT President David Carrion said. "These changes have been made as a result of extensive feedback during Season 3, and we are proud to be making many player-friendly improvements that will take the LAPT to new heights, with larger fields and richer prize pools."
As if the prizepools weren't enough incentive to play well, the LAPT is introducing the LAPT awards, which are very similar to the EPT's awards.
"I am looking forward to the new season; bigger events, with more players and bigger prize pools is what all players look for," Team PokerStars Pro Argentina's Nacho Barbero said. "I am sure that next season will be a success, like the past one, and I am looking forward to competing for the Player of the Year award."
Head on over to LAPT.com for the entire season four schedule and book your flights today!
Green Lit?
We can see it now, Worm and Mikey building up an online bankroll and rattling off some poker clichés (that just won't fly like they did back in '98), before getting hunted down and beat up by a gang of TwoPlusTwo members or running some sort of superuser trick that Worm learned in the clink. Yep, the "new" Miramax has announced an agreement with The Weinstein Company to create sequels to some of Miramax's best-known films. The first films to be produced under this new agreement include Bad Santa, Shakespeare in Love, and Rounders.
"We are very close to these films and the new management of Miramax also feels that we are in the best position to create sequels that are at once worthy and compelling in their own right," TWC's Harvey & Bob Weinstein said.
Firstshowing.net has more.
The Five Star Poker Challenge
For December, PartyPoker is running the Five Star Poker Challenge. What is it, you ask? Every day in December, there's a $5,000 freeroll. Yes, every day. All you have to do is earn five Party Points the day before and you'll receive entry into the $5,000 freeroll. On top of that, if you qualify for five of these freerolls, you'll receive entry into the $50,000 finale on January 2.
Pretty juicy right? Oh, and one more thing, if you win two $5,000 freerolls, you'll get $5,000. Three of them? That will get you $50,000, and if you win five of the daily $5,000 freerolls, you will win $500,000!
What are you waiting for? Sign up for a PartyPoker account today.
What Do You Think of the G?
Usually, when we come to you with Tony G news, he's giving his opinion about an unsuspecting poker player — maybe not so unsuspecting, but anyway. This time, however, some of poker's most well-known players are voicing their thoughts on the G. Check out the video from the PartyPoker Blog to see what Daniel Negrenau, Phil Hellmuth, Mike Matusow, and others have to say.
Vote for Glo!
This is your friendly reminder that the voting for Bluff Magazine's Reader's Choice Awards is open and one of our very own is up for an award. PokerNews hostess Gloria Balding has been nominated for Favorite Poker Hostess!
Go ahead and vote for Gloria, if she wasn't here, you wouldn't get little ditties like this.
Can't get enough PokerNews? Follow us on Twitter for up-to-the-minute news.
Right now not only can you get a free $50 bankroll from PartyPoker and PokerNews, you will also get a free month at PokerNews Strategy. Hurry as this is a limited offer, but the great thing is you don't even have to make a deposit at any stage, just go to our PartyPoker Free $50 Page and follow the walk-through.