The Nightly Turbo: PokerStars Licensed to Operate in France, ESPN Inside Deal, and More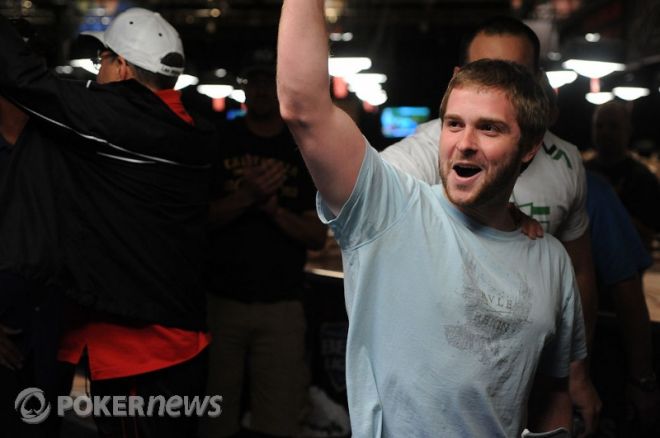 In tonight's Nightly Turbo we're bringing you the day's top poker news stories including PokerStars being granted a license in France, the latest ESPN Inside Deal with Dean Hamrick, Vanessa Rousso and Phil Laak, and more.
In Case You Missed It
Did you miss the Aussie Millions on GSN? Well, like every week, we've got you covered.
Looking for a place to party while you're in Las Vegas? Why not try out XS or Surrender at Encore? You won't be disappointed, but you don't have to take our word for it. Read this. There are pictures, too!
The 2010 World Series of Poker is in the home stretch. Scott Montgomery has positioned himself for a second bracelet attempt this year, and a former teacher from Norway grabbed his first bracelet. Check out the Day 32 recap for more.
PokerStars News
Last week, we told you of the PokerStars poker players in France who wouldn't be able to access their beloved site anymore because of the new legislation.
The players would have had to play for play money tournaments on PokerStars.fr. It seems like this may change on Wednesday, June 30, according to a press release. Once the French government has published the regulations for online poker, PokerStars.fr will begin running cash games.
"PokerStars.fr aims to be one of the leading online poker operators from
the day the French market opens, offering players the best tournaments,
promotions and opportunities to win seats at PokerStars world-renowned
international tournaments," said PokerStars French Country Manager
Alexandre Balkany.
--------
PokerStars has announced that it will be sponsoring theEmpire State Hold'em Championship at Turning Stone Resort and Casino in Verona, New York.
The event will run from August 14 through 18 and will feature a $2,500 buy-in main event. This event will be open to all players ages 18 and older.
"We are very excited about our new partnership with PokerStars.net and look forward to welcoming players to Turning Stone Resort for this premier poker event. There will be preliminary events beginning on August 9 leading up to the main event and several events running after the main event through August 22," said Jason DiBenedetto, Director of Poker Operations at Turning Stone Resort and Casino.
You can qualify for this event on PokerStars. So sign up for an account today.
Inside Deal
ESPN's Inside Deal is back this week with a fresh episode. Andrew Feldman joined Laura Lane to take care of the hosting responsibilities while Bernard Lee was in Las Vegas doing the poker thing.
The pair caught up with Dean Hamrick, who won his first gold bracelet over the weekend, Vanessa Rousso and Lee discussed what it is the "year of," and Phil Laak joined the show to talk about his world record attempt for longest poker session.
Come to My Party
All right, so we're going to chalk this one up to a rumor until it is confirmed one way or another. In our in-box this morning, we received an invite to a cocktail party hosted by PokerStars. Nothing strange about that. What was strange, however, was the line-up of players who would be there. It wasn't Joe Cada's name that caught our eye, but David Williams' and Vanessa Selbst's names.
Now, nowhere in this e-mail does it say that Selbst and Williams are signed or will potentially be signed by the online poker giant, but it just kind of strikes us as odd. We'll let you guys come up with all the possible theories.
In any case, you can always sign up for a PokerStars account and take part of the PokerNews Mini Series of Poker going on now.
The Poker Show
PartyPoker will be sponsoring the latest season of "The Poker Show with Jesse May." The first episode will premiere June 30 and will be available for download at 12 p.m. every Wednesday and Sunday throughout July.
After each of the first eight shows, on Thursdays and Mondays, there will be an exclusive PartyPoker tournament in which the winners will earn entry to a final freeroll on August 1. The winner of that freeroll will get a seat to the World Poker Tour London Poker Classic.
"I'm very excited about the new format. The last three seasons have been trial and error but I think we have cracked the formula. The key words are big names and fast paced ― the strength of the show has always been all the great contacts we have in the poker world but now we think we are coming to something that the listeners will love hearing rather than just the people we interview," said Jesse May.
Sign up for a PartyPoker account today and win your way to London.
Lost Vegas
PokerNews Op-Ed writer Paul McGuire has just released his book, Lost Vegas, to the masses. And because this says it best (and also cuts out some work for us) here's the description:
"Las Vegas lures you to shed moral responsibility and piss away your money on indulgences like decadent food, entertainment, gambling, and sex. If you don't enjoy these pastimes, then what's the point of visiting the land of compromised values? Where else can you get a cheap steak, crash a Mexican wedding, get cold-decked in blackjack by a dealer named Dong, play video poker for thirteen straight hours, drink piña coladas out of a plastic coconut, bum a cigarette from an 85-year-old woman with an oxygen tank, speed away to the Spearmint Rhino in a free limo, get rubbed by a former Miss Teen USA, puke in the back of a cab driven by a retired Navy SEAL, snort cheap cocaine in the bathroom at O'Sheas, and then catch a lucky card on the river to crack pocket aces and win a poker tournament? Only in Las Vegas."
Sound like something you'd be interested in? Buy it here.
Calling the Clock: Jonathan Karamalikis
Lynn Gilmartin caught up with Jonathan Karamalikis just after he busted Day 1 of the $1,500 no-limit event. Great timing right? Well, he wasn't too upset to call out some of his friends. Check out the video below.
Be sure to follow us on Twitter for up-to-the-minute news and become a fan on Facebook.