The Nightly Turbo: Two Killed in Texas Poker Game, PokerStars Baltic Festival, and More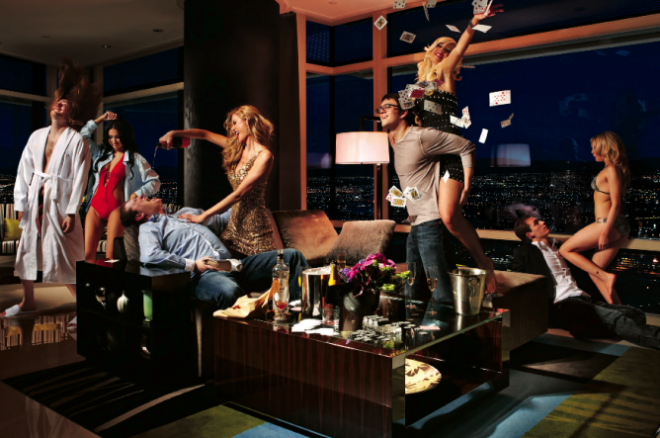 Tragedy struck a poker game in Mesquite, Texas, Tuesday when two men were killed at a poker game, the PokerStars Baltic Festival has begun in Tallinn, Estonia, and if you're in the neighborhood in Las Vegas you can take on some of PokerNews' own at our weekly Hard Rock game. Keep reading for all the details and a sneak peek of the Maxim issue with a feature called From Geeks to Gangsters.
In Case You Missed It
The PokerStars Big Game premiered this week. Did you miss it? You know we didn't. Check out the recap.
The 2010 World Series of Poker has reached its mid point. Have things slowed down? No. As the World Series Turns brings you the latest.
Day 19 of the 2010 World Series of Poker was an interesting one; no one won a bracelet. Jeffrey Lisandro is leading Event #29, and fields were slashed. Check out the WSOP recap for more.
Tragedy at Texas Poker Game
A friendly poker game in Mesquite, Texas, turned violent when a man attempted to rob the players Tuesday. Tracy Moore, who lived at the apartment where the game was being held, was shot and killed by the robber.
Jerome Johnson, one of the players in the game, then shot and killed the robber. Johnson had a concealed handgun permit for the gun he used and was not arrested in the shooting. A Dallas County grand jury will review the shootings and determine whether any charges will be filed.
AP Texas News has more.
Baltic Poker Festival
The PokerStars Baltic Poker Festival has begun in Tallinn, Estonia. This is the second year for the festival, which will run from June 16 through 20. Last year's event saw 307 players from 24 countries take to the felt. Thomas Partridge walked away a winner last year, taking home the title and €75,000 of the €300,000 prize pool.
This year's buy-in was upped to €1,500 and the event has already seen 134 players preregistered. Plenty of Team PokerStars Pros will be there including William Thorson, PokerStars SportStar Sami Selio, Grzegorz Mikielewicz from Team Pro Online, and making his debut as a newly minted Team PokerStars Pro, Ville Wahlbeck.
Check out the PokerStars Blog for updates from the event.
From Geeks to Gangsters
Way back in March, we told you about a photoshoot taking place at Aria Resort and Casino that included Justin Bonomo, Issac Haxton, Scott Seiver, Steve O'Dwyer, and four models. That issue is on stands now and Davy Rothbart chronicles a few days in Vegas he spent with the guys.
From credit-card roulette, to Lodden Thinks, and losing thousands online, Rothart gives readers a sneak peek at the lives these Magic the Gathering turned poker players lead.
Find more at Maxim.com or head on over to a bookstore and pic up a copy, wait, we mean check your mailbox for the latest issue.
*Above photo credit to Maxim
Game Time
The PokerNews Hard Rock game is coming at you Wednesday at 8 p.m. If you're in the neighborhood, stop by and take on some of your favorite PokerNewsers in this $4/$8 half kill game. The Hard Rock throws in so many promotional incentives how could you not want to come out for it.
Also, you never know who will show up. The DeucesCracked guys have been staples at the game and Annette Obrestad has even made an appearance. See you at the Hard Rock at 8 p.m.!
Lifers
This is the last week to qualify for the PartyPoker WSOP for Life* promotion. The tournament takes place Sunday, June 20 at 15:25 EDT. First place receives the WSOP for Life package, but there are three 2010 WSOP packages and $50,000 in cash prizes up for grabs, too.
"Sunday is going to be a huge day as five people will secure these never seen before packages and never have to worry about qualifying for the WSOP Main Event again! There is still everything to play for in the leaderboard races," said a PartyPoker spokesperson.
*Life in this case is 20 years.
Sign up for a PartyPoker account today and maybe we'll see you at the WSOP for years to come.
Calling the Clock: Greg Mueller
Lynn Gilmartin caught up with Greg Mueller during the break of the $10,000 limit hold'em event and decided to call the clock on him. How much will it take for him to give up table massages for a year? What about to grow out his hair? Find out in the video below.
Be sure to follow us on Twitter for up-to-the-minute news and become a fan on Facebook.