Breaking Down the NBC National Heads-Up Selection Process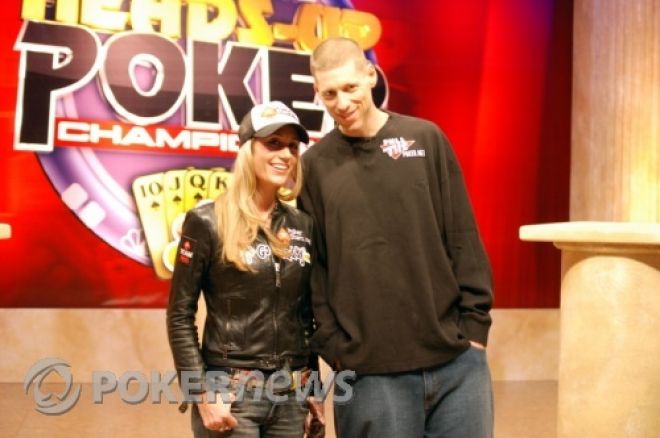 It is hard to imagine that the NBC National Heads-Up Championship, which began as replacement programming for the National Hockey League lockout of 2005, has evolved into one of the most anticipated events of the year. With the draw party for this year's event set to take place on Thursday at PURE Nightclub in Las Vegas, we thought it'd be worthwhile to take a look at the event's selection process as well as some of the more questionable invitees.
The Chosen Few: Back in 2008, NBC released a statement explaining "the selection committee involved with determining which players are invited has reviewed the fields assembled and decided to implement a list of automatic invitations for upcoming Heads-Up Championships." These automatic invitations were as follows (players in parentheses are the players who were selected for 2011):

Previous five National Heads-Up Poker Champions (Phil Hellmuth, Ted Forrest, Chris Ferguson, Huck Seed, and Annie Duke)
Previous two National Heads-Up runners-up (Vanessa Rousso & Erik Seidel)
Defending National Heads-Up semifinalists (Dennis Phillips & Scotty Nguyen)
Any player who cashes in the past four consecutive years of the National Heads-Up Poker Championship (None)
Previous three World Series of Poker Main Event Champions (Jonathan Duhamel & Peter Eastgate)
Defending World Series of Poker Main Event runner-up (John Racener)
Beginning with the 2008 WSOP, multiple bracelet winners in the same year will receive an automatic invitation to the next Heads-Up Championship (None)
Defending World Series of Poker Player of the Year (Frank Kassela)
Defending World Series of Poker Heads-Up Champion (Ayaz Mahmood)
Defending World Series of Poker Europe Main Event Champion (James Bord)
Reigning World Poker Tour Player of the Year (Faraz Jaka)
Reigning European Poker Tour Grand Final Champion (Nicolas Chouity)
Reigning Card Player magazine Player of the Year (Tom Marchese)
Reigning Bluff magazine Player of the Year (Sorel Mizzi)
Reigning ALL IN magazine Player of the Year (None)
Online and NBC qualifiers (Melburn Whitmire)
Host venue qualifiers (Justin Young)
This list, which is nearly three years old, begs a single question: is it still accurate? The answer is, sort of. It holds true with a few exceptions; for example, all past winners are in the field except 2007 winner Paul Wasicka. Likewise, not all three previous WSOP Main Event winners are in since Joe Cada was recently replaced by Sam Trickett. It also appears the selection committee decided to reappropriate their online qualifier spots in favor of more celebrity invites including Gabe Kaplan, Emmitt Smith, Jennifer Tilly, Don Cheadle, and Jason Alexander.
Of course, the aforementioned list doesn't account for all 64 players. That is partly filled out by some of the biggest names in poker including Daniel Negreanu, Phil Ivey, John Juanda, and Doyle Brunson who said he may not play if he doesn't feel up to it. The remaining participants are chosen by the selection committee at their discretion, which has raised a lot of fan criticism of the NBC National Heads-Up Championship. Many are wondering how some players who failed to remain relevant in the game were chosen over more modern players, and how "boring" players were chosen over more entertaining ones.
Snubbed?: The poker forums were full of fans offering their thoughts on the 2011 lineup. Among the most highly criticized choices in various poker forums are Phil Gordon, Kara Scott, Dwyte Pilgrim, and of course, all the celebrities. With the exception of Pilgrim, who was one of the most successful players on the Circuit in 2010, though still relatively unknown among the poker masses, the other two players haven't done anything in poker for quite some time. Likewise, some people feel that players such as Chris Ferguson, Howard Lederer and Chris Moneymaker — in other words, player who are not necessarily the most exciting to watch — should have been replaced with more exciting personalities.
A thread started on 2 + 2 has dozens of posts stating dissatisfaction, including one by "Carnivore" that was directed at Moneymaker, Ferguson and Gordon: "Does anybody want to watch these guys? They're like watching paint dry and have no relevance to the game anymore."
Likewise, "BanSooners" took to the forum to express his feelings about Scott, who is being criticized on 2 + 2 as undeserving: "Kara Scott is very hot but doesn't deserve a seat in this, but we have to remember that it's for TV and there are a ton others who don't deserve it. You can figure it out yourselves, I don't need to bash everyone who doesn't belong, but it is not going to change anytime soon."
While those on the list have been highly debated, there seems to be a general consensus in regard to those left off. Perhaps no one feels more overlooked than Antanas "Tony G" Guoga, who took to his blog to express his discontent:
"I have not been invited to the NBC Heads-Up event for four years in a row . . . I know that winners of certain events get invited, which is completely correct! The [rest of the] selection process is a farce – Mori [Eskandani, the producer,] is from the old school and probably hates what I do on TV. I am pi**ed for missing out for four years in a row and pi**ed at having to beg him to be considered for the NBC heads up . . . Televised poker needs a revolution anyway, most of the shows he produces are dull and flat and the politics are just too much for me now . . . I am going to go out in a limb here and say I think I am probably in the top six players for TV events. Do you think it is unfair that I have been snubbed for the NBC Heads-Up?"
Who else was overlooked? Along with Tony G, whose sole appearance in the event was in 2006 when he lost to Mike Caro in Round 1, Sammy Farha, Luke Schwartz, Justin "Boosted J" Smith, Illari "Ziigmund" Sahamies, and Olivier Busquet are among the names most mentioned by poker fans as deserving, whether it be for ability, results, or strictly for entertainment value. In recent news, it appears that NBC must have paid attention to the fans because invitations were extended to Busquet after Annie Duke dropped out late Tuesday night. Nonetheless, there are still plenty of big personalities who'll be missing out this year.
When the official list was released and debated on Twitter, even Negreanu took to his account to offer his opinion: "I'll just get into trouble! If entertainment is the prioritym add Tony G and Luke Schwartz. Some old-guard picks in there are odd. If entertainment is the priority, then it's odd to have old-guard players who offer no recent results and zero entertainment."
Whether the NBC National Heads-Up Championship should be more results-oriented, pass up blasé players in favor of more entertaining ones, or even offer the fans a voting option, it is not going to change this year's lineup (barring another unexpected dropout). While there is a loose selection process in place, it is worth noting that NBC's statement included the following: "The [selection] list can be changed at the committee's discretion, i.e. more automatic bids can be added, but at the very least . . . The committee also reserves the right to withhold an invitation to a player in certain circumstances."
Here is a look at the entire 2011 lineup.

| | | | | |
| --- | --- | --- | --- | --- |
| Jason Alexander | Patrik Antonius | Eric Baldwin | David Benyamine | Andy Bloch |
| Liv Boeree | James Bord | Doyle Brunson | Joe Cada | Daniel Cates |
| Johnny Chan | Don Cheadle | Nicolas Chouity | Allen Cunningham | Jonathan Duhamel |
| Annie Duke | Tom Dwan | Peter Eastgate | Eli Elezra | Antonio Esfandiari |
| Chris Ferguson | Ted Forrest | Phil Galfond | Phil Gordon | Barry Greenstein |
| Bertrand Grospellier | Joe Hachem | Gus Hansen | Jennifer Harman | Phil Hellmuth |
| Phil Ivey | Faraz Jaka | John Juanda | Gabe Kaplan | Frank Kassela |
| Eugene Katchalov | Phil Laak | Howard Lederer | Erick Lindgren | Ayaz Mahmood |
| Thomas Marchese | Mike Matusow | Jason Mercier | Michael Mizrachi | Sorel Mizzi |
| Chris Moneymaker | Daniel Negreanu | Scotty Nguyen | Annette Obrestad | Dennis Phillips |
| Dwyte Pilgrim | John Racener | Greg Raymer | Vanessa Rousso | Kara Scott |
| Huck Seed | Erik Seidel | Vanessa Selbst | Emmitt Smith | Gavin Smith |
| Jennifer Tilly | Melburn Whitmire | David Williams | Justin Young | |
What do you think of this years lineup? Who do you think was overlooked? Let us know in the comments section below.
Right now not only can you get a free $50 bankroll from PartyPoker and PokerNews, you will also get a free month at PokerNews Strategy. Hurry as this is a limited offer, but the great thing is you do not even need to make a deposit at any stage, just go to our PartyPoker Free $50 Page and follow the walk-through.