PokerNews Debate: Is Full Tilt Poker's Onyx Cup Good for the Game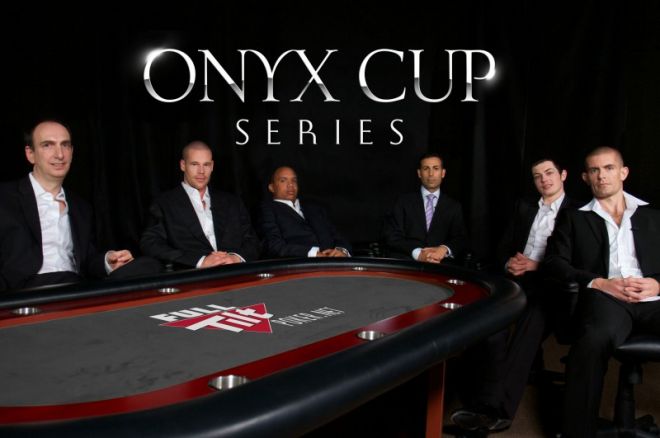 On Monday, Full Tilt Poker announced the Onyx Cup, a tournament series with buy-ins ranging from $100,000 to $300,000 with an estimated $30 million prize pool across the entire series. There will be five preliminary events, culminating in a $250,000 buy-in Grand Finale that will see $1 million added to the prize pool. Such events are to be held in locations across the U.S., Europe and Asia.
The Onyx Cup was met with mixed reactions from the poker world. While some people were excited about the high-stakes tournaments, others were less enthusiastic and some were downright critical. PokerNews has decided to take a look at both sides of the argument as senior writers Chad Holloway and Rich Ryan debate the pros and cons of the Onyx Cup.
Chad Holloway believes the Onyx Cup is bad for poker.
I am not overly excited about the Onyx Cup for three primary reasons: bad timing, poker politics, and a lack of entertainment. First, could Full Tilt Poker have picked a worse time to launch a series? The U.S. and much of the world is in a recession, so throwing tournaments that flaunt exuberant buy-ins is demeaning and distasteful. Many poker fans are struggling to make ends meet, so it won't be surprising if many of them aren't interested in watching the richest players tossing around cash like it is Monopoly money. Although I admit this extravagant behavior is exactly what some fans want to see, I just think they're the exception rather than the rule.
Not only is the Onyx Cup launching in a bad economy, but it also is launching in direct competition with other major poker events. When so many events run at the same time, the quality of each is lowered at the expense of the fans and the game as a whole.
Take the European Poker Tour Grand Final as an example. That event has often drawn some of the biggest names in the game, many of whom will now have to make a choice between the EPT Grand Final and the inaugural Onyx Cup event in Vegas. Guess which one the Full Tilt pros will choose and which one the PokerStars pros will pick?
That aforementioned question leads directly to my next objection to the Onyx Cup, which is that poker politics will be taken to a whole new level. Recently, Full Tilt allegedly banned its pros from playing on GSN's High Stakes Poker, which is sponsored by PokerStars. Can it be long before they don't play any PokerStars sponsored events such as the EPT and North American Poker Tour? Likewise, will PokerStars restrict its players from Full Tilt events like the Onyx Cup? Poker politics are going to get in the way of quality tournaments, once again to the detriment of the fans, the event, and the game as a whole. Even Daniel Negreanu took to his Twitter to express his discontent: "If Onyx had a decent structure and didn't open against EPT Grand Final I planned on playing in all 6. I hate crapshoots. Oh well."
Restricting players from playing certain events benefits no one. The quality of a poker tournament is directly related to the players in the field. As mentioned above, we can likely rule out many Team PokerStars pros like Negreanu, Jason Mercier, Bertrand "ElkY" Grospellier, and Barry Greenstein. This means we'll be left with members of Team Full Tilt, rich business men, and a few other nonsponsored pros. Based on reactions in various forums, this does not sit well with the fans. They believe, as I do, that players like Howard Lederer, Chris Ferguson, Patrik Antonius, and Erik Seidel are less than entertaining, equating their television appearances as captivating as watching paint dry.
If the Onyx Cup wants to be successful, it should encourage the likes of Phil Hellmuth, Tony G, and Mike "The Mouth" Matusow, to play in these events, seeing as these players are exciting to watch on television and could greatly improve the ratings.
In addition to the reasons listed above, the Onyx Cup will also face a number of other challenges such as competing with the newly establish Federated Sports & Gaming's Professional Poker League, a lack of qualifiers, and trouble finding players who can afford to play all the Onyx Cup events. I'm not against the concept of a series of high-stakes tournaments, but some kinks need to be ironed out and changes need to be made before it reaches it's full potential.
Rich Ryan believes the Onyx Cup is good for poker.
In February, I wrote that poker needed four majors and that all of them should be $100,000 buy-ins. So when FTP announced the Onyx Cup, I was so happy that I Kobe fist-pumped in the middle of my living room. This tournament series is perfect for what it is: a showcase of the best players in the world playing for insane amounts of money. Let's face it, during the World Series of Poker Main Event, the story line every year is "Can a professional player win?" At the 2009 Main Event final table, who was everyone sweating? Phil Ivey or Darvin Moon. Cinderella stories are cute, but at the end of the day we want to see elite players making the best plays, not lumberjacks calling off a bazillion chips with
.
People have to realize that this tournament series is designed for a specific market of players. Over the past year or two, the circuit has been diluted by smaller buy-in tournaments designed for the average player. While these are great for the game and help foster the poker community as a whole, they cannot satisfy the entire market. Phil Ivey himself has said publicly that he won't play in a tournament unless the top prize is more than $1 million and most of the other high-profile players don't grind the $350 preliminary events either. These smaller buy-in events just aren't worth their time, so to satisfy this wealthier market, there needs to be more super high-roller tournaments.
Because the Oynx Cup is tailored specifically for poker's elite, then its affect on "average players" can only be positive. There's obviously the entertainment value, but there's also some added equity, as well. If an Onyx Cup event is running against a tournament you're playing in, then the field is probably going to be a lot softer. Because variance and value are such key factors in game selection, I would think this is a good thing for most players. I understand that players like Daniel Negreanu are upset because an Onyx Cup event might run concurrently with the Grand Final, but if you aren't going to participate in either, then why are you so upset? Players skip out on plenty of tournaments because of fatigue, location and other factors, but we don't stop following the updates just because one player is absent. The show goes on.
As for the ongoing struggle between Full Tilt and PokerStars, I don't foresee it being a major issue. Full Tilt is stressing that these events are open, and seeing as how there is no juice, Stars won't feel like it is supporting its rival. Plus, Stars is savvy enough to know that if one or more of its players takes down a final table with Full Tilt logos all over it – and it's televised – then Stars will have the last laugh. If for some reason the two sites choose to continue their sibling rivalry and Stars players don't participate, then we'll just have to settle with Dwan, Ivey, Antonius, Seidel and any other Red Pro's/non-Stars representatives. Not too shabby if you ask me.
Ultimately, the Onyx Cup will be good for poker because it will create a buzz like we've never seen before. Whether you agree or disagree with me, you are going to follow the results of this series because, frankly, it matters. Not a single hand has been dealt, yet it's already being debated on every platform in the poker world. Imagine what's going to happen when a player bricks all six events and the "busto" threads start swirling. Or better yet, imagine what people will say or write when someone wins two or three tournaments in a row.
Throughout the next nine months, whenever there is an Onyx Cup event, the entire poker world will stop and focus on it. If that kind of anticipation and excitement isn't good for poker, then I have no idea what is.
What is your opinion on the Onyx Cup? Use the comments section below to let us know what you think. In the meantime, be sure to follow us on Twitter and like us on Facebook.
If you have the skills, we have $55,000 in added prizes. PokerNews Skills Challenge at Full Tilt Poker is a series of money-added tournaments every Wednesday night that culminate in a $20,000 Freeroll.