PokerNews Interview: Catching Up with Eric Baldwin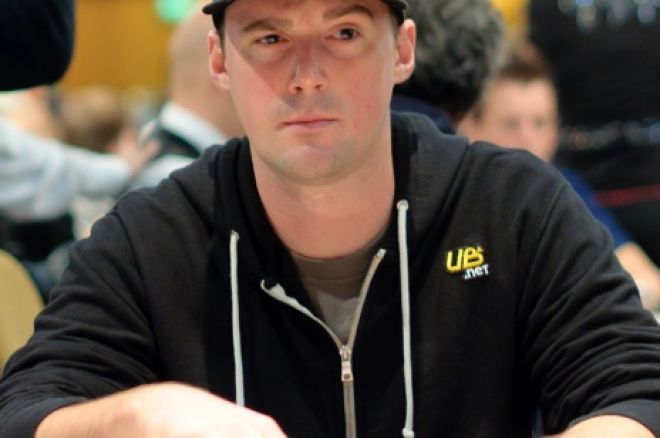 Eric "basebaldy" Baldwin has been in the news lately after having re-signed with Team UB and being selected for the NBC National Heads-Up Championship. On top of that, The Big Event is stopping in Los Angeles (March 5 -10), the city where Baldwin won his Bounty Shootout title last November. Unfortunately, it doesn't sound as though he'll be able to survive this shootout; unfortunately he has to miss it. PokerNews recently had the chance to sit down with Baldwin and get to the bottom of that story, as well as ask him a few other interesting questions.
We heard a rumor you may not be playing The Big Event in Los Angeles. Given that you won the Bounty Shootout at the NAPT Los Angeles last November, we assumed you'd be trying to add the Big Event title to your résumé, as well. Can you shed some light on this rumor?
Well, there has been one [bounty] event since then at the PCA. It's definitely not a tournament I'd normally miss, but some I've got some different family circumstances right now and I've got some people coming out to Vegas to visit. I don't really think it's appropriate to make the trip right now.
You were recently selected for the NBC National Heads-Up Championship. Was this expected?
Coming into the year I was hopeful but not sure. I didn't have a great showing last year, going out in round 1 on a pretty nasty beat that didn't make TV, so it just kind of looked like I got my ass kicked. When the first wave of invites came out, I wasn't on them, so I was a little disappointed, but there was still a qualifier going on at Caesars. I actually ended up getting heads-up against one of my best friends, Justin Young, whom I had beat in that Bounty Shootout. Then we ended up heads-up for this NBC seat, so it was a pretty amazing situation. He got the best of me this time, so he got in and I was happy for him, but I was disappointed I wasn't going to get to play. Luckily, I got in on the second wave of invites, so now, hopefully, I'll get to meet him in the finals and kick his ass there.
Last year you were eliminated in the first round by Leo Wolpert. Did you learn anything from that match that you'll be bringing to the table this year?
Yeah, if nothing specific, just the shear experience of it, you know, on that big of a stage, knowing how the whole weekend operates, knowing what to expect, the makeup, the interviews, the pre-party and whatnot. I just think it'll help me be a lot more comfortable come this year. I was happy to be there last year, but this year looking to do some damage.
The Draw Party for the NBC National Heads-Up Championship is right around the corner. If you could draw any one in the first round, who would it be and why?
I think Emmitt Smith would be fun because I've heard he is not very good and obviously a huge figure in the sports world who would be cool to play against. The ideal draw, if you could draw it up, is somebody who is going to draw the camera's attention but somebody that is not necessarily the best poker player. Sorry Emmitt, but I think you'd be a perfect fit.
Who would you least like to go up against in Round 1 and why?
That's my buddy Justin. We want the storybook scenario of meeting up in the finals, so we're both hoping we are on opposite sides of the bracket where the only chance we can meet up is in the finals.
The L.A. Poker Classic just finished Day 3. Did you have a chance to play? Any highlights?
Yes I did, and not very well. Just leaving there right now actually. I went out very early on Day 2 and it was pretty boring. I only played two real big hands the entire tournament. One, I coolered a guy and the other, I got coolered. I went out on a real standard coinflip.
In early February you signed a two-year extension as a member of Team UB. Was it an easy choice to re-sign with UB?
Yeah, it really was. Obviously you'd be stupid not to weigh any options that you have, but in the end it was a no-brainer. I like being a part of a core pro team where you really have a say when it comes to meetings and the direction of the brand and what not. So that's nice, not getting lost on a team of hundreds of pros and feeling like you're just another name and number to them. I'm really happy with where we're at. It's easy to talk about making changes, but if you look at our roster and some things that are going on, we're actually doing it.
Any chance we'll see you playing a Poker After Dark or High Stakes Poker in the future?
Yes, it'll actually air in April. I'm on a [Poker After Dark] episode where it's Doyle Brunson, Tom Dwan, Melanie Weisner, Andrew Lichtenberger, and Annette Obrestad. It was a $50,000 shootout.
You played right field at the University of Wisconsin-Whitewater, a team that won the Division III National Championship in 2005, and your screen name is evidence of your love for the game. As a Wisconsin native, how is it you're an Arizona Diamondbacks fan and not a Milwaukee Brewers fan?
Actually, I was born in Illinois and I kind of got brainwashed to be a Cubs fan by my dad. Growing up in Wisconsin, there was always that rivalry between the Bears and the Packers and the Cubs/Brewers once they came over to the NL. One of my college teammates made it all the way to AAA with the Cubs and when they released him, coupled with the fact that they're a pretty miserable organization, I decided it was time to make a change. The D'Backs are a West Coast team so I can watch their games at night out in Vegas and Mark Grace was probably my favorite Cub growing up and he is one of the announcers now, so I like to listen to him. I figured if I picked a team that as bad as the D'Backs are now, no one could call me a fair-weather fan.
Speaking of Wisconsin sports, are you at least a Green Bay Packers fan?
No, no, I'm a huge Chicago Bears fan. This playoff season was awful. My girlfriend that I live with is a Packer fan and I'm a diehard Bears fan. You know, we had the chance to keep them out of the playoffs in the final week of the regular season, and then obviously played each other to go to the Super Bowl. I had to watch her celebrate in front of me, that was a little rough.
You have amassed more than $4.2 million in life-time live tournament winnings. Assuming you've stowed away some for a rainy day, what sort of things have you splurged on in the past few years?
I think the two biggest things would be my house, and I just got a car before the World Series started last year. The car is probably the biggest splurge. It's a Mercedes E63, and it is totally not necessary, but it's pretty fun.
You've got a WSOP bracelet, a NAPT Bounty Shootout title, and Player of the Year honors. What is your proudest poker accomplishment?
I would say proudest would be the Player of the Year. The most intense and joyous moment of my poker career was when the last card came off when I won my bracelet, that was just an unbelievable feeling, but the Player of the Year title, you can win that by winning one or two tournaments. It takes 12 months of performing very well, so I think that award is really gratifying and it's a really cool title to have that no one can ever take away from you.
What're your upcoming plans for 2011?
First things first. The NBC Heads-Up, and I've been working on expanding my game from no-limit hold'em tournaments a little bit. I really want to pound that in the coming months leading up to the World Series so I can give myself an even better shot of picking up bracelet number two, or maybe even three. Just really trying to get confident in all the games to maximize my chances of making some noise in the prelim events.
Be sure to follow PokerNews on Twitter for up-to-the-minute news.
You can chat with, play with and bust 888 Poker Pro Leo Margets in our $5,000 Leo Margets Freeroll, exclusive to PokerNews.