The Nightly Turbo: ESPN's The Nuts Rankings, Jonathan Duhamel Wins PokerStars EPT Deauville High Roller, and More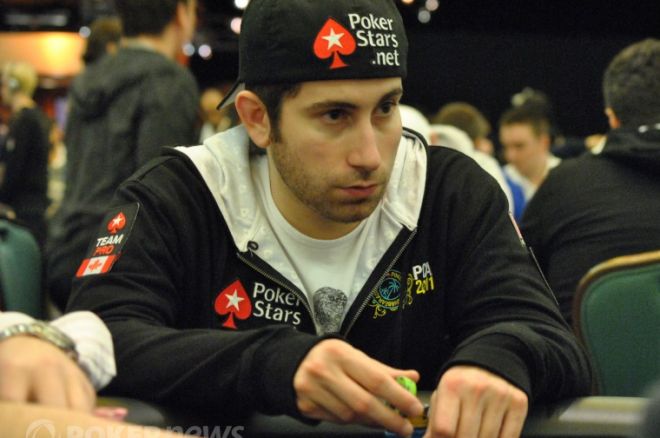 ESPN's The Nuts rankings are out for January. We probably won't even tell you who's in the number one spot - we can almost guarantee you already know who it is. We will tell you who's been added and if there are any shake-ups in the top five, also, Jonathan Duhamel is no stranger to winning, and he did just that over the weekend in Deauville. So read on to find out all about it.
In Case You Missed It
There have been a few gamers who have transitioned to poker, like Lex Veldhuis and Bertrand "ElkY" Grospellier. Perhaps the most popular gamer of all is Jonathan "Fatal1ty" Wendel, and in the latest edition of the Sunday Grind, Kristy Arnett checks out his Las Vegas residence and where he grinds poker and shooter games.
Wondering what's going on in the gaming industry outside of the poker world? That's what Inside Gaming is all about, and this week you can find out about the bwin/PartyGaming merger, Nevada casinos' 2010 revenues, and more.
Last week, the biggest buy-in tournament ever was held. You weren't at the Aussie Millions, so you couldn't rail it? That's OK, we've got a photographical look back at it.
January is over and one player (who's known for ups and downs) finished $900,000 in the black. Who was it? You're going to have to check out the Online Railbird Report for the answer.
How They Rank
The latest installment of ESPN's The Nuts is back. The monthly blog post ranks the best players in poker at the moment. The Panel includes PokerNews' Editor-in-ChiefMatthew Parvis, PokerNews' Tournament Reporting Manager Don Peters, ESPN's Andrew Feldman, Gary Wise, and Bernard Lee, among others.
The top five of the list hasn't changed since last month, but new to the rankings in January are Daniel Negreanu (8) and Erik Seidel (10). Both players had huge Januarys, Negreanu with his second-place finish in the PCA $100,000 event, and Seidel with his win in the world's largest buy-in tournament - $250,000 Super High Roller at Aussie Millions, third place in the Aussie Millions $100,000 Challenge, and fourth place in the $25,000 PCA High Roller. Sorel Mizzi bumped up from ninth to sixth in the rankings with his deep Aussie Millions Main Event run. "It's hard for me to believe that any player has made more final tables than Mizzi (he's had 20!) in the last 12 months," said Feldman.
Want to check out the entire list of rankings? You know where you can find them - ESPN.com.
Another Win for Duhamel
Jonathan Duhamel has done it again - well kind of. No, he's not at the World Series of Poker Final Table, but he did final-table the European Poker Tour Deauville $10,000 High Roller event and go on to win it. He pocketed €203,232 for the win where he beat Alain Confino heads up.
After the win, Duhamel was overheard saying, "I'm so happy right now. I love poker," to Swedish pro Martin Jacobson who was railing the action. We'd love poker, too, if we were in your shoes, Jonathan.
Check out the PokerStars Blog for more.
Greg Raymer No Longer a Team Pro
If you go to the PokerStars home page, you won't find 2004 World Series of Poker Main Event winner Greg "Fossilman" Raymer under the Team Pro lineup anymore.
According to a thread that was started Monday on TwoPlusTwo, Pat Pezzin questioned Raymer about not being a Team Pro anymore while they were playing at the same table.
Pat Pezzin: yo greg
FossilMan: hi pat
Pat Pezzin: why don't you have red star by your name?
Fossilman: long story, call me if you'd like
Also on Monday, Kathy Leibert tweeted, "I heard that Pokerstars was cutting many of their team pros compensation. Take it or leave it. Raymer left it."
And while there was no official confirmation from Raymer or PokerStars, not being in the Team Pro lineup is about as official as it can get - unless there was some unfortunate Internet glitch.
There was no glitch, it's true, as Raymer has confirmed the suspicions in the same TwoPlusTwo thread.
"There has been a lot of discussion about my representation of PokerStars, and it is true that right now I am not representing them. In the near future, I will have a more detailed statement discussing this situation, but I have no further comment at this time. For those of you who have been reading about and discussing this situation, I appreciate all of the positive comments I have received. It is very gratifying to hear so many nice things from so many good people, and I am touched by your support. Sincerely, Greg Raymer (FossilMan)"
Baldwin Re-Signs
While we've just told you of Greg Raymer and PokerStars parting ways, we don't want to leave you on a downer, so we're going to tell you about Eric Baldwin re-signing with UB. He's been with the company for a year now and has just upped his contract for two more years. Here's Baldwin telling you about it in a totally unscripted video.
2011 Aussie Millions - Favorite Moments
Because we're a big fan of videos, especially videos that highlight an awesome series, such as the 2011 Aussie Millions, here's one for you - on the Aussie Millions of course.
Like us on Facebook, and follow us on Twitter for up-to-the-minute news.
Have you seen our new $40,000 Freeroll Series from Lock Poker? Lock Pro Supremacy not only has two more $7,500 Freerolls but it also has 25 $100 Lock Pro Bounties in each tournament, so you can boost your bankroll even if you don't make the money.