The Nightly Turbo: NAPT Los Angeles Shootout Results, Harrah's Terminates IPO, and More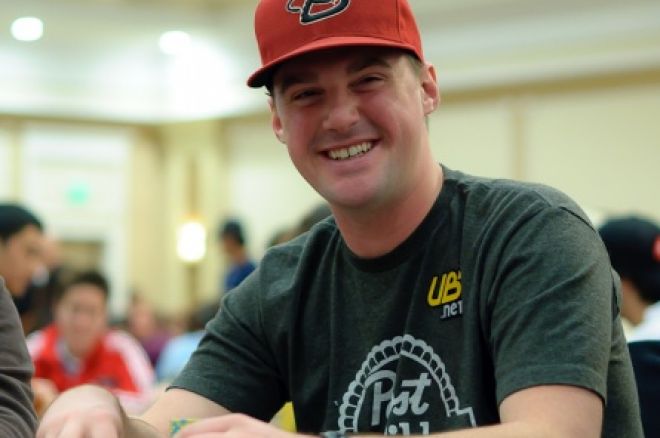 Finally! The weekend is here. Now all we need to do is get you your news fill and get you on with whatever plans you have. What are you going to take into the weekend with you? Well, the PokerStars.net North American Poker Tour Bounty Shootout has a winner, Harrah's has terminated its IPO, and more. Enjoy!
In Case You Missed It
How have the nosebleed tables on Full Tilt Poker been faring this week? One player's "run good" moved into November with him, while another player is taking a break after a massive downswing. The Online Railbird has your report.
Ever wonder what it would be like if some of your favorite poker players duked it out in the octagon? With UFC 123 coming up this weekend, this is the perfect time for us to reveal our fight match-ups in our latest op-ed, From the Felt to the Octagon.
Take down an FTOPS XVIII this week and want to place some wagers on the football games this weekend? The Pigskin Diaries has your best bets.
Want to check out the set of Poker After Dark? Kristy Arnett brings you a behind-the-scenes look in the latest edition of the Sin City Series.
It's been a few weeks since Jonathan Duhamel won the 2010 World Series of Poker Main Event. Has it sunk in for him? What are his thoughts on the Final Table? We sat down with Duhamel recently to find out.
Last One Standing in Shootout
The PokerStars.net North American Poker Tour Bounty Shootout was held this week in Compton, California. On Tuesday, 81 players each ponied up the $5,000 buy-in for the tournament.The field was divided into two rounds and at the end, only nine players were left standing. The field included Daniel Negreanu, Phil Hellmuth, Barry Greenstein, Tom Marchese, Annette Obrestad, Vanessa Selbst, Antonio Esfandiari, and Michael Mizrachi, to name a few. They were all playing for the $134,280 winner-take-all first-place prize. Also at stake was a seat to the PokerStars.net Caribbean Adventure Bounty Shootout for the player who collected the most bounties.
With the field as tough as it was, it's only logical that the final table would be stacked, as well. Kevin MacPhee, Tom Marchese, David Williams, Eric Baldwin, Michael Mizrachi, Pat Pezzin, Clint Coffee, Mohsin Charania, and Justin Young all won their first-round tables and played for the title on Thursday.
Eric Baldwin came out on top of the group to collect the title and $134,280 prize. He also received $20,000 for winning his table, and $3,000 in bounties. Runner-up Justin Young will be headed to the Bahamas in January for the PCA. He collected six bounties to add $6,000 to the $20,000 he collected for winning his table.
Final Table Results
1. Eric Baldwin - $134,280 + $20,000 + $3,000 in bounties
2. Justin Young - $20,000 + $6,000 in bounties
3. David Williams - $20,000 + $4,000 in bounties
4. Mohsin Charania - $20,000 + $5,000 in bounties
5. Tom Marchese - $20,000 + $4,000 in bounties
6. Clint Coffee - $20,000 + $3,000 in bounties
7. Pat Pezzin - $20,000 + $2,000 in bounties
8. Michael Mizrachi - $20,000+ $4,000 in bounties
9. Kevin MacPhee - $20,000 + $3,000 in bounties
Find out more on the PokerStars Blog.
Harrah's Cancels IPO
Just two weeks after Harrah's announced it was planning to offer 31.25 million shares of common stock in an initial public offering, the company has decided to terminate the IPO. The IPO was set at a price range of $15 to $17 and would have generated over $500 million for the company. The cash generated would have been used for expansion projects, including the completion of a 660-room tower at Caesars Palace, and dining and entertainment developments at the Flamingo and Imperial Palace.
The company cited "market conditions" as the reason it decided to terminate the IPO.
Hedgefund.net has more.
CEO Leaves Poker Agency
It was announced today that Per Hagen, founder and CEO of poker agency Poker Icons, is leaving the company to pursue new ventures in the iGaming industry.
"I'm seriously excited about the opportunity of being able to consider new ventures, but at the same time it's kind of sad to leave my baby. I founded Poker Icons back in 2006 at a time where this kind of business was not very well known or established. I knew it was going to take lots of hard work to achieve my goals, and I feel proud to be able to leave the company knowing I reached most of the goals I had set out for," Hagen said in a statement. "
"Poker Icons became a major player in the industry under my leadership and I hope to take whatever new venture I now decide to focus on to same, or even greater heights. I am going to take some time to consider new offers, but I'm sure it's not going to be a long time before you hear from me once again!"
For more on Poker Icons, head on over to PokerIcons.com.
Don't Touch My Bling
Tony G has a message for all of you who are trying to "steal his bling" on eBay. As you may recall, the G is bidding on Peter Eastgate's 2008 WSOP bracelet. He wants to get it made into a dog collar for his German Shepherd Zasko. The latest bid is at $52,700.
"Carry on bidding, this bracelet is going to go for six figures. I respect Zasko too much to not pay what it takes but I do have limits," he wrote in his blog.
He then addresses the comments he's gotten regarding whether making the bracelet into a dog collar was demeaning. "I have had a number of comments about whether this demeans the value of a WSOP bracelet. You've got to have a laugh in life and this is what this is – a bit of fun for a good cause. And yes… I haven't yet won a bracelet but it is only a matter of time," he said.
Read more of Tony's blog to find out what he wants Zasko to become after he gives him the bracelet.
Hey! Where are You Going?
You already know the PokerNews Live Reporting Team galavants around the globe bringing you the best live tournament reporting coverage around, so we figured you better have a clue as to where the Team is headed next.
Right now, one third of the team is in Lake Tahoe. No, not shredding the powder, bringing you updates from the World Series of Poker Circuit event at Harvey's Lake Tahoe, which begins November 21.
The other third is in Spain to cover the fifth stop of the PokerStars European Poker Tour, which begins November 22 in Barcelona.
And if you're still vegging out on the couch next weekend from all the turkey, stuffing, and pumpkin pie, you can follow the updates coming at you from Africa, as the World Poker Tour lands in Marrakech, Morocco, for some poker action on November 27.
So keep it locked to the Live Reporting Page for all the chip slinging, bad beats, and great plays that you can take.
Like us on Facebook, and follow us on Twitter for up-to-the-minute news.
This weekend you can play in our $500 Freeroll at Luvin Poker and all you need to do is sign up - no deposit or points needed! It takes place on November 20 at 15:35 GMT and you have right until the last minute to register by joining Luvin Poker via PokerNews.