The Online Railbird Report: Sahamies Slides, November Niner Wins an FTOPS, and More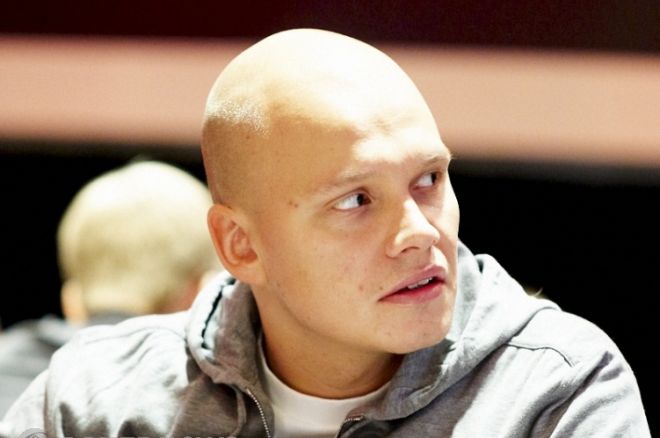 Players at the Full Tilt Poker high-stakes tables between Tuesday and Thursday saw quite a bit of action. Andreas "skjervoy" Torbergsen put in some time and became the midweek's biggest winner while Ilari "Ziigmund" Sahamies' epic downswing continued. Scott "URnotINdanger2" Palmer had a nice showing, and a November Niner became an FTOPS Champion.
URnotINdanger2 Bests Sauce 1234
On Tuesday, Scott "URnotINdanger2" Palmer faced off in a battle against Ben "Sauce1234" Sulsky in a 1,029-hand match of $100/$200 no-limit hold'em. Palmer ended up taking $204,000 off Sulsky as his winnings steadily increased throughout the match.
In one hand, Palmer ($39,321) was on the button and raised to $400. Sulsky ($64,688.50) responded by making it $1,400, and Palmer made the call. The flop came down
, Sulsky bet $1,625, Palmer raised to $4,600, Sulsky reraised to $10,900, and Palmer moved all-in. Sulsky made the call and the cards were turned up:
Palmer:

Sulsky:
Palmer has flopped two pair and was in the lead as the turn came the
. Sulsky needed a queen on the river, but it was not mean to be as the
appeared. Palmer took down the pot worth $78,642.
November Niner Hosts FTOPS Event and Wins
On Wednesday, the Full Tilt Online Poker Series FTOPS XVIII continued with its latest tournament, the FTOPS Event #18, $207+$9, NL Hold'em Rush Super Turbo, which was hosted by 2010 World Series of Poker Main Event ninth-place finisher Soi Nguyen. Amazingly, Nguyen outlasted the 1,841-player field to take down the tournament and $78,500 first-place prize. Nguyen joins Erick Lindgren and Greg Mueller as the only Full Tilt pro's to win an FTOPS event they hosted.
Torbergsen Becomes Midweek's Biggest Winner
Thursday saw Andreas "skjervoy" Torbergsen put in 1,417 hands in various pot-limit Omaha games. In a 972-hand match against Rami "Arbianight" Boukai in $200/$400 PLO, Torbergsen took down $167K. He went go on to win $200k more against various opponents in the $300/$600 game and became the midweek's biggest winner in the process with a profit of $370,982.
In one of Torbergsen's biggest hands, he was on the button with $194,771 and raised to $1,200. Boukai ($54,738) used his option by reraising to $3,600 and Torbergsen called. The flop fell
and Boukai led out with a bet of $5,200. Torbergsen did not back down and raised to $22,800, which Boukai called.
The turn was the
and Boukai immediately moved all-in for $28,338. Torbergsen called and showed
for a pair of nines and a spade flush draw while Boukai revealed
for two pair and the lead. They agreed to run the river twice and the
on the first run gave Torbergsen the flush and first half of the pot. On the second run, Torbergsen once again made a flush when the
hit, managing to scoop the entire pot worth $109,475.
Sickest Downswing Ever
October proved to be a great month for Gus Hansen , and November isn't shaping up any differently. So far he is the month's biggest winner with $530,000 and is on pace to turn winner on the year by the end of December. At the other end of the spectrum, November has been a terrible month for Ilari "Ziigmund" Sahamies. In fact, he is currently the month's biggest loser with $1.8 million in losses.
Combining this with the prior month, Sahamies has lost around $3 million since the start of October. Clearly, the bad run is getting to the Finn as he recently wrote on his Facebook page:
"I'm f done with poker, sickest downswing ever. Basic downswing, not in the mood for playing, but still playing, whatever :)"
With half the month already over, Sahamies will have to turn things around if he hopes to recoup some losses.
Who's Up? Who's Down?
This week's biggest winners (11/16-11/18): Andreas "skjervoy" Torbergsen ($370,982), "luckexpress10" (+$280,357.50), Di "Urindanger" Dang (+$166,148.50), Gus Hansen (+$117,619.80)
In the Red: Ilari "Ziigmund" Sahamies (-$297,470), Jared "harrington25" Bleznick (-$282,337.50), "davin77" (-$221,331.50), "DrugsOrMe" (-$162,711.80), Brian Hastings (-$125,916)
Year-to-Date Winners: Daniel "jungleman12" Cates (+$4.643 milliom), Tom "durrrr" Dwan (+$4.001 million), Phil Ivey (+$3.149 million)
Year-to-Date Losers: Brian Townsend (-$2.534 million), Sahamies (-$1.815 million), "Matatuk" (-$1.539 million)
If you want to rail some of the biggest cash games in the world, look no further than Full Tilt Poker where you can sweat the biggest names on the planet. So sign up for an account today and bag a $600 sign-up bonus and remember, follow us on Twitter for up-to-the-minute news.