The Nightly Turbo: ESPN's Inside Deal, Feds Get $13.3 Million from Payment Processor, and More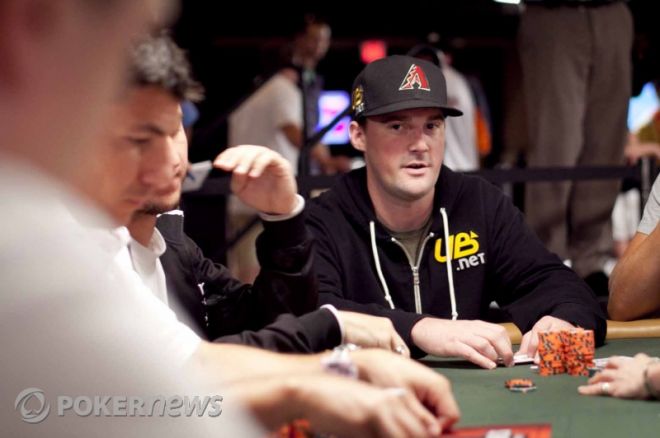 We're sure that on Monday you were wondering how you were going to make it to the middle of the week. Well, you've made it! Today, we've got ESPN's Inside Deal with Eric Baldwin for you to take a peek at, and some news about a year-long case involving a payment processor and the feds. Oh yes, and we know you've been wondering who Kevmath is, and we think the TwoPlusTwoers may have figured it out.
In Case You Missed It
The UB Online Poker Championship 5 kicked off today. Check out the entire UBOC5 schedule and get your poker on.
Ever thought of learning mixed games but didn't know where to start. We caught up with mixed-games specialist Ville Wahlbeck who gave us the scoop on what approach to take.
New Jersey is looking into establishing intrastate online poker. We've got an update on the status the New Jersey bill that is making its way through the state legislature.
Wondering what it's like on set at the PokerStars.net Big Game? We've got your behind-the-scenes look ― and it's all pictures!
If you missed the 2010 World Series of Poker coverage on ESPN, you're in luck, because we didn't. Tuesday's coverage featured Day 1c and Day 1d and here's what you missed from the WSOP.
Dealings on the Inside
Eric Baldwin joined Laura Lane, Bernard Lee, and Andrew Feldman in Bristol for the latest installment of ESPN's Inside Deal. They discussed the 2010 World Series of Poker and how to choose which Day 1 to play, being a sponsored player, and the World Poker Tour Florida. They also talked to Steve "Chops" Preiss of Wicked Chops Poker about the UB super-user scandal.
Legal Stuff
On Tuesday, a settlement was reached in a year-long battle against Ahmad Khawaja and his two firms Allied Wallet and Allied Systems, and federal prosecutors. Khawaja will forfeit $13.3 million in this civil settlement.
The funds were traced to PokerStars and other offshore gambling companies and were deposited in an account at Goldwater Bank in Scottsdale, Ariz., from January 2009 to May 2009.
"PokerStars does not condone efforts by processors to conceal the nature or purpose of funds used to play online poker," PokerStars said. "PokerStars has taken steps to ensure that processors properly disclose the nature of their business to their relevant financial institutions."
Forbes.com has more.
PokerStars Big Game
If you've been following the PokerStars.net Big Game, you might want to know a little bit more about the players you've been watching. Lucky for you, the show's website can help you. You can find player bios and even statistics ― if you're a math guy. The stats are broken down by number of hands on each day and include Profit/Loss, Aggression Factor, and Number of Hands won.
There's also a poll on the site asking which player you would like to see playing in your own cash game. It's between Jason Mercier, David Williams, and Tony G. The G is winning right now, and, since we're just a bit biased about this, go ahead and vote for him
Check out all the stats at TheBigGame.PokerStars.net.
Who is He?
It's the middle of the week. We've put this in the middle of the Nightly Turbo. It's that little bump to get you through the rest of your day. If you don't recognize the name Kevmath, you're probably new to all of this.
Kevmath has a wealth of poker knowledge and always has the answers to pretty much everything. He's a bit of an enigma though. TwoPlusTwoer level 4-3 started the Who/What is a Kevmath thread about a month ago on the forum with his thoughts. And of course, the rest of the TwoPlusTwo community chimed in with their thoughts. The consensus seems to be that Kevmath is a computer of sorts.
Head on over to TwoPlusTwo for more.
Your Big Break
Are you opinionated and outspoken and do know your way around a poker table? Want to share your opinions with the world while criticizing the plays of amateurs and pros alike? Well then, you probably need to head on over to the Bicycle Casino in Bell Gardens, Calif., on Thursday, August 19.
From 11 a.m. to 8 p.m. the World Poker Tour is holding auditions to find the "Simon Cowell of poker" for a new TV segment called The Raw Deal.
Think you have what it takes? Find out more at WorldPokerTour.com.
Merit Cyprus Classic
Gloria Balding caught up with Michael Mizrachi, a member of this year's November Nine in Cyprus at the Full Tilt Poker Merit Cyprus Classic. He's currently playing his first ever high-roller event and is not off to such a great start.
He's not a staple on the European poker circuit but he says, "I figured, I already took over America, so we're going to start with Europe now."
Your Facebook page can use another friend, so add us, and follow us on Twitter for up-to-the-minute news.