The Nightly Turbo: Best Damn Poker Show, More PartyGaming News, and Who Won't Be Hosting High Stakes Poker

Elaine Chaivarlis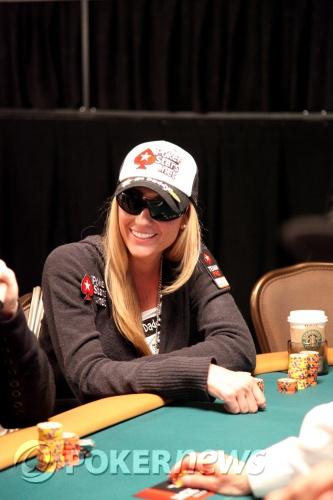 Wondering where you can get all the poker news of the day in one spot? You've come to the right place. We're bringing you the top stories of the day so you don't have to go out there looking. It saves you more time to play these super turbo sit-n-gos we're going to tell you about.
In Case You Missed It
Did you just tilt-spew your whole bankroll away? Sitting there wondering how you're going to get it back? You should check out Bankroll Builders Volume 1: Super Turbo SNGs Part 1.
It's not easy trying to please everyone, but when creating a tournament structure,Matt Savage sure does try. In the latest PokerNews Op-Ed, he gives us an insight on what goes in to creating a good structure and whether Deep Stacks are Good for Poker Tournaments.
The "PokerStars Million Dollar Challenge" was back on Sunday for its second episode. Two contestants took to the felt hoping to win $100,000. Did either one of them come away a winner? Find out in The Pokerstars.net Million Dollar Challenge Rolls On.
Tuesdays equal poker on TV around here and you're probably sick of us telling you to watch. But, if we didn't tell you that the "World Series of Poker Main Event" is on ESPN tonight, who would? You'll thank us later.
Rousso Will Not Host HSP
We know you've been on pins and needles waiting to find out who will replace AJ Benza on the next season of "High Stakes Poker." We don't know who it is yet, but we do know who it isn't. Vanessa Rousso confirmed that she won't be the show's next face. We should know in the next few weeks though because the show begins filming soon in Las Vegas.
By the way, Vanessa Rousso went to Duke University.
Vanessa confirmed the HSP rumor on Gambling911.com.
PartyGaming Co-Founder Steps Down
PartyGaming co-founder Anurag Dikshit announced today that he was selling his entire interest, 27.63%, of the company. He is doing so to pursue charitable work in South Asia.
Dikshit's 75 million shares were sold by Crystal Ventures Limited in an "accelerated bookbuilt offering to institutional investors" for 250 pence per share. After the announcement, shares in the company dropped 12.6 percent.
In December 2008, because of the UIGEA, Dikshit plead guilty to online gambling and was fined $300 million. Davy Stockbrokers analyst David Jennings believes the sale could present new opportunities for PartyGaming."Under current U.S. law operators are unlikely to get licenses if any of their beneficial owners have criminal records. If they're going to win a licence he is going to have to sell down his stake," he said. It seems PartyGaming is already trying to position itself for entry into the U.S. market once online poker is legalized by its recent purchase of World Poker Tour Enterprises.
Read more at OnlinePoker.net.
Best Damn Poker Show: Europe
Season two of the "Best Damn Poker Show" sponsored by UltimateBet premieres in Europe on October 20. The Poker Channel Europe will air the show on Tuesday and Wednesday nights.
The second season focuses on which poker pro is a better teacher — November Niner Jeff Shulman's current coach, Phil Hellmuth, or WSOP Academy instructor Annie Duke.
With the hot-tempered duo competing against each other for bragging rights, we're sure there will be some fiery showdowns. Will they be Joan River-esque Hitler name-calling showdowns? Sadly for us, probably not.
Sign up for an UltimateBet account and take on Hellmuth and Duke at the tables.
Pittsburgh Robbery
A Pittsburgh home game was robbed early Tuesday morning. The game was held at the Heidelberg fire hall and about 20 people were in attendance. At about 2:40 a.m., as one player was leaving, two men with guns entered the building. They then opened the side door to let in a third man.
"I'm sure they got away with a decent amount, a good bit of cash," said Heidelberg's police chief, Vernon Barkley, who went on to say that police believe it was an inside job.
The organizer of the event, Sara Lazarro, was injured during the robbery. Police may have a lead though. The man who left the tournament and subsequently let the armed men in was said by witnesses to have been on his cell phone throughout the night and seemed very nervous.
Read more at the Pittsburgh Tribune-Review.
EPT Warsaw
The European Poker Tour is in Warsaw and after a 16- hour-flight Gloria Balding is bearing the cold weather to bring you the first of many updates. PokerNews is the only place to get updates for the EPT Warsaw so head over to the Live Reporting Page for the Day 1a play-by-play.
Follow us on Twitter for up-to-the-minute news and be sure to add us on Facebook.
Hearings in Kentucky
The Commonwealth of Kentucky will have its appeal heard by the Kentucky Supreme Court on Thursday, Oct. 22 in the seizures of the domain names of 141 Internet gaming sites. Earlier this year, the Kentucky Court of Appeals made Kentucky poker players happy by rejecting the Commonwealth's case in favor of the seizures.
Lawyers for the Interactive Gaming Council and iMEGA will do their best to persuade the Supreme Court to uphold the decision while the Commonwealth will be doing its best to make the justices see it the other way. The hearing is open to the public for those in Kentucky or if you're the type that speaks and understands legalese, you can watch it live at http://courts.ky.gov/. For the rest of you, stay tuned to PokerNews for the "English" version of the outcome.
ThePPA.org has more.