The Nightly Turbo: Eric Baldwin in ESPN The Magazine, Phil Ivey Responds, and More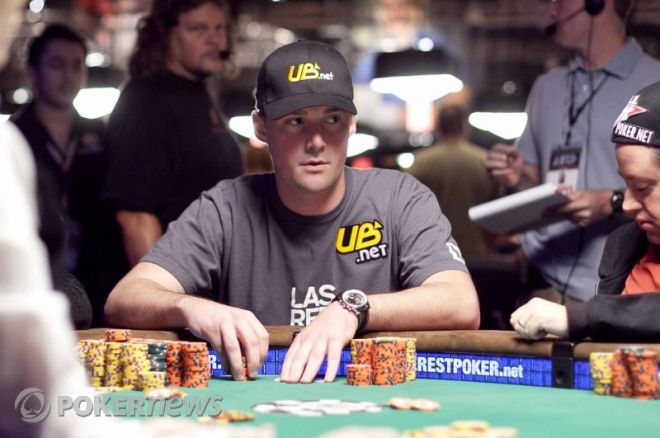 Eric Baldwin has been featured in the latest issue of ESPN The Magazine, giving us an inside look at his life. We've also got Phil Ivey's response to Phil Hellmuth's comments about beating his bracelet record, and more. Yes, we know that the 2010 World Series of Poker November Nine is on everyone's mind, but we've got the rest of the news you're just dying to know. Read on to find out more.
In Case You Missed It
It was business as usual on the virtual felt Sunday as players got back to their regular routine now that the2010 World Series of Poker has come to an end for the summer. Most of the tournaments surpassed their guarantees. Check out the Sunday Briefing to find out who the big winners were this week.
On Saturday, the 2010 November Nine was set after 18 hours of play. Who made their way to one of the coveted seats at the 2010 WSOP Main Event Final Table? Meet Your November Nine to find out.
The PokerNews Team called Corporate Mansions their home for the duration of the 2010 WSOP. So did a number of players who had impressive results.Corporate Mansions brought the luck to some this year.
On the Glossy Pages
Tim Struby followed Eric Baldwin to give ESPN The Magazine readers a look at the life of a poker player during the World Series of Poker.
"I need to do un-poker things," he says. But don't assume burnout is imminent. "Not that I'm quitting anytime soon," he says. "It's not the same rush as hitting a base- ball 100% square, but I still enjoy myself most every time I play."
At the time of writing, Baldwin had busted from six events and had one cash in a $1,000. He went on to cash three more times through the entire 2010 WSOP, including a 59th place finish in the Main Event, good for $138,285.
Pick up the latest issue of ESPN The Magazine for the story and check out ESPN.com for more.
Ivey Responds
We told you last week that Phil Hellmuth doesn't think that Phil Ivey can beat his bracelet record in the next five years. We would never bet against Ivey, but that's just us.
Jesse May caught up with Ivey for The Poker Show during the World Poker Tour Bellagio Cup to get his thoughts on Hellmuth's words. Now remember, Hellmuth said, "Ivey won't pass me in five years. That's impossible. I shouldn't say its impossible, [laughs], I don't think it'll happen. I think maybe in five years I'll be at 14 or 15, and maybe he's at 11 or 12. I don't know. I think that he won't pass me in five years."
"Impossible? I don't really like the word impossible. I think it's very possible. It's very likely. Unless he wins a couple in the next five years, I guess he plans on doing that, then I'm probably a small underdog to tie him....I'm probably five-to-one, six-to-one dog or so."
Listen to more of The Poker Show here.
UKIPT Brighton
The PokerStars UKIPT Brighton has crowned a winner. Thirteen players took their seats Sunday in hopes of winning the £65,400 first place prize and the UKIPT Brighton title. It was Jamie Burland who took home the title on after he defeated Tomas Cibak heads-up.
UKIPT Brighton Results
1. Jamie Burland - £65,400
2. Tomas Cibak - £40,100
3. Bill Seber - £24,600
4. William Beauchamp - £18,100
5. John Spinks - £15,000
6. Waseem Ahmed - £12,400
7. Andy Youens - £9,850
8. Jonathan Campbell - £7,750
Qualify for the remaining stops on the UKIPT. Sign up for a PokerStars account now.
Bodog Poker Dome
Poker in the Park is the world's biggest poker fair and will be held in Leicester Square in London September 2 through 3. The event will have two Poker Domes that will hold turbo sit-n-goes around the clock. Bodog.com will be sponsoring one of the Poker Domes.
"Bodog is about providing entertainment and poker players love the chance to play live, and that's what we're offering right in the heart of London. Obviously we'll add a few Bodog touches too, so watch out for some hot girls and great freebies," Magnus Olby, Marketing Manager for Bodog Europe said.
Check out PokerInThePark for more.
Thinking About November
We've told you plenty of times how poker mindset guru Sam Chauhan has helped numerous poker players get their minds in the game and the successes they've had after working with him.
Last year, Chauhan worked with Antonio Esfandiari and The Magician finished in 24th place at the 2009 World Series of Poker Main Event. This year, at the 2010 WSOP Main Event, another client, Hasan Habib, finished in 14th place.
Rumor has it that a number of 2010 November Niners have approached Chauhan in hopes of working with the mindset master, but Chauhan has said he will only be working with one player. We'll have to wait to see who it is that gets his chance with Chauhan and how it plays out in November.
Interested in how mindset works? Check out Sam's website for more.
Tony's Angels
Lynn Gilmartin, Kristy Arnett, and Gloria Balding bring you all the video interviews and updates you could ask for at poker tours all over the world. How do they get their assignments? It's vaguely reminiscent of a movie you may have already seen.
Follow us on Twitter for up-to-the-minute news and be sure to add us on Facebook.