The Nightly Turbo: ESPN'S Latest Inside Deal, Hellmuth in a Rap Video, and More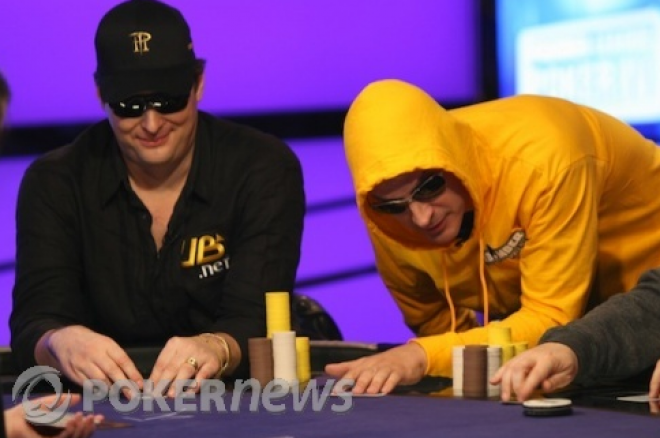 We'd like to apologize for missing you yesterday. There were some technical issues that we've now remedied, and with those behind us, we're back at it today bringing you all the news you may have missed. We've got the latest episode of ESPN's Inside Deal, Hellmuth's cameo in a music video, and more for you. Enjoy.
In Case You Missed It
Mike "Timex" McDonald sat down with us recently to discuss his semi-retirement from poker and why his summer will be poker free. Read the World Series Can Wait for more.
Don't have the roll for a ton of WSOP events this summer in Las Vegas? There are plenty of other tournament series running all you have to know is where to look. Luckily, we looked for you, and that's how we can bring you the Vegas Grinder.
Making your way to the WSOP for the first time? We've got some tips from the seasoned vets for you. Even you second and third-timers might want to have a look.
Seven Year Itch
The latest episode of ESPN's Inside Deal was a bit of an anniversary of sorts. The day of filming for the show marked the seven-year anniversary of Chris Moneymaker winning the World Series of Poker Main Event.
Moneymaker was a guest on the show, as was Christina Lindley who chatted with Andrew Feldman about the new WSOP bracelet design and her poker career.
Daniel's Room
Phil Ivey has his room, and now Daniel Negreanu has one of his own. PokerStars has just opened exclusive high-stakes cash tables endorsed and designed by Negreanu. You can only play no-limit hold'em at these tables right now, but more features are said to be coming in the future. The minimum buy-in is 100 big blinds with a maximum of 250 BBs. What limits can you expect? There are $20/$40 ($10 ante), $50/$100 ($25 ante), and $100/$200 ($50 ante) games available. Not only that, if your skills catch the eye of the pro, you might even get invited to appear on a future PokerStars TV show.
What else is going on at PokerStars? Well, one lucky Stars player will be sent to Mount Everest. Yes, that Mount Everest, as if there was another one. The winner of the $1.10 tournament on May 30 will be sent to the base camp in the foothills of the Himalayas to accompany Damien and Willie Benegas, brothers who will be embarking on an ascent of Mount Everest. The two will be playing poker on the way up the mountain and at the top, which would make it the highest poker game anywhere in the world. They are raising money for a foundation that works to keep Everest free from rubbish that accumulates on the ascent. PokerStars will be donating $5,000 to the foundation as well.
Looking to take on Negreanu or Mount Everest? You have to sign up for a PokerStars account first.
Time's Running Out
PartyPoker wants to get you to the 2010 World Series of Poker in Las Vegas this summer. Qualification ends soon for the $16,000 WSOP Dream Package promotion on PartyPoker. You have until May 31 to earn as many PartyPoker Points as you can and make it to one of the top 100 spots on our Point Race leaderboard. If you qualify for the June 10 freeroll, a $14,000 WSOP package is up for grabs. There will also be $2,000 added to the prize pool and distributed as per PartyPoker's standard payout.
Wait! It gets better. PartyPoker is giving you $25 just for opening an account. There's no deposit required! And you have a shot at another free $25 if you earn the the points to release it from your bonus account.
There are so many amazing promotions running on PartyPoker that you'd be silly not to sign up.
Your Facebook page can use another friend, so add us, and follow us on Twitter for up-to-the-minute news.
Whatcha Thinkin?
After Doyle Brunson's 15-game winning streak on High Stakes Poker was snapped, he received loads of calls and emails about it, and was surprised by all the interest. He took to his blog to discuss that, as well as his thoughts about poker on TV.
On the criticism he has received in the forums about his conservative style of play, he says, "in today's environment, that is the correct way." Also, he says, I've never seen a really bad cash-game TV show, and I believe the viewing public wants to see real players playing for real cash. And yes, almost all of the guys are playing their own money," in response to comments regarding comments he made about "bad poker shows."
According to Brunson's blog, DoylesRoom is considering developing a network TV cash game with "a few different twists." There's a good chance you'll be catching TexDolly on the Golf Channel in a segment on "old time gamblers," as well as on a celebrity chef program that will air on Fox.
Check out his blog for more on the upcoming beer pong tournament and his thoughts on the WSOP.
Lights, Camera, Action
Jennifer Harman is trying her best to get your votes for a seat in the 2010 WSOP Tournament of Champions. She has released a series of videos of her telling jokes with the tagline: "Jennifer Harman should keep her day job. Vote for her now."
Well, this got The Entities from WickedChops thinking. They want to see how creative all the other TOC-eligible players can get. WCP is holding a competition for the best "vote for me" video idea from an eligible player. The winner's video will be produced by RawVegas.tv. The deadline for submissions is May 31 at noon.
Read more over at WickedChopsPoker.
Hey Honey, I'm in a Music Video
A few weeks ago, Phil Hellmuth graced us with a sneak peek of the video shoot for Ludacris' latest single "Sex Room." The video has been released and you can catch Hellmuth's mug at around the 2:00 mark. Basically, he's playing poker at the Palms with Ludacris and some others and unlike Daniel Negreanu in Katy Perry's "Waking Up In Vegas" video, Hellmuth actually wins.
Check out the video here.