World Series Can Wait: Mike "Timex" McDonald Preps for a Poker-Free Summer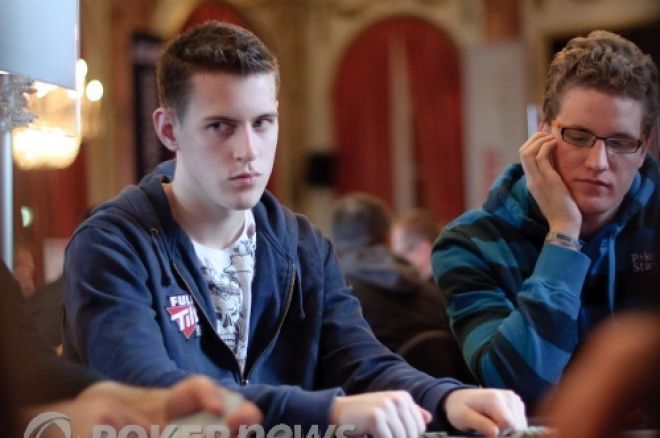 As soon as the European Poker Tour Grand Final ended in Monte Carlo, all of the talk turned to the players' upcoming trips to Las Vegas for the summer. But not everyone is Vegas-bound. PokerNews took a break from the World Series of Poker chatter to talk to Mike "Timex" McDonald, who at 20-years old, is too young to play at the Rio this summer (though oddly enough, he's still listed as a draft pick in Full Tilt's Fantasy WSOP promotion.)
McDonald announced his semi-retirement from poker in a CardRunners blog post in early April. Though he's only 20, he's already logged several years on the international poker circuit, won an EPT, and amassed over $2.2 million in live tournament earnings. But the well-respected, incredibly mature pro is ready to act his age again and trade in tournaments around the world for college at home in Canada.
"I've been focusing a lot of effort on poker, and it seems like right now, I'm just not that interested in improving my game or in playing," McDonald explained. While he knows a lot of players handle burnout by cutting back a little on their hours, he'd rather give poker his full attention or none of it. "I don't want to do it if I'm not going to be the best, if I'm not going to go all out."
In part, it's his realization that there is no absolute best that has eroded his determination to continue the tournament grind. "In tournaments, it's really hard to determine who is the best. Among the top group of players, it really just depends on who has been getting the luckiest lately. So now that can't be my motivating factor anymore."
Several weeks in Italy and Monaco for the end of the EPT season was McDonald's last poker trip for the foreseeable future, a prospect he found "kind of exciting." While poker has given him a chance to experience far more of the world than your average 20-year old, he's had enough. "You go to the same places so many times, and there's really not that much to do there. I think doing maybe just one poker trip a year will be better for me."
The travel grind has been particularly difficult for him because his age forces him to stick to tournaments on other continents. "If I could play closer to home, it would make the lifestyle much easier. I'd be able to have my family come watch. The travel is definitely a deterrent."
Not being able to play in the World Series this summer also influenced McDonald's decision to call it quits when he did. With most high-stakes tournament players concentrated in Las Vegas for the summer, the tournament action dries up elsewhere in the world. Since McDonald plans to start school in the fall, he says there is no reason for him to stay sharp without much to play before his first semester. "I might as well take a break and see how I like it," he said, smiling at the prospect of his first real summer break in awhile.
After that, he's starting a business administration program near where he lives with his family in Ontario. Half of his courses will be electives, and McDonald is excited to have a chance to find out what interests him outside of calculating EV and ICM. "Philosophy, sociology, who knows?" he said, spending a good two minutes listing all of the courses he wanted to take.
Leaving the tournament circuit now means that McDonald likely won't be the first person to win two EPTs, a distinction he's come close to on two occasions. After winning the EPT German Open in Baden in 2008, he finished fifth there in 2009. Most recently, McDonald finished third at EPT Deauville in January. "It's definitely going to happen in the next few years," he said. "If the field sizes were a lot smaller, I might keep playing until someone wins another EPT, but they just keep growing, so it's probably not worth it."
But even without winning two, McDonald said he's satisfied. "I've achieved all of my poker goals. I've gotten more than I could ever ask for." For one thing, he's earned enough money to secure a solid future and provide himself with the means to explore other business ventures. "A lot of my goals for poker were financial. I wanted to take advantage of poker during its glory years, and I did. For the next couple of years, it's just going to get tougher, so I'd rather take advantage of other things."
Don't worry. McDonald isn't breaking up with poker forever. He expects to cut back to a few tournaments a year for now, and then see where life takes him. "I've become accustomed to the freedom that poker allows me to have. I may come to miss that. Maybe a break will make me appreciate poker. I'll have to reevaluate and see." A complete return to the tournament circuit is unlikely, he says, but he'll play a few events next year, especially ones held in Canada, if he can fit them into his college schedule. And he's looking forward to finally being old enough to play some World Series events next summer.
Timex might not be at the World Series yet, plenty of your other favorites will be. We'll have coverage live from the Rio all summer long, and for up-to-the-minute news, make sure to follow PokerNews on twitter.