Year of the Tigress Part II: Boeree "Livs" the Dream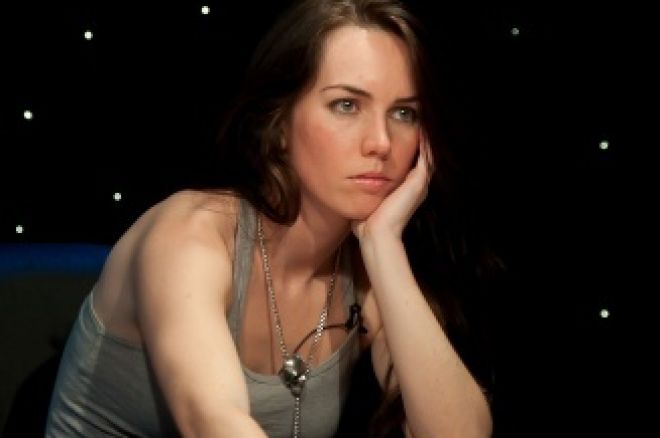 Since the Chinese New Year in February kicked off the Year of the Tiger, poker's top women have been hard at work making the year their own. Annie Duke won the NBC Heads Up Championship in March. Not long after, one of the game's sharpest minds, Vanessa Selbst, dominated the North American Poker Tour Mohegan Sun field, earning $750,000 and another impressive title to go with her World Series of Poker bracelet. Only a week later, British phenom Liv Boeree outlasted a huge field in the European Poker Tour San Remo Main Event, winning €1,250,000 and the satisfaction of shocking Italy with a female champion. The win catapulted her into the spotlight and instantly made her one of the hottest commodities in the poker industry.
Boeree's story sounds more like a movie plot than reality, but the screen writers really should have made their leading lady more believable. I mean, who'd buy a rocket-scientist/model by day and rock-band guitarist by night who lands on a poker reality show with no experience and five years later wins the biggest tournament in European history? Well, actually...
Boeree has both a degree in astrophysics and a photo spread in Maxim. The Brit with a mathematical mind and a hot body was first exposed to poker in 2005 when she was chosen as a contestant on the reality television show UltimatePoker Showdown, where she was coached by Phil Hellmuth, Annie Duke, and David "Devilfish" Ulliot. From there, she landed a gig traveling the EPT circuit as a host for a British television station.
But Boeree knew her newfound love for the game went beyond observing. Boeree explained, "When I met Phil Hellmuth and Annie Duke on that show, they were the superstars of poker, and I said, 'I want to be there.'" After she'd logged some time at the tables, she found a backer who agreed to put her in any event with an entry fee of £2,000 or less. Rather than see the number as an upper limit on her aspirations, Boeree used her stake to satellite into many higher buy-in events. She won her way into the San Remo Main Event through a €500 mega satellite, not a bad investment to turn into €1,250,000.
Boeree joked that someone had given her the nickname "ROI Queen," a title she's not about to forsake just because she has a newly inflated bankroll. PokerNews finally found a few minutes of downtime with the in-demand Brit after she busted the EPT Monte Carlo High Roller, an event she satellited into through a late-night mega satellite she squeezed into her schedule at the last minute. It was important for Boeree to prove she can hold her own among poker's toughest competition in the high roller. She knows it's an uphill battle to get the world to see her as a tough, skilled poker player, rather than a girl who's happy with her tournament results as long as she gets her picture taken wearing a logo.
"I'm not just in poker to accumulate money," she said. "Yes, the money's nice, but I have a long-term goal, a career goal, to make as much of a positive name for myself as I can." And the EPT win is a huge step toward gaining legitimacy in a world that tends to separate "real" poker players from poker Barbies. "My goal is to be one of the best players in the world - not female players - but players. I've got a long way to go, but it's nice to feel like I'm on that road," she said. "Just to have that title, to be able to say, 'I am an EPT winner. I won the biggest EPT ever,' is a big deal."
Of course, Boeree knows that her appearance helped her get this far. "I'm not denying that looks are part of how I got my deal," she explained. "But at the same time, I knew deep down that I had the capabilities to win." When she signed her first sponsorship deal with Absolute Poker, Boeree said their advertising plan was "to have a beautiful girl as their spokesperson to appeal to a young male demographic. And there's nothing wrong with that. It's just marketing." Her poker chops weren't key to her Absolute signing, but her 2009 move to UB.com was a step forward. "When Ultimate Bet signed me, they said that now I'm proving myself and proving that I can be marketed as an actual poker player." And now that she's got a major title to her name, watch out world.
Her accomplishment made her an instant international hit. Even in the U.S., an astrophysicist model winning a million-dollar poker tournament would be huge news, but in Italy, it was a revelation. Boeree described the fuss with a smile, "Italy was going crazy. It was so unheard of for them that a woman could win. Like, wow, this really happened?"
Boeree's stare made the Italian men in particular extremely uncomfortable. "They'd try to make a joke or blow me a kiss or go cross-eyed or something," she said. "When they have a big decision in a hand, you can confuse them and mix it up and make them really uncomfortable." One man even told Boeree that her eyes are like weapons. "I've never had that in the U.S. I mean, guys will hit on you all the time, but I've never had a guy be genuinely flustered." Combined with her model good looks, Boeree's soul-searing glance could rival Ivey's for marketability. But she doesn't want it to become her trademark. She'd rather avoid overusing her "weapon" and save it for when she really needs it.
The piercing stare wasn't the only memorable part of Boeree's final table performance in San Remo. Somehow, despite her paucity of final table experience and the enormity of what a win would mean for her career, she managed to project complete calm. Not so on the inside, however. Before the final table, "I couldn't eat. I was just moving around my room in a daze. I honestly thought I had the flu," she said. "But once I was playing, I really settled down. Once I got into the flow of the table, it was great." Her plan to take plenty of time to think through her motivation for each decision helped her stay calm and focused, but she had to fight to get her rhythm back after every break. "That's when you get perspective and realize the gravity of what you're doing, what you're playing for, how important your decisions are," she said. "People say it's all about the cards, but it really comes down to how you perform."
Despite the stress, Boeree was able to use the breaks to her advantage. Her cheering section, including boyfriend Allie Prescott and his roommate Shaun Deeb, was following the live webcast closely from Las Vegas where it was the middle of the night. Both tournament veterans, Deeb and Prescott were able to check in with Boeree every break to share some quick stack-size strategies, player observations, and of course, words of encouragement. "Having Allie and Shaun was amazing," Boeree said. "It was priceless having those guys in my corner. First of all they understand the pressures, and second of all they're great poker players." And Prescott was pulling double duty. On top of watching the action over the Internet, he was helping explain it all to Boeree's father, who was in Vegas on business when the volcanic eruption in Iceland grounded trans-Atlantic flights and kept him in the States for an extra two weeks.
With some of her biggest supporters watching from the San Remo stands and others following along on another continent, Boeree deftly navigated her way through the final table. Down to three players, she picked the perfect time to three-bet Toni Pettersson with pocket treys. He flopped top pair, she flopped bottom set, and suddenly Boeree found herself heads up with the chip lead in the biggest tournament of her life.
She really started to feel the pressure of unfamiliar territory facing down a tough opponent, Jakob Carlsson. Deeb, however, was quite familiar with Carlsson, who plays online as "Mendieta." Deeb and Prescott were able to give Boeree an over-the-phone crash course in taking down the Swede. "They gave me pointers and told me to trust myself, trust my reads, and keep the pressure on," she said. And Boeree executed perfectly, not backing down when he retook the lead and running a huge three-barrel bluff to steal back the momentum. "I did freak out during that hand, but it all worked out," she admitted. "I guess I have some emergency stoicism built in." Boeree kept her cool throughout and said she was surprised she was able to keep her heart rate slow and steady, "except for the final hand, when we had a race. I couldn't watch. It was like I wasn't in my own body." Her pocket fives held, and suddenly Boeree's biggest lifetime cash jumped from $30,000 to €1,250,000.
At this point in our interview, Prescott started throwing sugar packets at Boeree from the a table a few feet away. "Allie's a little frustrated," she recognized. "But if he wants it badly enough, his turn is coming soon. He's technically an amazing player. He's got a great understanding of the game, and he's a great teacher." And though Prescott might be wondering when things will fall into place for his big win, he couldn't be more supportive of his girlfriend. Boeree's head is spinning with so many opportunities suddenly open to her and plenty of people ready to offer advice that conveniently fits with their own agendas. Amidst the craziness, "It's really nice having someone who I completely trust to give me only the best advice and who also knows the industry," she said. "I'm a lucky girl."
And who knows where that luck will take her. Boeree says she's "incredibly excited" about the upcoming World Series of Poker. She's been adding a few new games to her repertoire, so expect her to play as many events as she can fit into her schedule, especially razz, her current favorite. Boeree could market herself as the ROI Queen, or the hot girl with the icy stare, or the rocket scientist model, or the winner of the biggest European tournament ever. But even with all those gimmicks to choose from, she isn't going to be content until she's known simply as the toughest poker player around.
Follow Boeree's quest this summer as PokerNews brings you all of the WSOP action LIVE from the Rio and be sure to follow us on Twitter for up-to-the-minute news.