The Year in Poker: June, 2007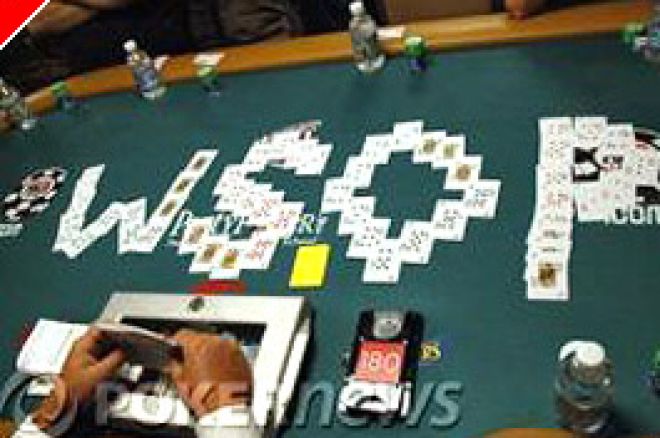 June saw the 38th World Series of Poker being its record-setting run at the Rio in Las Vegas, with throngs of would-be poker champions stretching the facilities to its limits, if not beyond. Every day brought one or two new champs, all while a handful of other big stories played out elsewhere in the poker world. There was no shortage of worthwhile poker stories as summer arrived in style:
Hellmuth Wins 11th Career WSOP Bracelet — Who would capture an 11th WSOP bracelet first? All three players with ten career titles made deep runs at bracelets in the opening weeks of the WSOP. But when the efforts of Doyle Brunson and Johnny Chan in other events fell short, it left the door open for Phil Hellmuth, Jr. to make history. Hellmuth won his 11th career bracelet in Event #15, $1,500 No-Limit Hold'em. Hellmuth emerged from a massive pack of 2,628 entrants to outlast Andy Philachack and seven others in a final seen by almost no one, for it was held inside the special Bluff tent created as a venue for televising a select number of finals designated as pay-per-view (via Internet) events. Nonetheless, word of Hellmuth's triumph still spread through the Amazon Room and beyond and a special ceremony was quickly arranged. Hellmuth collected $637,254 in his record-setting triumph.
Antigua Asks for $3.44B from U.S. in WTO Trade Dispute — Early in June, the island nation of Antigua & Barbuda filed a claim for $3.44 billion in annual compensation from the U.S. as its rightful award for its successful case against the U.S. over 'offshore' access to the Internet gambling marke, specifically horseracing in this case. While some arbitration judgment was assured, once the U.S. abandoned its final appeal, the amount ultimately due was a matter of widely divergent opinions. The U.S. scoffed at Antigua' claim and suggested that $500,000 might be appropriate, while other countries filed similar WTO claims as the deadline for filing passed. The largest of these was a $100 billion claim filed by the European Union, representing the interests of most European countries.
Freddy Deeb Takes $50K H.O.R.S.E. Championship — The biggest payday and most prestige at the WSOP outside the Main Event goes to the winner of the $50,000 H.O.R.S.E. World Championship, which returned for its second edition as Event #39 of the 2007 WSOP. 148 of poker's biggest stars sought the title, including the late Chip Reese, who returned here to defend his crown from the inaugural 2006 event. The 2007 edition produced the most potent final table of the entire WSOP, consisting of Barry Greenstein, Amnon Filippi, Freddy Deeb, Thor Hansen, Kenny Tran, David Singer, Bruno Fitoussi and John Hanson. Deeb emerged the winner after overtaking final-table chip leader Filippi, collecting $2,276,832 and the special winner's bracelet. Fitoussi emerged as the runner-up, cashing for $1,278,720.
Full Contact Poker Ceases Operations; Negreanu Joins PokerStars — The online poker sites hit hardest by the market impact of the UIGEA were moderately sized sites that catered extensively to the U.S. Among those was Full Contact Poker, which announced in June that it would cease the online-room portion of its operations and continue on as a discussion forum only, where it remained a major player. FCP announced the sale of its account base to PokerStars, and only a couple of days later, FCP spokesman Daniel Negreanu announced that he was making the move as well, joining the impressie lineup of Team PokerStars sponsored players and instantly becoming one of the site's most recognizable endorsers.
PokerStars.net Asia Pacific Poker Tour Announced — A new major poker tour serving the booming Asian Pacific Rim poker market was announced in June with PokerStars' launch of the Asia Pacific Poker Tour. The tour initially scheduled stops for Manila, The Phillipines, and Seoul, South Korea, along with a season-end championship in Sydney, Australia. The APPT would be boosted later in the year with the addition of an event in Macao, the first-ever major poker tournament held in Mainland China. The APPT events drew respectable entries at all venues and established a solid base for major poker tournaments in the region.
Schneider Becomes 2007 WSOP's Only Double Winner — Winning two bracelets in the same World Series of Poker requires both exceptional skill and a great rush of cards. In 2007 the breakthrough performance was accomplished by veteran cash-game player Tom 'Donkey Bomber' Schneider, who won his first title early on in Event #5, $2,500 Pot Limit Omaha & 7 Card Stud (Hi/Lo), and followed that up by taking down Event #46, $1,000 7-Card Stud (Hi/Lo). In addition, Schneider held on to narrowly edge out Jeffrey Lisandro for 2007 WSOP Player of the Year honors.
Billirakis Snags 'Youngest-Ever Winner' Title ¬— With an age limit of 21 in place for all Nevada-based WSOP events, the record for youngest-ever bracelet winner has edged ever closer to that 21-year minimum. While Jeff Madsen had claimed the record in 2006 by winning the first of his two bracelets in that series, his mark lasted exactly one year: Steve Billirakis, aged 21 years and 10 days, set a new youthful standard by winning the very first event of the 2007 WSOP, the $5,000 'Mixed Event' tourney. Billirakis outlasted Greg 'FBT' Mueller to collect the $536,287 winner's prize in an auspicious WSOP debut.
NETeller's Lawrence Pleads Guilty to Conspiracy Charges — The NETeller saga marched on throughout the year. Shortly after the company itself announced a plan to repay U.S. customers whose funds had been frozen for months, the U.S. Attorney's Office announced that NETeller co-founder John Lawrence had pled guilty to one count of conspiracy regarding the facilitation of money transfers between U.S. residents and offshore gambling sites, primarily bookmakers. Lawrence agreed to be partially responsible for the $100 million the U.S. was believed to be seeking in the case.