The Nightly Turbo: PokerStars Released 2011 SCOOP Schedule, Start Days for The Bounty Shootout at The Bike Announced, and More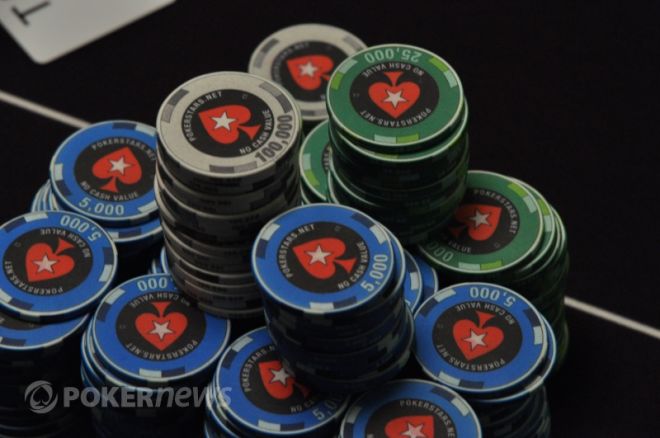 All you online poker grinders better bust out the iCal on your iPads, because PokerStars has just released the schedule for the 2011 SCOOP. We'll tell you when it is, the start days for The Bounty Shootout at The Bike, and more in tonight's Nightly Turbo.
In Case You Missed It
Victor Ramdin went into Day 3 of The Big Event with the chip lead, and by the day's end, he was still at the top. The field dwindled to just 22 players. To find out who's still in the running for the $500,000 first-place prize, check out The Big Event recap.
While at The Big Event, we decided to get the lowdown on Kathy Liebert's love for the color purple, a prop bet she was almost involved in with Phil Ivey, and more. Check out the latest PokerNews Interview for her answers.
While playing Day 3 of The Big Event, Victor Ramdin decided to bluff one of his opponents. His bluff didn't go as planned, but it still worked. Hone your bluffing skills by reading Ramdin's analysis of his bluff.
We all know Erik Seidel won the NBC National Heads-Up Poker Championship on Sunday. He played in the finals against Chris Moneymaker. What we don't know is who had the tougher road to the finals. And so, our latest PokerNews Debate was born.
2011 SCOOP Schedule Announced
The schedule for the 2011 PokerStars Spring Championship of Online Poker has been announced, so this would be the time to grab a pen and paper open up iCal or whatever you use, and clear some dates in the spring.
SCOOP is scheduled to run from May 8 to May 22. There are 38 events on the 2011 docket, with three levels of buy-ins: low, medium and high. While we'd like to give you an exact overall prize pool guarantee number, we don't like to count that much, or that high. Just know it's a lot. The Main Event buy-ins are $109, $1,050, and $10,300 with guarantees of $1 million, $3 million, and $5 million respectively.
Among the 38 events are no-limit hold'em tournaments, limit hold'em, pot-limit Omaha, no-limit Omaha, 8-Game mix, and Badugi among other variants.
We've told you how long SCOOP runs, but you'll probably need more exact dates and times for certain events, and you can find that on the PokerStars Blog.
While you're mind is on SCOOP and winning, why don't you sign up for a PokerStars account, because you can't play SCOOP events without one.
Starts Days Announced for The Bounty Shootout at The Bike
If you registered for the $10,000 Bounty Shootout at The Bike, you might want to keep reading. We've got your start days, and you won't want to miss this or be late. The event kicks off Thursday at 12:00 p.m. PST with 36 players taking their seats. The remaining players will all play on Friday. This is not the table draw, but rather the "day draw," and this is the only place (online) you can get it - for now.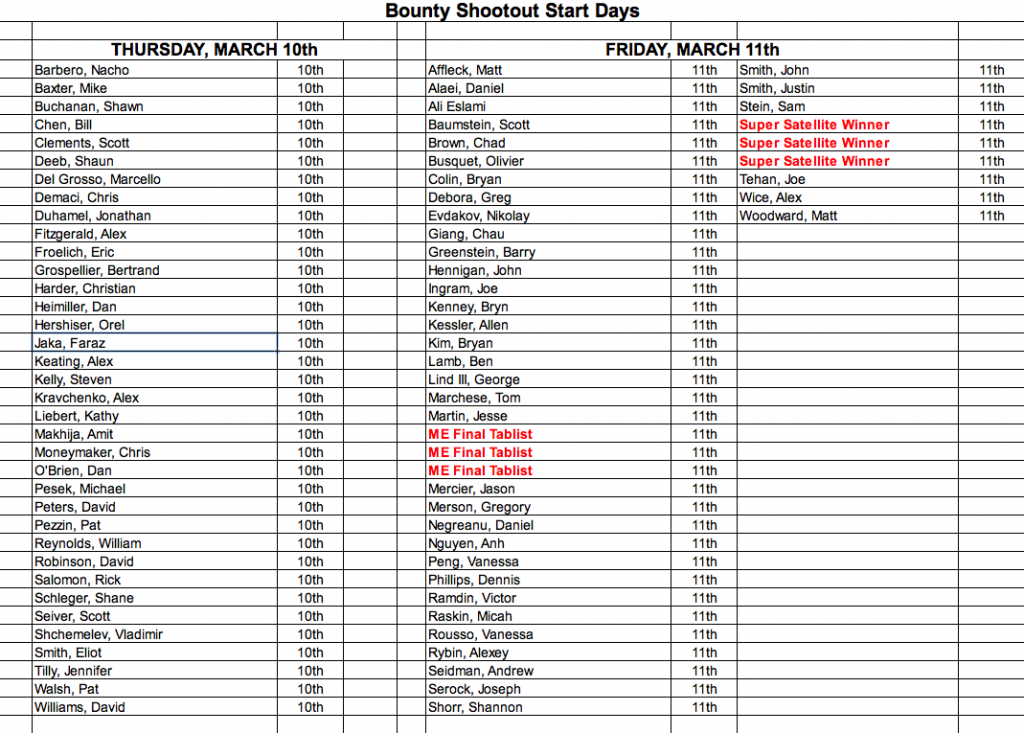 Registration for the event is closed, but if you're dying for a chance to play it, there is a super satellite Thursday, May 10, at 8 p.m. The buy-in is $535 and a maximum of three seats will be awarded. The players that satellite in will play in the second flight of the shootout, on Friday.
If you want to know more, check out the schedule at TheBike.com.
The Board OKs It
The Nevada Gaming Control Board has OK'd the relationship between Caesars Entertainment and 888 Holdings. The Board is scheduled to meet March 24 and if the relationship between the two companies is approved, it would be the first relationship that has been approved for a Nevada licensee and a foreign Internet gaming provider.
"In 2002, we didn't have a lot of knowledge about how this would work," Board Chairman Mark Lipparelli said. "But in nine years, we've learned a lot more."
CEO of Caesars Entertainment, Mitch Garber told regulators that the company chose 888 because it already had online gaming hardware and software, and that Caesars Entertainment would not be writing any of its own programs.
"It was a historic moment," Garber said. "It confirms that Internet gaming is a reality. It should allow us to look more and more at a federally regulated environment in the United States."
The Las Vegas Sun has more.
You Need More Winks
A study coming out of Duke University is showing that a lack of sleep can make people risk larger losses by chasing big gains. The team of researchers studied 29 individuals who performed a variety of gambling tasks. With a full night's sleep, the subjects "guarded against financial loss and cautiously pursued gains."
However, when the subjects were deprived of a night of sleep, they "moved from defending against losses to seeking increased gains." Their attention levels also dropped throughout the night. After fMRIs and more testing the researchers suggest that spending all night playing online can pose an extra gamble. In short: get plenty of sleep.
We'd like to get into the science behind it, but we're not scientists. You can read about them on ScientificAmerican.com.
Live at the Bike
While at The Big Event this week, Kristy Arnett caught up with David Tuchman and Bart Hanson to talk about Live at the Bike, a live cash game that runs at The Bike that is streamed online complete with hole cards and commentary from Tuchman and Hanson.
Be sure to follow us on Twitter for up-to-the-minute news.