PokerNews Debate: Who Took the Hardest Road to the NBC Heads-Up Finals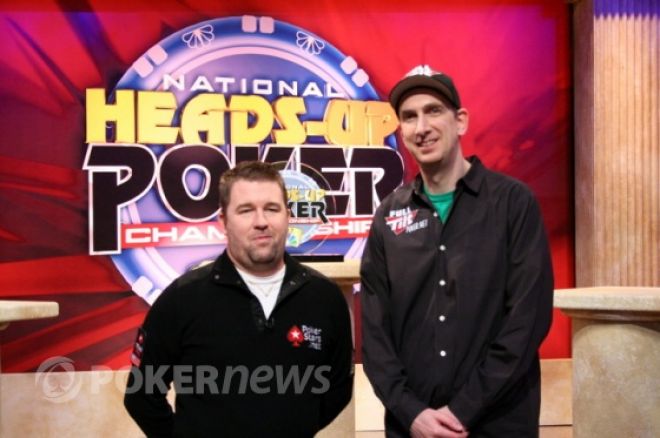 The NBC National Heads-Up Poker Championship recently wrapped with Erik Seidel continuing his 2011 heater by defeating Chris Moneymaker in the finals to claim the $750,000 first-place prize. Both players had a rough road to the championship match that included bouts against internet stars, living legends, cash game specialists, and world champions. While Seidel won the event, one wonders if the road he took to get to the finals was filled with tougher opposition than that of Moneymaker. PokerNews' own Donnie Peters and Chad Holloway decided to tackle the issue in another PokerNews Debate.
The Road to the Final
| Round | Moneymaker's Opponent | Seidel's Opponent |
| --- | --- | --- |
| Round 1 | John Racener | Allen Cunningham |
| Round 2 | Daniel Cates | Jen Harman |
| Round 3 | Doyle Brunson | Phil Gordon |
| Quarterfinals | David Oppenheim | Vanessa Selbst |
| Semifinals | Jonathan Duhamel | Andrew Robl |
Chad Holloway thinks Chris Moneymaker drew the more difficult path to the finals.
The 2003 World Series of Poker Main Event Champion has been the poster boy of poker for nearly a decade. Whether people love him or hate him, everyone knows who Moneymaker is and what he has done for the game. In the past few years there has been a great deal of pressure for Moneymaker to put up some results and reestablish his relevance in the game. He helped ease that pressure with an 11th-place finish at the PokerStars Caribbean Adventure in January, but he was still in need of results if he wanted to appease his critics. Enter the NBC National Heads-Up Championship.
Unlike Seidel, whose unbelievable start to 2011 crushed any pressure to perform, Moneymaker was in desperate need of another positive result and there was no better place to make that happen than in a tournament that would be broadcast on national TV. Moneymaker's Round 1 match was against the latest WSOP runner-up, John Racener. Given Racener had never played the event before and Moneymaker had years of experience, there is no doubt that he was a favorite and had an easier first-round match than Seidel, who had to go through Allen Cunningham.
However, Moneymaker's Round 2 match, as well as the subsequent rounds, were much tougher. As a reward for defeating Racener, Moneymaker found himself in a match against online-poker juggernaut Daniel "jungleman12" Cates. Here was a man who specialized in playing heads-up no-limit hold'em online at the highest stakes possible. He had played, and often defeated, the likes of Tom "durrrr" Dwan, Patrik Antonius, and Phil Ivey. Granted, Cates' expertise rested in cash games and not tournaments, but in my opinion he was a big favorite in this match. Moneymaker fought a tough battle and ultimately emerged victorious. One could argue that up to that point Moneymaker had defeated two opponents with absolutely no experience in the NBC Heads-Up Championship, which is true. However, that argument wouldn't hold true for his next match.
Round 3 was the complete opposite of the prior match. Instead of a young online pro, Moneymaker had to face the "Godfather of Poker," Doyle Brunson. No one has been in the game longer, or has more experience, than "Texas Dolly," yet Moneymaker managed to work him over and send him to the rail. Things didn't get any easier though as Moneymaker was due to face David Oppenheim in the next round. Oppenheim was another high-stakes cash game player with a NBC Heads-Up record of 6-2; nonetheless, it didn't take long for Moneymaker to defeat Oppenheim with a rivered flush to advance to the semi-finals.
To top it off, the only thing standing between Moneymaker and the finals was the reigning WSOP Main Event Champ, Jonathan Duhamel. The only thing that could have made the match sweeter was if it had been in the finals rather than the semi-finals. When Moneymaker dispatched Duhamel, critics of the 2003 Champ, including myself, were duly silenced. By defeating the players that he did, Moneymaker won me over and proved he's got what it takes to remain relevant in the game.
Unfortunately, Moneymaker came up just short of the title when he went 0-2 in the finals, which isn't a surprise considering Seidel is on an unprecedented ten-week heater. Had Moneymaker managed to halt Seidel's momentum and emerge victorious, I believe it would have been the hardest road to victory in the history of the NBC National Heads-Up Championship.
Donnie Peters thinks Erik Seidel drew the more difficult path to the finals.
Surely, Seidel came into the NBC National Heads-Up Championship on fire. He had already locked up nearly $3.6 million in earnings for 2011 alone. He won both the $250,000 Super High Roller at the Aussie Millions and the L.A. Poker Classic $25,000 High Roller event amongst many other results. If there was ever a favorite going into the NBC event, it was Seidel.
For Seidel's first matchup, he drew Cunningham — a man who sits eighth on the all-time money list and holds five WSOP gold bracelets. Cunningham is well known and one of the most analytical and calculated professionals in the game. With 26 tournament wins on his resume and 16 second-place finishes, Cunningham has a win rate of just under 62 percent when he gets to heads up in a tournament. Clearly, he knows how to seal the deal. Cunningham is one of the tougher players in this field from the beginning and could rival anyone Moneymaker had to play, giving the first match difficulty factor to Seidel.
As Chad stated above, Moneymaker's second-round match was against "online-poker juggernaut Cates". Let's be sure to point out that there should be extra emphasis on "online" because Cates has amassed less then five figures in live tournament cashes. Yes, he may be an online, heads-up phenom, but there are two glaring problems with that. First, Cates plays heads-up cash games, not tournaments. It's an entirely different animal. With the blinds always increasing, you have to adjust to your opponent over a shorter period of time. You can't reload when you want to and you can't get up and leave.
Second, the NBC event is played live, not online. If you've watched Cates play in one of the few live events he's shown up at, you'll notice that he is very raw in his live game. Someone who is known heavily for his live game like Moneymaker, can pick up on things much easier and adjust to Cates in a tournament format a lot faster than one may think. Seidel on the other hand was pitted against the best female poker player in the world, Jen Harman. Chad mentioned that Cates has played and defeated the likes of Antonius, Ivey and Dwan, but he may be forgetting that Harman has done much of the same. Does Bobby's Room ring a bell? Harman was cutting her teeth with these juggernauts long before Cates even knew how to six-bet shove with air. Harman also has experience playing against the famous Andy Beal in some of the largest heads-up cash games the world has ever seen. She's a much more solid opponent than Cates, although that doesn't mean somewhere down the line that Cates won't become a better live heads-up tournament player than Harman. For now though, Harman and her two WSOP gold bracelets should get the nod.
Moving on to match number three, where Moneymaker faced Brunson and Seidel faced Phil Gordon. This one seems the biggest no brainer of them all, it's easily Moneymaker, although not by much. Gordon is crushed by all of Brunson's accolades, but the game may be a little past Brunson by now. His stamina lacks and his mind has more than likely taken all the poker it can handle. Sure, Brunson still plays, but his energy and aggression seem to have gone. Gordon may not have the experience that Brunson has, but his mind is much younger. Let's not forget about how brilliant Gordon is as well, meaning he'll be able to buckle down and adapt to the game much easier than Brunson would be.
It's been said that Oppenheim is one of the toughest live heads-up players in the world. That makes it even more of a debate that Seidel had to go through the amazing Vanessa Selbst. Selbst is very aggressive and extremely solid. She's won over double the money that Oppenheim has in live tournaments and is known as one of the greatest poker minds out there today. Just because Oppenheim frequents high-stakes cash games doesn't mean Selbst's heads-up game falls behind his. At the NBC Draw Party for the event, Jason Mercier, among many other pros who attended, said that drawing Selbst could easily be the worst draws they could have. Oppenheim's name was not thrown around in this light.
Much like Cates, Andrew Robl is an extremely successful online player, especially heads up. What's more is that Robl has had a lot more live success to the tune of nearly $1.5 million in live earnings, which trumps all that Cates has done in the live realm. Yes, Duhamel has won more money than Robl when you compare the two semifinal matches side by side, but Duhamel binked one insanely large score in the 2010 WSOP Main Event. Robl has been in the game for a lot longer and provided himself a living from it after having dropped out of college. There's an intimidation factor facing the reigning world champion, but simply winning the WSOP Main Event doesn't make you the best player in the world. In fact, some WSOP Main Event winners would be thrown into the group of "worst players in the world" not the best ones. Duhamel can't be put into either category yet, but so far he's shown promise. All promise is though is just that, promise, and we've yet to see what he can really do in this game.
Seidel was forced to overcome players with excellent live records along with ones that are also great online players. Four out of his five opponents hold WSOP gold bracelets while only two held bracelet's on Moneymaker's road to the finals. Also, Seidel's opponents have 46 total tournament wins on record as opposed to the 24 that Moneymaker's opponents have racked up in their careers. That shows that Seidel's adversaries are a lot greater at winning during heads-up play, which is exactly what the NBC event was — a heads-up poker tournament.
What do you think? Let us know in our comments section below. And remember, PokerNews can offer you even more. Be sure to follow us on Twitter and like us on Facebook.