2011 NBC National Heads-Up Poker Championship Day 2: Duhamel, Moneymaker, Seidel, and Selbst among Quarterfinalists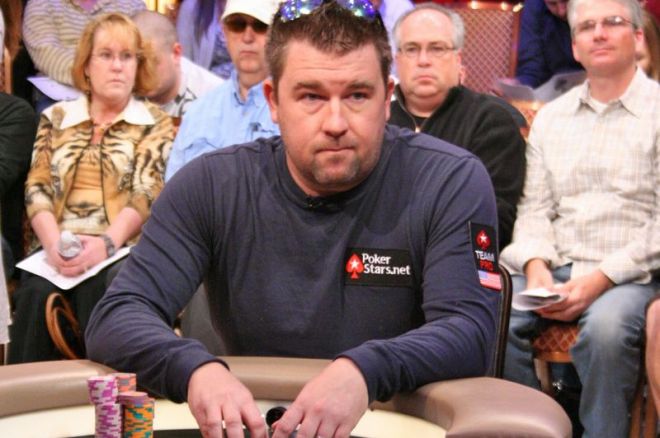 Day 2 of the NBC National Heads-Up Championship at Caesars Palace in Las Vegas was all business. Gone was the levity of the previous day. In its place was a sharp focus on the task at hand: climbing the bracket one person at a time. The day began with 32 players, half of whom would walk away with nothing. The other half were guaranteed at least $30,000, a slim return on their $25,000 investment. More importantly, they still had a shot at $750,000 and the 2011 primetime television Heads-Up crown. Eight of the players who made the money quickly saw that dream fade. Now, after two days and three rounds, only eight remain in pursuit of the title.
Last year's runner up, Erik Seidel, will return on Sunday for the quarterfinals, where he will play Vanessa Selbst. Chris Moneymaker will face David Oppenheim. Reigning WSOP World Champion Jonathan Duhamel will put Olivier Busquet to the test, and David Benyamine will try to outfox Andrew Robl.
The Spades and Clubs Brackets went first on Day 2. Duhamel took less than 20 minutes to make Antonio Esfandiari vanish. The Magician moved all in with a king-high diamond draw. He got his diamond, but Duhamel's nut flush got the chips. Jason Mercier eliminated Andy Bloch almost as quickly. Eugene Katchalov crushed the hopes of many fanboys when he flopped two pair to best the top pair, top kicker of Patrik Antonius. Next Oppenheim finished Carlos Mortensen's high-profile week.
Liv Boeree was all in with
against Busquet's
. Busquet flopped the nut flush to secure a win in the Liv B. v. LivB match. Doyle Brunson and Dennis Phillips, the two oldest players in the event, duked it out on the feature table until Brunson out-flipped Phillips to move on to the money. Daniel "Jungleman12" Cates, the youngest person in the tournament, met his demise at the hands of Moneymaker. Cates
looked strong against the Main Event winner's
, but Moneymaker connected with the
on the flop to send Cates back to the virtual felt. Ayaz Mahmood, the 2010 WSOP Heads-Up Champion, continued his heads-up hot streak by busting Barry Greenstein.
Next the 16 players remaining in the Hearts and Diamonds Brackets took their seats in the Caesars heads-up arena. Phil Gordon and Greg Raymer were all in quickly, and Gordon's big slick paired to send Raymer and his pocket queens to the rail. The other match with an impressive height differential took much longer. Seidel and Jennifer Harman battled until there were only 33 big blinds between them. After a flurry of all ins, Seidel finally prevailed. Phil "OMGClayAiken" Galfond defeated Bertrand "ElkY" Grospellier in a hard-fought battle of the Internet superstars. One table over, Benyamine got the better of Tom "durrrr" Dwan in this special heads-up edition of High Stakes Poker.
Phil Laak and Michael Mizrachi made the most of their stay at the feature table, where Mizrachi eventually wore down the Unibomber. Robl was paired with NFL Hall of Famer Emmitt Smith, who caught well to upset David Williams in his first match. Smith also put up a fight against Robl, but for the second time in two rounds, Robl rivered a straight to move on the next round. Gavin Smith met the same fate as Emmitt when he collided with WSOPE Champ James Bord's boat. Selbst and 2008 WSOP Main Event winner Peter Eastgate were the last pair still playing, and they were moved to the feature table. On the first hand in their new seats, Selbst picked up queens and Eastgate looked down at jacks. All the money went in quickly, and Eastgate went out just as fast.
With Eastgate's elimination, the field was down to 16 and in the money. Production rushed to break half of the tables in preparation for the first batch of Round 3 matches. Moneymaker sat down at the feature table opposite Brunson and minutes later sent the legend packing. Another WSOP champion, Duhamel, earned the next KO by defeating Mahmood. Katchalov got his chips in with a dominating hand, but Oppenheim spiked a three-outer to advance. Mercier's vocal rail did their best to cheer him to victory over Busquet. The deck brought Mercier a few gifts and boosted him to a four-to-one chip lead. That's when the run-good ran out and Busquet clawed his way to a win.
Bord kicked off Day 2's last set of matches by four-betting Robl, who promptly moved all in. After several minutes in the tank, Bord called all in with
. He failed to improve against Robl's
, and Robl extended his alternate appearance into the quarter finals. Benyamine eliminated Mizrachi next, then Seidel busted Gordon. Selbst and Galfond wrestled for another few minutes before Selbst made Galfond the fifth Phil to hit the rail at Caesars this weekend.
The final eight will return at 10:45 a.m. PST on Sunday. Yes, that's a.m. By the end of the night, there will be a new National Heads-Up Champion.
Right now not only can you get a free $50 bankroll from PartyPoker and PokerNews, you will also get a free month at PokerNews Strategy. Hurry as this is a limited offer, but the great thing is you do not even need to make a deposit at any stage, just go to our PartyPoker Free $50 Page and follow the walk-through.