The Weekly Turbo: Zynga's PokerCon Headed to Las Vegas, Davidi Kitai Wins WPT Celebrity Invitational, and More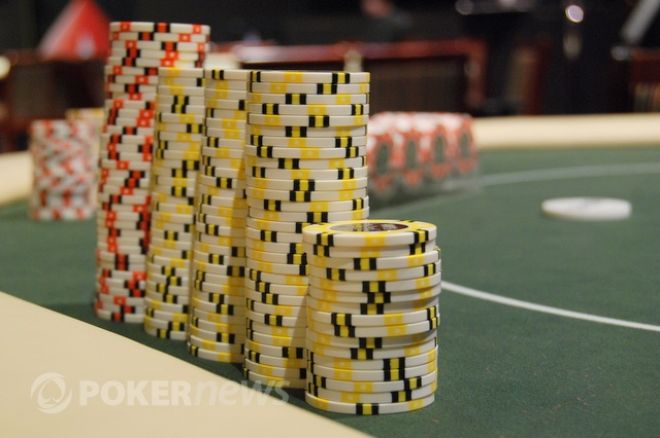 If you missed any of this week's news, we're recapping the top poker news stories of the week for you. Just don't make a habit of missing the Nightly Turbo. This week, we brought you some information on Zynga's PokerCon, as well as the results from the World Poker Tour Celebrity Invitational, and more.
Zynga PokerCon
There are all kinds of cons we're not interested in — comic, dragon, Charles Ponzi — but one we can really get behind is Zynga's PokerCon. The event takes place March 18-19 at the Palms Casino in Las Vegas and will feature poker training by Annie Duke, a tournament with a $100,000 prize pool, and more. Registration for the event ranges from $125 to $655.
To find out more, head on over to ZyngaPokerCon.com.
Kitai Wins Celebrity Invitational
When the final six players of the World Poker Tour Celebrity Invitational final table were reached on February 20, play was halted until March 2. The TV final table was filmed Wednesday and Davidi Kitai was the last player standing at the end of play, taking home the title and $100,000, including a seat to the WPT World Championship. A total of $100,000 was raised for the Chrysalis organization, which helps homeless and low-income individuals.
"We couldn't be happier about the impact this money will have for Los Angeles' homeless and economically disadvantaged through the fantastic work of Chrysalis," John Griffo, Commerce Casino Director of Casino Development said. "WPT and Commerce Casino have a longstanding partnership in community giving through the WPT Celebrity Invitational. This event is a collaborative effort. Hundreds of people in the poker community, celebrities, Commerce Casino and the WPT come together each year to celebrate the game we love and promote a great cause. We look forward to many more events like this in years to come."
WPT Celebrity Invitational Results
1. Davidi Kitai - $100,000
2. Almira Skripchenko - $50,000
3. Dan Heimiller - $20,000
4. George Rechnitzer - $15,000
5. Damon Schramm - $10,000
6. Dinara Khaziyeva - $5,000
WorldPokerTour.com has more.
The Micros
The third episode of The Micros was released over the weekend, and if you missed it, you shouldn't worry, we've got it right here. Chase Berger and Tommy Phuoc are in Australia for the Aussie Millions while their pal Rose Ballenger is in Elkytraz, an asylum for the criminally degenerate. Also, Tatjana Pasalic makes her appearance on the show.
Check out The Micros on Facebook.
The Nuts
The latest installment of ESPN's The Nuts is back. The monthly blog post ranks the best players in poker at the moment. The Panel includes PokerNews' Editor-in-Chief Matthew Parvis, PokerNews' Tournament Reporting Manager Don Peters, ESPN's Andrew Feldman, Gary Wise, and Bernard Lee, among others.
February's rankings haven't changed the top spot, so we're not going to tell you that Phil Ivey has retained his spot at number one. Daniel Negreanu jumped from eighth to fourth and sits tied in that spot with Tom Marchese. Erik Seidel, whose January was insane, moved from tenth to sixth, with a fifth-place finish at the LAPC $5,100 heads-up event and winning the $25,000 high-roller event at LAPC.
Sam Trickett makes his first appearance on the list after his amazing January and finishing sixth at WPT Paris. "$2.9 million in 2011 and another final table this month. His accomplishments earned him a well-deserved spot in the National Heads-Up Poker Championships," Feldman said.
You can check out the entire list at ESPN.com.
Fastest Ever
No, he's not Usain Bolt, but Andrew "azntracker" Li has reached Supernova Elite status on PokerStars faster than any other player. He broke the previous record by nearly three weeks. If you aren't familiar with SNE, a player must obtain one million VIP Player points during a calendar year. That's usually how long it takes players to reach the feat. It took Li two months.
"This is very reminiscent of the feeling I used to get shortly after finishing a huge exam or project back in college — I would characterize it as 'subdued elation.' I'm not going crazy in jubilation or anything like that, but I am tremendously happy that I was able to accomplish this," Li wrote on his blog.
Li played 50 out of 59 straight days and says, (this might blow your mind if it isn't blown already), he has left-clicked his mouse more than 1.1 million times in 2011.
The PokerStars Blog has more on Li and his record-breaking accomplishment.
WPT Partners with Poker Road Radio
The World Poker Tour has announced that it has partnered with Poker Road Radio. Beginning at the World Poker Tour L.A. Poker Classic Poker Road Radio will become a fixture at most domestic WPT stops. Poker Road Radio will broadcast three episodes per tournament, with interviews from WPT talent pros, and final tablists.
"This is an ideal partnership matching two of the best brands in poker," Steve Heller, World Poker Tour CEO said. "Live broadcasts will bring additional energy to WPT events and working with PRR will lead to a social media explosion for both companies."
Also in the partnership, the WPT's Jess and BJ Show will also get prime place on PokerRoad. The partnership between the two will continue into season ten.
"PokerRoad is thrilled to be working with the World Poker Tour again," Poker Road executive and show host, Court Harrington said. "Over the years many of the classic episodes of Poker Road Radio have taken place around WPT tournaments and we eagerly look forward to working closely with the WPT to put out great content for poker fans around the globe."
For more on the partnership, check out WorldPokerTour.com.
I AM NANONOKO
Team PokerStars Online and PokerNews Strategy's Randy "nanonoko" Lew has released a short documentary telling the story of how he got into poker and how he became Supernova Elite. The documentary was produced by PokerStars and Ryan Firpo of 918 Films.
Check out the Team Online Facebook page for information on the I AM NANONOKO competition. It's kind of like the Chuck Norris Facts game. Go show them how creative you are and win FPPs.
Rumor Control
While we wanted the hand we reported Wednesday involving Tom "durrrr" Dwan in Macau to be true because of the sheer epicness, we were a little skeptical about it. Sure enough, we had a right to be.
Dwan took to his Twitter account to dispel the rumor of the $11 million hand he won with ace-jack off, tweeting, "We play 10k-20k hong kong. There's straddles sometimes and crazy action... But 89m with ako- rly?" And adding, "No to clarify, that hand was obviously fake lol."
We retract our statement from Wednesday regarding Charlie Sheen learning from Dwan. We'd like to reverse it. Thank you.
Like us on Facebook, and follow us on Twitter for up-to-the-minute news.