World Poker Tour on FSN: Borgata Poker Open — Part I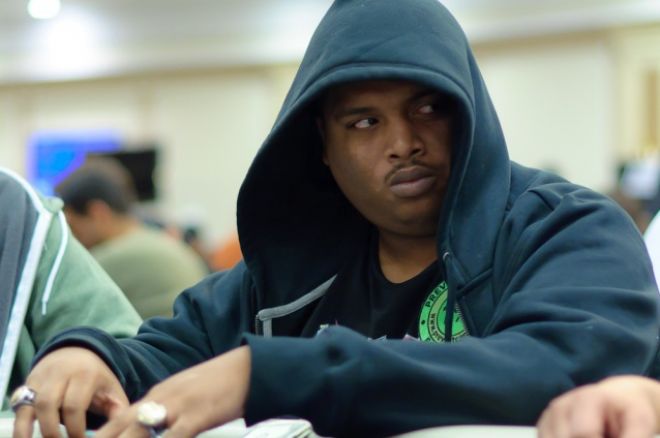 On Sunday night, FSN's coverage of the World Poker Tour's ninth season continued with the Borgata Poker Open from the Borgata Casino in Atlantic City. The episode began with a recap of the tournament, which included updates on the previous year's winner, Olivier Busquet, chips counts at the end of each day, and some notable eliminations.
Highlights included Greg Merit finishing as the bubble boy, Busquet's elimination in 25th place for $15,009, which was followed by host Mike Sexton's in 20th ($15,009), and reaching the final table when Jeffery Papola was sent to the rail in seventh place (4118,408).
Here is how the final table, which consisted of players all in their twenties, looked at the top of the broadcast.
Final Table
Seat 1: Kia Mohajeri (4,200,000)
Seat 2: Ben Klier (6,475,000)
Seat 3: Brandon Novena (4,950,000)
Seat 4: Dwyte Pilgrim (4,775,000)
Seat 5: Ofir Mor (7,200,000)
Seat 6: Daniel Makowsky (3,275,000)
First Hand: Action began with the blinds at 75,000/150,000 with a 25,000 ante and the remaining six players were competing for their share of a $3,335,442 prize pool, including the top prize of $733,802. In the first hand, Ben Klier raised to 325,000 with
and was called by Dwyte Pilgrim's
. When the flop came down
, Pilgrim took the lead with a pair of sevens and checked to Klier, who bet 400,000. Pilgrim called and both players checked the
turn, leading to the
on the river. Pilgrim fired out a small value bet of 275,000, Klier called, and Pilgrim took down the first pot. "I'm even defending with the seven-nine now, son. So imagine what I'm doing with the ten-jack," Pilgrim said as he stacked his chips.
Flush Over Flush: Action folded around to the blinds and Kia Mohajeri limped from the small blind with
and Klier, who held
, checked his option in the big. Both players proceeded to check the
flop and the
was put on the turn, giving both players a flush. Mohajeri checked, Klier bet 250,000, Mohajeri check-raised to 850,000, Klier moved all in, and Mohajeri quickly called off for a total of 3,275,000. Klier knew it was flush over flush even before the cards were turned up. Klier was drawing dead but the
was put out on the river for good measure. Mohajeri doubled on the hand to 7,000,000 while Klier was left crippled.
Let the Trash Talk Begin: Pilgrim is known for his table chatter and this event was going to be no different. In one hand, Daniel Makowsky raised to 600,000 only to be reraised to 1,800,000 by Pilgrim. Some back and forth table talk occurred before Pilgrim called a clock on his opponent, who was not too happy. Let the fun begin.
Klier Eliminated in sixth Place: Mohajeri made it 500,000 to go from the small blind and Klier moved all in from the big for 5,075,000. Mohajeri snap-called and the cards were turned up.
Klier:

Mohajeri:
It was a coinflip for a 10.3 million-chip pot as the flop came down
, keeping Klier in the lead. The
turn changed nothing, but the
on the river gave Mohajeri the bigger pair and sent Klier home in sixth place ($148,427).
More for Mor: A short-stacked Ofir Mor moved all in holding
for his last 1,950,000 and was called by the
of Makowsky. Mor had been quiet up to this point and managed to find some luck when the flop fell
. The
turn left Makowsky looking for a king, but it was not meant to be as the
hit the river. Mor doubled to 4,150,000 while Makowsky was left with just 50,000, less than a fifth of the big blind.
Fifth-place Finisher: Makowsky was automatically all in from the small blind on the next hand, when Pilgrim limped with
and Mohajeri checked his option from the big blind holding
. Makowsky, who held
, was out in front but received no protection. Both Mohajeri and Pilgrim checked it down as the board ran out
, making Pilgrim's ace-kicker with two pair on board the best hand. Makowsky was eliminated in fifth place ($183,449).
The Raw Deal: Tony Dunst took to his segment to dissect a hand between Pilgrim and Brandon Novena. Actually, Dunst focused on Pilgrim's trash talk during the hand. He believed Pilgrim was using his chatter to establish himself as a character on the WPT. Dunst admitted that he liked and respected the man, and that his antics were nothing if not entertaining.
Novena Out in Fourth Place: A short-stacked Novena moved all in for 2,575,000 holding
and was called by the
of Pilgrim. It was another coin flip, this time for Novena's tournament life. The
flop was kind to Pilgrim, pairing his king and giving him the lead. Novena pleaded for a six, but the
turn was no help. It was down to the river for Novena, which brought the
and sent him to the rail in fourth place ($223,475).
Just like that, only three players remained and FSN's broadcast came to an end. Part II of the Borgata Poker Open will air next Sunday, so be sure to check your local listings. If you happen to miss it, rest assured PokerNews will be here to bring you a recap of all the action as a new WPT champion is crowned.
Past Borgata Poker Open Champions
| Season | Player | Earnings |
| --- | --- | --- |
| 2 | Noli Francisco | $470,000 |
| 3 | Daniel Negreanu | $1,117,400 |
| 4 | Al Ardebili | $1,498,650 |
| 5 | Mark Newhouse | $1,519,020 |
| 6 | Roy Winston | $1,575,280 |
| 7 | Vivek Rajkumar | $1,424,500 |
| 8 | Oliveir Busquet | $925,514 |
If you love poker, be sure to follow us on Twitter and like us on Facebook for all the latest updates on the World Poker Tour.