The Nightly Turbo: Wynn on Online Poker, Duhamel Best Paid, and More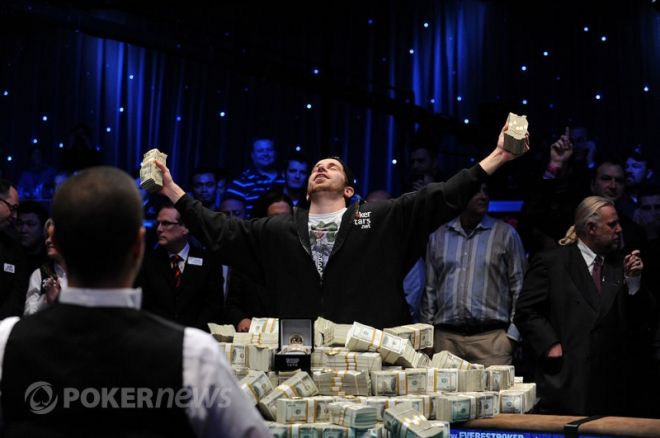 While we will continue to feverishly update you on all the developments regarding Black Friday, there is still plenty of other news to talk about as well. Today, we'll tell you what Steve Wynn said in a conference call on Tuesday, ESPN's rankings of best-paid athletes, and more.
In Case You Missed It
Over the past couple of weeks, new episodes of Poker After Dark have aired on NBC. Did you miss any of them? If you did, you missed young guns taking on an idol, and the first pot-limit Omaha cash game ever on PAD. Check out the PAD recap for more.
Want to improve your tournament game? The latest strategy article from Alex Wice, where he recounts a hand he played against Lee Watkinson at NAPT Mohegan Sun might help.
After the Kahnawake Gaming Commission (KGC) and the Isle of Man Supervision Commission released statements on Tuesday regarding the indictments of their licensees, Absolute Poker and PokerStars, respectively, the Alderney Gambling Control Commission released a statement regarding idictment against its licensee, Full Tilt Poker, on Wednesday. Read the statement to find out more.
The federal indictments of the owners of the three big online poker sites have raised a lot of questions within the poker community. Many are asking whether the sites really did anything wrong or if this is merely a witch hunt. Be sure to check out Matthew Kredell's expert opinion on the matter.
Full Tilt Poker and PokerStars reached an agreement to regain the use of their worldwide dot-com domain names on Wednesday to facilitate withdrawals by U.S. players. Find out exactly what this means and more as we constantly keep you updated on the latest news regarding the indictments of the "Big Three" sites.
Steve Wynn Responds
Following the recent indictments in the online poker world, there have been a few changes in the live poker world. Both the Wynn and Station Casinos have since terminated their agreements with PokerStars and Full Tilt Poker, respectively, but does this mean they're done with online poker?
On Tuesday, Yahoo! Finance reported Steve Wynn's answer to the question, "Is there any interest at Wynn in moving toward Internet gambling?" Wynn had the following response.
"We've been approached over the past several years by most of the Internet players who wanted to combine with us and take advantage of our brand, and we finally became convinced, sort of hesitantly, about PokerStars, because there didn't seem to be any interest in the government to enforce restrictions on the game of poker."
"Based upon that, we made a very tentative, conditional deal that said if the United States government makes poker legal and provides that anybody who's been dealing poker recently is acceptable — and then if that legislation passes in Washington — and then if you can get approved by Nevada or Jersey or whoever's the licensing authority, then we'll go into business and split it with you 50-50 and we'll put our name on it."
"This reminds me of the Volstead Act during prohibition. It said you can't drink beer. Well, people drank beer anyway. And poker's about as American as apple pie....The situation cries for regulation so that states can get money at a time when they need money and the federal government can get some money at a time when it could use the money. It seems like an intelligent thing to sit down and regulate."
Read the full article here.
Poker Pays Big
ESPN The Magazine's John Mastroberardino reported who the best-paid athletes were in 30 sports from the most recent season or calendar year for each. Alex Rodriquez and Manny Pacquiao topped the chart, earning an eye-popping $32 million in their most recent season or calendar year.
What does this have to do with poker? Well, 2010 World Series of Poker Main Event champion Jonathan Duhamel is the best-paid poker player and ranks 11th on the list, earning $9,443,519 in land-based tournaments from April 4, 2010, to April 3, 2011. Some of the other stars to rank ahead of Duhamel are Kobe Bryant, Peyton Manning and Rafael Nadal, which is quite the company.
Head to ESPN to read the full article.
No More Loungin'
According to Scott Montgomery's Twitter, the Full Tilt Poker-sponsored poker show, The Poker Lounge, has been cancelled. On Monday, Montgomery tweeted, "Great news! Got invited to play Poker Lounge next week! It's like a European Poker after Dark." This is great news for Montgomery, but the excitement would last for less than 48 hours. On Wednesday, he tweeted, "Apparently all the rest of the Poker Lounge heats are canceled. Including both of mine. My first invite to a TV tournament, down the drain." So what happened?
The production company, Presentable Productions, had not received operational funds and had to cancel production, confirmed a PokerNews source. After recording the third heat of play, the camera crew and players were sent home because the second installment of payment had not been received.
Keeping Us Safe from Poker
Much more of the world seems to have been affected by the recent indictments than may meet the eye. On Tuesday, Bill Saporito, assistant managing editor of TIME, blogged about the recent happenings and his feelings about how it's affecting Wall Street.
Saporito makes a connection between the Internet sites being taken down on Friday and the stock market getting taken down by Standard & Poors on Monday. He says, "The connection between the two events is that Wall Streeters absolutely love poker. The big tournaments in Vegas are filled with quants, bankers, traders and other Street beasts."
From there, he goes on to asked exactly who U.S. Attorney Preet Bharara is protecting and also said, "The outlawing of Internet gaming has excluded a potentially large business from the U.S. that could be mined for tax revenues that could help pay off some of the debt S&P is so worried about."
You can read Saporito's full blog over at The Curious Capitalist, entitled 'Keeping Us Safe from Poker'.
A Stratospheric Robbery Attempt
On Wednesday morning, The Las Vegas Review-Journal reported that a man attempted to rob the Stratosphere poker room. Dressed in a hooded sweatshirt and brandishing a gun, the man entered the poker room where he proceeded to look for money or chips from a cashier counter.
"When he realized he was not getting any money, he fled," said Lt. Ray Steiber of the Metropolitan Police Department's Robbery Section. "There was nothing there for him to grab."
The police are still on the lookout for the suspect, described as a man in his twenties, about 5 feet 10 inches tall and around 160 pounds.
Read the full article here.
Remember, if you're not following us on Twitter, you probably aren't getting up-to-the-minute news. So why don't you follow along and solve that problem.