The Nightly Turbo: Poker After Dark Preview, Macau Millions Breaks Record, and More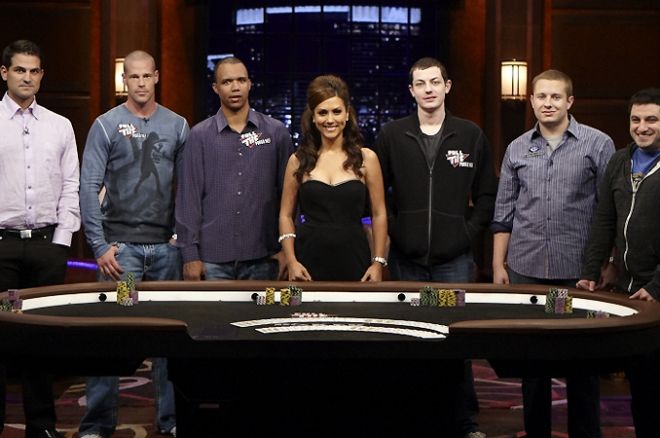 Another week, another round of the top poker news stories of the day, every day. If you're a Poker After Dark fan, you'll want to read on to check out this week's PAD preview. We'll also tell you about the 2011 Macau Millions, and more.
In Case You Missed It
The World Series of Poker Circuit is in St. Louis this week for its latest stop. The Main Event kicked off Sunday with 449 players and if you want to know how many survived, you'll have to check out the WSOP-C recap.
The World Poker Tour Hollywood Poker Open kicked off Saturday, and after Day 2, 27 players remained and Andy Whetstone was leading the way. There are plenty of notable players left in the field, so check out the WPT recap for more.
Charl Schwartzel may have won $1.5 million Sunday for winning the Masters, but he wasn't the only one to score big. Plenty of online poker players added big scores to their bankrolls, and they didn't have to walk around a golf course in the Augusta heat to do it. Check out the Sunday Briefing for the results from Sunday's biggest tournaments.
On Sunday, Viktor Blom and Scott Palmer faced off again for the second part of the PokerStars SuperStar Showdown. Did Palmer best the Swede again, or did Blom come back to win? You'll have to check out the SuperStar Showdown recap to find out.
PLO Comes to PAD
This week on Poker After Dark, there's a new game in town - well, new to the show. Pot-limit Omaha is being introduced this week in a $100,000 buy-in cash game. The blinds will be $300/$600 and some of the game's top players will be taking part.
Brandon Adams, Patrik Antonius, Tom Dwan, Phil Ivey, Brian Hastings, and Phil Galfond will kick off play on the show and Jared Bleznick will join later in the show. Hastings and Bleznick will be making their first appearances on the show. Another first for the show is the use of a four-color deck in the graphics, to help viewers follow the action.
There are two weeks of PLO action scheduled for Poker After Dark, and you don't want to miss it, so be sure to set your DVRs. It all kicks off Monday night, April 11, on NBC at 2:05 a.m., and as always, check your local listings for exact times in your area.
Macau Millions Breaks Record
The previous record for largest poker tournament in Asia was 741 entrants, the 2011 Macau Millions Main Event at the Casino Grand Lisboa has broken smashed that record. The Main Event ran from April 2 through 10 and after seven Day 1 flights, 1,329 players had bought into the HKD $2,200 buy-in event, creating a HKD $2,631,420 prize pool - close to doubling the HKD $1.5 million guarantee.
"This year the popularity of the Macau Millions is so much greater, particularly within the region," PokerStars Director of Live Operations for Asia-Pacific Danny McDonagh said.. "Poker is really taking off in Asia. It's a proud moment for our PokerStars Macau team and speaks volumes about Grand Lisboa's well deserved reputation for quality and success."
The event was won by Hung-Sheng Lin who pocketed HKD $400,000 for the win. Lin, who was in third place on the Asia Player of the Year leaderboard, has now surpassed Mark Benasa for the top spot.
"I would like to concentrate on winning APOY," Lin said. "Last year I only played half the events but this year I want to play the whole season. I want to win the APOY and show that I am worthy of gaining my family's support. I won't stop playing just because I have a lead. I'm going to work hard and play all the (Official Asia Player of the Year) events."
To find out more from the 2011 Macau Millions, read the press release or check out the PokerStars Blog.
Sandoval Backs Online Poker - It's the Future
Nevada Governor Brian Sandoval said in a recent interview that he is in favor of online poker legislation at the federal level rather than at the state level. He also believes that if Congress does legalize online poker, that Nevada "should be the first state to take advantage."
"If, indeed, the federal government legalizes online poker, the state of Nevada should be the one that sets up regulatory structure and the investigatory structure for those who seek licensing in that area," Sandoval said.
Sandoval believes that "the future of the casino industry is in Internet gambling." Currently, there is a bill in the Nevada Legislature sponsored by Assemblyman William Horne, that would legalize online poker in Nevada and foreign countries where it isn't banned. The governor is writing a letter to the Legislature that outlines his position that "Nevada should not be in conflict with federal law or the legal letter of the Justice Department," because while there is no federal law banning online poker, the DoJ has issued a legal opinion saying that interstate online gambling is illegal.
"I don't want the state to be in contravention of the federal law," Sandoval said.
Horne has said there might be amendments to the bill that the governor might find acceptable, but intends to move the bill out of committee despite the governor's stance.
The Las Vegas Sun has more.
Marked
Usually, sandpaper is used for sanding things. While we're a lot of things, home improvement specialist is not one of them, but we're pretty sure that marking cards is not what sandpaper is used for.
A New Jersey man has been accused of using sandpaper to mark cards at the poker room at the Sands Casino Resort Bethlehem. Sefula Seji was arrested Saturday night and after arraignment, was sent to prison on a $75,000 bail. He was also ordered not to enter the casino.
LehighValleyLive.com has more on the story and how Seji was caught.
Calling the Clock: Eugene Katchalov
Sarah Grant caught up with Eugene Katchalov at the PokerStars.net North American Poker Tour Mohegan Sun for the latest episode of Calling the Clock. Kim or Kendra? Katchalov's poker leak? How to say, "You're a beautiful fairy princess," in Russian? Find out in the video below.
Follow us on Twitter for up-to-the-minute news.
Grind your way to one of three Brazilian Series of Poker packages in our exclusive Rox Race to Brazil on Rox Poker. April 20 - May 4.