The Nightly Turbo: WSOP Same-Day Coverage on ESPN, Jose Macedo Multi-Accounting, and More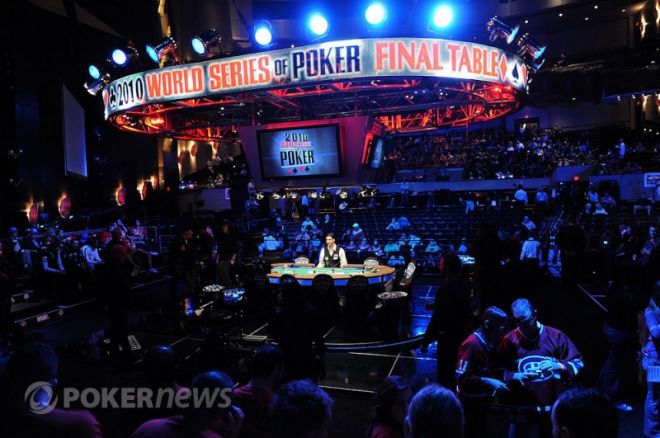 No one is safe from the U.S. Department of Justice, not even the NCAA BCS. Luckily that doesn't have anything to do with what we're about to tell you. The World Series of Poker is going live - sort of. We'll tell you about it, and the cheating scandal involving Lock Poker's Jose "Girah" Macedo, and more in this edition of the Nightly Turbo.
In Case You Missed It
On Tuesday, the House Judiciary Committee held a Department of Justice oversight hearing and Attorney General Eric Holder was forced to answer questions regarding the recent poker indictments for the DOJ. Find out what he had to say.
Having to transition from online play to live play might not be as easy as you think. In our latest strategy article, Bart Hanson discusses preflop aggression in live cash games.
Federated Sports + Gaming released its 218-member roster on Tuesday. Some of your favorite pros have fallen just short of qualifying. We take a look at some pros who didn't qualify and what they need to do by the next qualification period.
Double Your Fun
The World Series of Poker wants to double your pleasure when it comes to WSOP coverage on ESPN. It was recently announced that for six consecutive days spanning from July 14 - 19, ESPN will offer daily coverage of the WSOP Main Event.
"This is a historic milestone for ESPN and the WSOP. The addition of live event-style coverage with hole cards in July, and primetime shows leading up to the crowning of a champion in November, provide our fans more access than ever before, and we are extremely proud to be with a company dedicated to realizing the potential of the game," said WSOP Executive Director Ty Stewart.
The coverage, that will be on a 30-minute delay, will switch back and forth between two feature tables approximately every 30 minutes. Every hand will be shown unedited, along with hole cards, and all "all-in" and "call" situations will be shown from both tables.
"For the first time viewers at home will have the best seats in the house for the World Series of Poker, poker's premier event. Fans will see hole cards post-flop and get an inside look at all of the strategy, angst and competition of the world's best players vying for a seat at the most prestigious final table in the sport," Matthew Volk, ESPN manager of programming and acquisitions said.
WSOP Live Schedule
ESPN2: A total of 32 hours

Thursday, July 14: 3.5 hours: 8-11:30 p.m. PDT (Footage gathered from 7:30-11 p.m.)
Friday, July 15: 3.5 hours: 8-11:30 p.m. PDT (Footage gathered from 7:30-11 p.m.)
Saturday, July 16: 9 hours: 12:30-7 p.m. PDT; 9-11:30 pm PT (Footage gathered 12-6:30 p.m. & 8:30-11 p.m.)
Sunday, July 17: 4.5 hours: 7-11:30 p.m. PDT (Footage gathered from 6:30-11 p.m.)
Monday, July 18: 5.5 hours: 4-7 p.m. PDT; 9-11:30 p.m. PDT (Footage gathered from 3:30-6:30 p.m. & 8:30-11 p.m.)
Tuesday, July 19: 6 hours: 9 p.m. to conclusion [3 a.m. PDT max] (Footage gathered from 8:30 p.m. until reaching November Nine)
ESPN: A total of 2 hours

Tuesday, July 19: 2 hours: 5-7 p.m. PDT (Footage gathered from 4:30-6:30 p.m.)
For more, check out the press release on WSOP.com.
Cheating Scandal
Just days after winning the Bluff Magazine Lock Pro Challenge, PokerNews can confirm that Jose "Girah" Macedo has been disqualified for multi-accounting. After the competition, audits of all participants' accounts were made and it was discovered that Macedo had violated BPC rules, as well as Merge Gaming network rules.
"Jose is young and he has made a big mistake here. We wanted to make sure that regardless of being a LockPRO he won this fair and square. After doing an audit of his account we have found that he broke some rules and that will not be tolerated by Lock," Jennifer Larson CEO/Owner of Lock Poker said. "We pride ourselves in standing for trust, legitimacy and loyalty. The truth is sometimes hard to stand by but it is the only way we can move forward. Although José won enough money from his own IP to have legitimately won the challenge, the unfortunate fact remains that breaking the rules is strictly disallowed. The fact remains Jose is an exceptional player and I firmly believe that mistakes only lead to greatness if learned from."
Second place finisher Michael "bigguylegend22" Drummond will take the first-place prize. Drummond earned over $90,000 in profit during the challenge.
"I'm deeply sorry for having broken the rules," Macedo said, "but I truly had no intention of circumventing the rules in any way. Though it is no excuse, I want to be fully transparent at this point to let the poker world know what has happened and why. The computer in question was my backer, who logged into my account to check my balance and ended up playing some $25/$50 PLO while I was asleep and lost some money."
"Though on the merit of my own legitimate play I had enough winnings to win the Bluff Challenge, in light of the way things appear, I fully support and respect Lock's decision to disqualify me and hand over the challenge to the second place winner," he continued. "Once again, I truly regret that all of this has happened the way it has, and I hope that I can win back the generous support and understanding of the players who have believed in me so far. I will be issuing a more comprehensive explanation of what happened on my blog. Thank you."
Showing You the Money
The World Series of Poker Circuit is in Chester, Pennsylvania, and the Main Event kicks off this Sunday, May 8. The WSOP is showing players the money by guaranteeing a $400,000 prize pool in the $1,500 buy-in Main Event. The winner of the event will win a seat in the WSOP-C National Championship $1,000,000 freeroll event, along with the prize money, and gold ring of course.
PokerNews will be at Harrah's Chester bringing you all the action from the felt, so be sure to keep it locked on the Live Reporting Page beginning Sunday.
World Poker Tour Premiere League Poker
The World Poker Tour has partnered with Matchroom Sport to bring you the upcoming season of Premier League Poker. The event will be renamed the World Poker Tour Premier League Poker and will be presented by PartyPoker.
"WPT and Premier League Poker both represent top class poker competition and high quality television," Steve Heller, CEO of World Poker Tour said. "The Premier League structure is one of the most unique in the world. WPT has always been an innovator, and this is a perfect fit."
The dates of the event have not been released, but the buy-in will be $125,000. Sixteen players will be in the field, and along with the added $250,000 and $25,000 a seat to the WPT World Championship, the total prize pool will be $2,275,000.
"I'm delighted that Premier League Poker is now a World Poker Tour special event. This association not only gives Premier League Poker extra credibility amongst players and guarantees them extensive global coverage, it also cements the winner as one of poker's true greats when he or she joins the ranks of WPT Champions," Managing Director of Matchroom Sport Eddie Hearn said.
Head on over to WorldPokerTour.com for more.
May the 4th...Be with You
We're having a hard time deciding how we feel about Star Wars Day, but for those of you who are celebrating, here's a little video from The Micros' JimmyLegs. Enjoy!
If you aren't following us on Twitter, we don't know what to say, except follow us on Twitter. How else are you planning on getting up-to-the-minute news?