The Nightly Turbo: World Poker Tour Foxwoods Update, Feds Raid Online Payment Processor, and More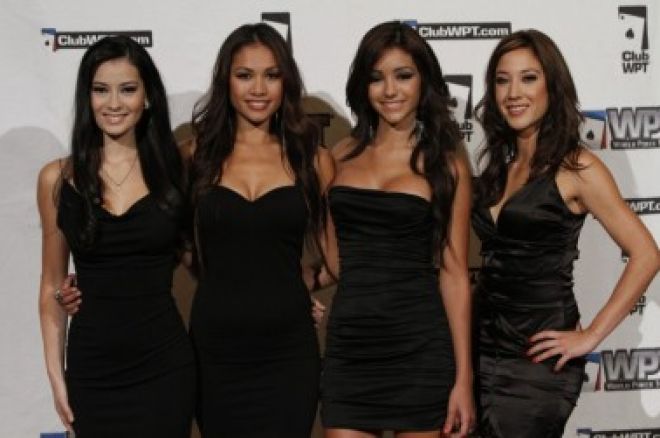 While you were out dressed as your favorite Glee character, 28 poker players were battling it out on the felt in Mashantucket, Connecticut, for the Foxwoods World Poker Finals. We'll tell you how many players finished up that event on Sunday and how the field is looking today, tell you about the recent raid on a payment processor, and more in this edition of the Nightly Turbo.
In Case You Missed It
The PokerStars.net European Poker Tour Vienna crowned a winner Sunday. One player at the final table had a chance to overtake Phil Ivey on the All-Time Money list and become the third-ever triple-crown winner. Did Daniel Negreanu do it? You'll have to read the EPT Vienna recap to find out.
We know you like to check out other players grind stations (just to see how much better yours is), and that's why we check them out for you and bring you videos of them. In the latest episode of The Sunday Grind, Kristy Arnett caught up with David "The Maven" Chicotsky, who showed her his setup and gave her tips on using PokerTracker3.
Every Monday we bring you the results from all the major Sunday tournaments. Today is no different. Read The Sunday Briefing to get the scoop on some of Sunday's biggest winners.
If you missed any episodes of the PokerStars.net Big Game last week, don't worry, we've got you covered. Tony G and Daniel Negreanu teamed up on Andrew Robl, and if you didn't get the whole story from all the blog posts, you might as well check out the recap for the play-by-play.
The Final Table of the 2010 World Series of Poker Main Event is less than a week away. For the past few weeks, we've been profiling members of the November Nine, and this week is no different. To start out the week, and the new month, read a little bit about the chip leader going into the Final Table, Jonathan Duhamel.
World Poker Tour Foxwoods - Final Table Set
Over the weekend, the field at the World Poker Tour Foxwoods World Poker Finals shrank. It's nothing uncommon, it's a poker tournament. And now, the field is down to its televised final table of six. On Monday, 12 players took their seats in the Foxwoods poker room hoping to make the final table, but half of them would get no TV time. Hoyt Corkins was first to go, followed by Jason Mercier. With those two out of the way, the remaining players redrew and took their seats at a single ten-handed table.
Tom Marchese held the lead at that point with close to 2 million chips. Also in the mix was Sorel Mizzi and Keven Stammen. Ben Klier and Christopher Bonita made their exits in tenth and ninth places respectively. Besnik Ziba was eliminated in eighth place and that put the table squarely on the bubble. Bubble-boy honors went to Sorel Mizzi. He moved all in under-the-gun and was called by Moshin Charania from the big blind. Mizzi's
looked good against Charania's pocket tens on the
flop and
turn, but, you guessed it, it was the river
that did Mizzi in. He took home $88,802 for his efforts. And with his exit, the final six bagged and tagged their chips — leading the way into Tuesday's final table is Tom Marchese with just over 3 million in chips.
Foxwoods World Poker Finals Final Table
Seat 1: Nikolai Yakovenko - 624,000
Seat 2: Jeff Forrest - 1,949,000
Seat 3: Thomas Marchese - 3,022,000
Seat 4: Dave Inselberg - 344,000
Seat 5: Keven Stammen - 341,000
Seat 6: Mohsin Charania - 1,024,000
Be sure to follow all the action from the felt at WPT.com.
Feds Seize Funds from Secure Money, Inc.
Earlier this month, federal prosecutors in Seattle, Washington, asked a U.S. District Court judge to order the balance of six bank accounts associated with a Canadian payment processing company be turned over to the government. The feds believe the company, Secure Money, Inc., is responsible for facilitating payments to online poker players in Washington, where, you may remember, it is now illegal for residents to play online. Prosecutors are looking to seize over $500,000 from the company.
In a civil complaint filed earlier this month, an assistant U.S. attorney said: "Secure Money, Inc. distributed checks on behalf of illegal websites that host gambling activity. Processing checks that represent the funds derived from illegal gambling … constitutes a violation of the money laundering provisions set in federal law."
Millions of dollars in transactions are said to have been associated with Secure Money, Inc. According to documents, seven Washington residents have been paid by Secure Money, Inc., as well as an undercover agent who was playing on a well-known online poker site.
SeattlePI.com has more.
WSOP on ESPN
We're not sure what you're going to do next week after the final episode of the 2010 World Series of Poker airs on ESPN. But until then, we're going to bring you your second-to-last WSOP preview. As always, the WSOP airs on ESPN Tuesday night at 9:00 p.m. EDT for two hours. In the first hour, 18 players are playing for all the glory. In the second hour, if you don't already know this, you will get your first glimpse at this year's November Nine.
Also, if you're one of the few that haven't signed up for the PokerNews Poker Pick'em on ESPN, then you should probably go ahead and do that. Where else are you going to get to battle your favorite PokerNews writers and video hosts for bragging rights?
DeepStacks Live Special Event
On November 3, DeepStacks Live will host a special event in conjunction with All 360 Poker — the first ever, fully interactive, online streaming poker course. The one-day course will be hosted by Mike Matusow and Michael Mizrachi and will run from 2 p.m. to 7 p.m. PST. The course will cover advanced betting strategies, starting hand ranges, playing in and out of position, cash and tournament strategies, and more.
You can sign up through DeepStacks.com or you can win your seat through a satellite tournament November 1 on Full Tilt Poker.
So Long Vienna
Wonder Woman Gloria Balding brings you a little recap from the PokerStars.net European Poker Tour Vienna, complete with the results from the final table and snippets from other videos throughout the week.
Like us on Facebook, and follow us on Twitter for up-to-the-minute news.
For a limited time only you can get 30% back up to €10 on your first MoneyBooker's Deposit, exclusive to Club PokerNews. But Hurry, only the first 250 sign-ups will get in on this great promotion.