The Online Railbird Report: Sahamies Books Win; Mizzi Wins FTOPS XX Leaderboard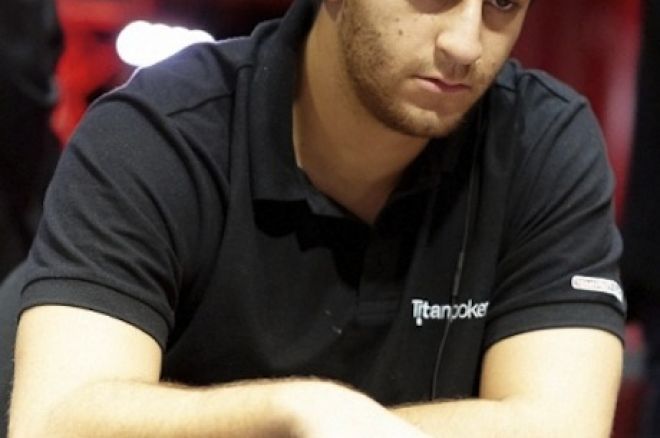 The high-stakes online action was fairly substantial during the midweek. Most surprisingly, much of the action occurred on PokerStars as opposed to the regular home of high-stakes games in Full Tilt Poker. "Vmnielsen" ended up the biggest winner of the midweek, booking $252,614 in 13 sessions consisting of 1,491 hands. Coincidentally, he accomplished all of that on PokerStars. He was followed closely by Ilari "Ziigmund" Sahamies, who finished as the third biggest winner with $140,234 in 1,309 hands over on Full Tilt.
At the opposite end of the spectrum, "antonionel" became the midweek's biggest loser after dropping $225,114 in eight sessions totaling 1,306 hands on PokerStars. Here is a look at some of the midweek's most interesting hands.
Sahamies Gets to Work
On Thursday, Ilari "Ziigmund" Sahamies drove the high-stakes action as he took a seat at the heads-up $100/$200 pot-limit Omaha tables. It was there he squared off against the likes of "Sauce1234" and "davin77," dismantling both (with the majority coming from the former player) for $186,000 in profit in just over 1,000 hands.
In one of those hands, Sahamies ($70,782.50) raised to $600 on the button only to be reraised to $1,800 by Sauce1234 ($61,309.50) in the big blind. Sahamies pushed back to the tune of $3,600, Sauce1234 called, and the flop came down
. Sauce1234 checked, Sahamies bet $3,800, Sauce1234 check-raised to $10,450, and Sahamies called, leading to the
on the turn.
Sauce1234 wasted little time in firing out $12,750, Sahamies called, and the
was put out on the river. Sauce1234 was first to act and immediately moved all-in for his remaining $34,509.50, which Sahamies called, creating a pot worth $122,619. Sauce1234 rolled over
for trips, but it was no good against the
full house of Sahamies.
In another hand, Sauce1234 ($71,520) was on the button and raised to $600. Sahamies ($25,811.50) exercised his option in the big blind by reraising to $1,800, Sauce1234 called, and the flop fell
. Sahamies checked, Sauce1234 bet $2,600, Sahamies check-raised to $11,400, Sauce1234 reraised to $37,800, and Sahamies called off for a total of $24,011.50.
Sahamies:

Sauce1234:
Sauce1234 had flopped a pair of nines with an open-ended straight draw, but it was behind the pocket kings of Sahamies. The turn and river were run twice, but both the
/
on the first run and the
on the second ensured Sahamies would scoop the $51,623 pot.
Mizzi Wins FTOPS XX Leaderboard
While players in the U.S. had to miss the 20th installment of Full Tilt Poker's popular FTOPS, the series was not without its stars. In fact, Canadian Sorel "Imper1um" Mizzi emerged atop the FTOPS XX leaderboard earlier this week after cashing in 17 of the series 45 events and earning 1,365 points. As a reward, Mizzi won entry into all FTOP XXI events later this year — a package worth $14,000 — as well as a custom avatar.
In an interview with Pokernyhederne, Mizzi elaborated on his big win: "I didn't plan on playing that many FTOPS events, but after doing well in some of the earlier events I decided to head for the leaderboard. I found out I could win a $14,000 package and a custom avatar, and as I had already planned paying 1 million FPPs to buy an avatar, I decided to go for the win.
"I definitely feel like it has become easier to win. I feel like I get paid more off on my value bets, and that I can make more sophisticated bluffs. It's like playing poker two, three years ago." He went on to say: "So for me to see there are both advantages and disadvantages that Americans are not here anymore. The fields are softer, but prize pools are not as great as they were. But yes, I would say that my recent success can be partly attributed to the fact that the Americans are gone."
For a look at some of the winners from the FTOPS XX, check out our recap from earlier in the series.
Who's Up? Who's Down?
Week's biggest winners (5/3-5/5): *vmnielsen (+$252,614), schadenersatz (+$199,802), Ilari "Ziigmund" Sahamies (+$140,234), KidPoker705 (+$128,151), Alessio Isaia (+$117,705)
Week's biggest losers: *antonionel (-$225,114), samrostan (-$200,571), anna164 (-$162,940), KOMIJENDO ($-127,455)
Year-to-date winners: Gus Hansen (+$3,085,000), Daniel "jungleman12" Cates (+$1,952,000), *Gavin "gavz101" Cochrane (+$1,870,000), Patrik Antonius (+$1,775,000), Matt Hawrilenko (+$1,440,000), bixiu (+$1,406,000), Phil Ivey (+$1,336,000)
Year-to-date losers: Tom "durrrr" Dwan (-$2,474,000), kagome kagome (-$1,922,000), fishosaurusREX (-$1,399,000), cadillac1944 (-$1,336,000), UarePileous (-$940,000)
*on PokerStars
*data obtained from HighStakesDB.com
Stay up-to-date on all the latest news by following us on Twitter and liking us on Facebook.