Watch The European Poker Tour Grand Final Table Live With Hole Cards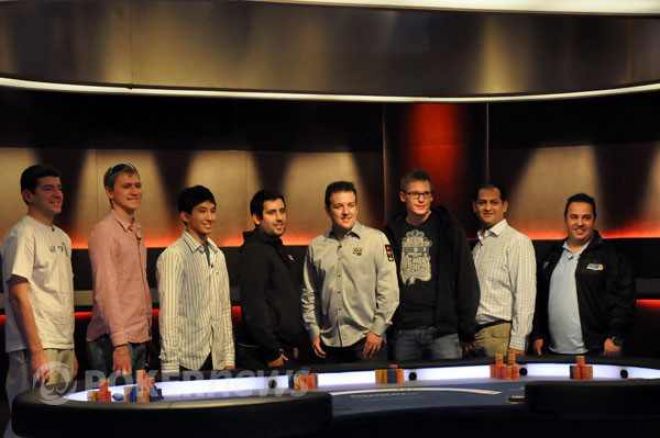 According to PokerStarsBlog.com, the European Poker Tour Grand Final in Madrid will broadcast the final table live at 1400 CET on PokerStars.TV and a number of international television networks. The feed will be watched by an estimated 500,000 people from all over the world.
The final table is led by Ivan Freitez who begins the day with just under 6 million in chips while Team PokerStars Pros Juan Maceiras and Alex Gomes both remain in the hunt. The broadcast will begin in standard EPT Live fashion with no hole cards, and when play is down to the final four players, the tournament will take a short break. At that time, the remaining players will be sequestered and play will resume at 2100 CET with all the hole cards being filmed. The broadcast will reconvene at 2300 CET, on a two-hour delay and will air until EPT Season 8 has a Grand Final winner.
The EPT live broadcast will take air on these networks in the following countries:
• Germany: Sport 1 - 23.30-03.30 CET (German commentary)
• Netherlands: RTL7 - 01.30-End of play CET (Dutch commentary)
• Spain: Antenna3 - 01.45-04.45 CET (Spanish commentary)
• Russia: TV3 - 23.00-03.00 CET (Russian commentary)
• Romania: Sport.ro - 23.00-03.00 CET (Romanian commentary)
• Slovenia: Sport TV - 23.00-03.00 CET (Slovenian commentary)
• Belgium (North): Jim - 23.30-End of Play (Dutch commentary)
• Belgium (South): Plug RTL - 23.30-End of Play (French commentary)
• Canada: The Score - 17.00-22.00 ET (English commentary)
• PokerStars.tv: 23.00-End of play (English, Spanish, German, Russian, Dutch, Italian)
The feed will also be available right here at PokerNews, and as always you can also follow all the action in our live reporting pages.