World Series of Poker Circuit Harrah's Chester Day 1: Nguyen Looking For Another Ring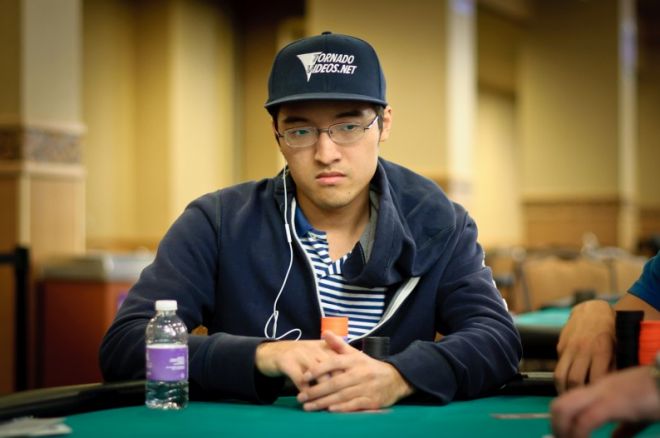 Sunday marked Day 1 of the beginning of the Main Event of the 2010-11 World Series of Poker Circuit season. Just on the outskirts of Philadelphia, Harrah's Chester threw open it's doors to anyone with an extra $1,600 burning a hole in their pockets. As it turns out, 269 players had that enviable problem, and they showed up at high noon to battle it out. After 16 levels and more than12 hours of play, Huy Nguyen sits atop the 55 survivors with 241,400 chips heading into Day 2.
The majority of the poker world is either on the West Coast or in Europe playing other major tournaments right now, but the turnout of notables here in Chester was surprisingly robust, as well. Circuit regulars Chris Tryba, Matt Glantz, Josh Brikis, and Chris Reslock came to the party. All of them, however, were run out the door by the time the dinner bell sounded. We even had one Full Tilt red pro in the field, but "Miami" John Cernuto also fell by night's end. Others failing to survive their opening days were Matt Matros, Andy Frankenberger, Mike Sica, Brian Lemke, Bernard Lee, and everyone's favorite brand of Chainsaw — Allen Kessler.
While dozens of notables were falling by the wayside, a few others managed to find themselves on the good end of the chip chase. La Sengphet worked her way to a seventh-place finish in the Ladies Championship at the 2010 WSOP, and she's already racked up seven cashes and one gold ring during this Circuit season. Sengphet got off to a hot start in Chester, as well, and she was in and out of the chip lead throughout the early stages of play. The rest of Day 1 was all downhill, though, and Sengphet was run out of the room during the final levels of the day. She was not alone in following that storyline. Bernard Lee was another one of the early leaders, picking up pocket aces and pocket kings in quick succession to find himself with 75,000 chips six levels into the day. And by the time the dinner break hit after level nine, Charlie Hook was in the lead with about 85,000, but neither of the two men survived the day either.
When the after-dinner session began, it was time for Matt Brady to make a charge toward the front. He was still around his starting stack when his
won a flip against an opponent's
to boost Brady up to about 40,000 chips. An hour later, Brady won the same exact flip with his ace-ten once again taking care of an opponent with pocket eights, and he suddenly found himself with 150,000 chips and in control of the biggest stack in the room. About that time, Ari Engel was challenging for the chip lead, as well, and Miguel Borrero found a big double up to move into the mix, too. When the bags came out, though, nobody could match Nguyen's stack.
Here's how the top ten stack up heading into moving day.
| Player | Chips |
| --- | --- |
| Huy Nguyen | 241400 |
| Michael Rocco | 210800 |
| Robert Scott | 192500 |
| Matt Brady | 187800 |
| Jake Toole | 186500 |
| Peter Mavro | 186400 |
| Akim Akimov | 180800 |
| Sean Knitter | 170700 |
| Michael DePasquale | 168000 |
| Ari Engel | 160000 |
That sets the stage for Monday's Day 2. The 55 lucky survivors will be back inside the casino at 1200 EDT (1600 GMT) to play down to a final table, and you can follow along with the coverage as it happens right here.
Speaking of following things, Twitter is the very best place to follow us!