Catching Up with WSOP Circuit Points Leader Kevin Calenzo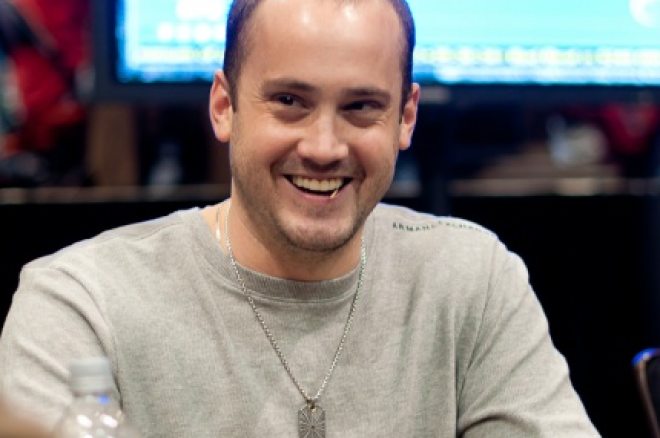 PokerNews strives to be the leader in live reporting. One of our goals is to find the star before he or she is a star. Much like highly touted basketball recruits or minor league baseball prospects, a talented poker player can often show signs of greatness long before he or she has begun to really get headlines with a big splash. Kevin Calenzo may not be someone you've heard of yet, but he's slowly starting to make a name for himself around the poker community, thanks in most part to his great success on the World Series of Poker Circuit.
Recently, PokerNews took a look at the WSOP Circuit to let everyone know how the race for the National Championship was going. Checking out the WSOP Circuit leaderboard, Calenzo is leading at the halfway point with the most cumulative points for those who have not already scored an automatic seat. Calenzo has six cashes on this season's tour for a total of $92,334. His best finish came at the Horseshoe Southern Indiana Main Event where he took second place to Charles "Woody" Moore for $61,724.
That's not the only final table Calenzo has made along the circuit this season. At the first circuit event of the season, Calenzo also made the final table. On top of scoring back-to-back final tables at the first two stops, Calenzo ran very deep in the Horseshoe Hammond Main Event that boasted a massive field size of 872 players. He finished in 21st place in that event, nearly making a third final table in a row. Bottom line is, Calenzo performs superiorly at these WSOP Circuit events and it looks like he could be the next Dwyte Pilgrim. We caught up with Calenzo over the holidays to ask him a few questions.
First, tell us a little bit about yourself. Where are you from and how, when and why did you get into poker?
I'm from Central New York, the town of New Hartford, N.Y., about an hour from Syracuse. I got into poker right around the poker boom in 2003 when I was 19. I started playing small cash games with my friends. I fell in love immediately and took my game to the live arena fairly quickly. Luckily for me, I was able to play live right away at the Turning Stone Casino, which is only about 25 minutes away from where I lived. Believe it or not, I final-tabled the two very first tournies that I played in at the casino — albeit only 90-player fields, but still I must have ran so well because I had no idea what I was doing. As you can imagine, I was instantly hooked.
I was a sophomore at a community college and I had no real plans or career goals past getting my associates degree. Poker sort of found me at the right time and at the right place. I never could have fathomed myself still playing seven years later, especially as a "job" bringing in my sole income. Life is a trip.
This past year has been your best year on the felt by far with over $200,000 in live winnings, 10 final tables and a nice win at the Borgata. What can you attribute this success to? What's made it all start to click?
This past year has by far been my best year in poker. I finally dedicated 100% of myself to the game this past year. I can honestly say that I feel like I was "due," if you will, to have a breakout year. 2009 was a rough year for myself. I got deep into makeup with my backer and when I finally dug myself out of makeup, we parted ways and I was left with pretty much nothing. I had to start all over. I decided to re-enroll in school and take some classes because I was pretty much sick of poker and sick of the daily grind. I had a few real close calls in 2009 to six-figure paydays and actually took my worst beat in poker yet.
I was deep in a $300 LAPC tourney, which had about 1,800 entrants or so. With 12 left, I lost a huge pot to runner-runner perfect-perfect for a commanding chip lead over the field. Instead, I was crippled and grinded my short stack to a ninth-place finish for like $5k instead of having a great opportunity to win $140k. That's tournament poker for you, though. Actually, no, that's just poker. Anyway, I was frustrated with the game and I needed to get out of poker so I went back to school.
In February of 2010, I chopped the PLO $100r FTOPS on Full Tilt Poker for $75,000. After that score, I actually went on like a three-week heater where I made five more final tables. I got really motivated and decided to give it another shot at playing for a living. I went out to Vegas for the Series and bricked the entire series, which was really frustrating because I really felt good about my game. I knew results were right on the horizon. I ended up final tabling a $1k at the Golden Nugget in July and finished in fourth for $12k.
In August, my good friend and fellow poker player Chris Tryba decided to hit the road and hit a bunch of the tourney stops. We hit the Iowa Circuit and I final tabled the Main Event — ninth for $8k. That tourney really boosted my confidence, though, because I felt like I played one of my best tournies up to that point. Unfortunately, I lost ace-king to ace-queen with 12 left to leave me crippled and I finished in ninth. It was very reminiscent of the $300 LAPC tourney. I don't think I have ever been more upset about losing a tourney and despite having a profitable trip I was angry I didn't get that elusive win.
Well, I didn't have to wait long for that big live win when not more than two weeks later I took down the $1k at Borgata for $80k. I've been on fire ever since and it has catapulted me up to the leaderboard in the WSOP Ciruit freeroll. I never take any of it for granted because I've been through the ups and downs of this business and I definitely realize that I'm running way above expectation. I do, however, feel like I'm on top of my game right now, especially live. I make some unorthodox plays live that would definitely be considered against the norm, which I believe has enabled me to do so well in these things.
You're pretty much the man on the WSOP Circuit. You final-tabled the first two $1,500 Main Events and had deep runs in the following two. On top of that, you've got two other cashes in prelim events and are leading the way on the National Championship points leaderboard. What is it about these WSOP Circuit events that has you performing so well?
As stated previously, I have had a lot of success in these circuit events,which has catapulted me to the top of the leaderboard of all nonqualifiers. I just feel like these tournies are great value. The reason why I will continue to travel to these stops over the next few months will remain the fact that there's too much value to pass up. The fields are much softer than even any regular $50-or-higher buy-in tourney online in my opinion. Also, I feel like my edge is in live poker as compared to online poker.
The other reason I have been doing so well in these circuit events is because I want a shot in that million-dollar freeroll tournament in which the winner gets a bracelet and a nice six-figure payday. That tourney has been a real motivating factor.
The main reason, though, is that I'm just super competitive and love poker and I strive to be the best. I play poker to win and nothing less. I love winning and I love working hard to be the best. Professional poker players can only survive if you love to win and are competitive and love the game. The money always helps too. Money should be a motivating factor, as well, but not the sole reason to play this great game otherwise you will never make it in this business. You have to maintain your hunger and desire to become a better poker player because the game is always evolving and the competition is always getting better and more difficult to beat.
How many points do you think it's going to take to lock up a spot in the National Championship without getting an automatic bid?
Most of my poker friends believe the 165 points that I currently have will be enough to qualify me into the National Championship without getting an automatic bid. I would tend to agree with them, but it's not going to stop me from trying to win my seat automatically. With all of my success on the circuit, one thing that has eluded me thus far has been a ring. I have yet to ship a ring and I'm hungry to win one. I was so close in Southern Indiana finishing second to Woody Moore in the main event. Obviously, I want to win a main event in one of these next few stops that I visit. The championship ring is pretty sick looking and I would love to win one. Also, winning a main event secures a spot into the National Championship. I will definitely ship a ring in these next few stops — I guarantee it.
What goes on in your head regarding making a deep run in a tournament?
There is nothing sweeter than making a deep run in a tourney. My goal in tournament poker is, frankly, just to survive. I am definitely an advocate of the small-ball theory, which I believe is the only way to consistently get deep in tournaments. I think most of the best tournament poker players today play that way. I may cost myself a few chips early on by not getting maximum value with a hand when I'm not completely sure that I'm good and should value raise, but am content with calling so that I don't jeopardize my tourney life with the one hand if I happen to be wrong.
As I get deeper in a tournament and progress into the money, I try to feel out my opponents and try to figure out which ones are preoccupied with moving up in the money and which ones are playing to win. Obviously, I want the opponents who are playing tight and just trying to move up in the money at my table. That's not a shocker. I will be very active preflop in the later stages of tournaments. Whether it be opening often or three-betting an active opener, I will put my foot on the gas pedal and play very aggressively preflop. Obviously this is all dependent on stack sizes; the size of my stack and the size of the stacks of my opponents. I will play accordingly. Late-stage tournament poker is hands down the best feeling in poker and I believe that's when the best of the best shine. I believe that's when I shine.
You're starting to get some recognition and have even been talked about as being the next Dwyte Pilgrim. How do you feel about that?
I actually think I started that "rumor" (laughing). I've actually gotten to know Dwyte a little bit over the past few months. He's a good player and an even better person. He also works harder than most. I think his best quality is his work ethic, which is what I've been working on with my game this past year. Playing more tournaments, traveling more, putting in the time away from the table, the hunger and desire to be the best, etc.
As for the recognition, I feel very honored to be mentioned in the same breath as someone who's as accomplished as he is. I think it's a little premature because I feel like I'm just getting started and am ready to really explode in 2011. I guess the more success I have on the tables, the more recognition I will get. It's honestly not about that though; it's about working for something that I truly love and achieving my dreams. Poker is my passion and I hope to continue to succeed with my passion.
Do you play online? If so, how do you find yourself adapting to live play versus online play?
I do play online. I actually won the Nightly Hundred Grand on PokerStars in November for $23k. That was actually more rewarding than any other scores that I've had over the past few months, other than the Borgata victory. Online is a much tougher game in my opinion. I was really proud of that victory, for sure. Now with saying all of that, I do believe the game of poker is still the same game, whether it be online or live. I do feel like live poker fits my game and my personality better than online though. I'm never going to be that guy who will grind five to six days a week, 12 hours a day on my laptop. It's not who I am. I will, however, get pumped up for the FTOPS on Full Tilt or the COOP tournies on PokerStars and am willing to grind those pretty hard. Other than that, I don't play much online except the occasional session.
I do feel like the best tournament players in the world should be and do beat the live and online game. They don't always go hand-in-hand though, but I feel like in my case being a live player first and transitioning into online poker was the best situation for my game. Some of the best players today transitioned from online to live so really it doesn't matter either way. If you're one of the best tournament players, you will succeed whether it be online, live or both.
With 2010 behind us, what are your goals moving forward into the new year? PCA, Aussie Millions, stick to the circuit events? Which events do you have your eye on specifically, if any, and where do you want to be at this time of year in 2012?
I am really looking forward to a breakout 2011. I will be skipping PCA and the Aussie Millions and continue to travel the circuit here in the states for now. I plan on going to Oklahoma, Tunica and Florida and will see how I'm running/feeling after those three stops before I continue to travel the circuit. My goal is to wrap up a guaranteed seat into the National Championship freeroll by April.
I would like to allow myself four to six weeks of rest (a.k.a. nontravel time) before that tournament and obviously the WSOP follows that tournament, so I want to be fresh and well rested. The rest of year, I will play it by ear. This time next year, I hope to be the player of the year. I think if I work hard enough and travel to enough tournaments, I have a real shot at that title in 2011. One thing is for sure, I'll be in contention for the title.
Everyone's got someone who has helped them out with their game, whether it be tips, analysis and strategy advice or simply encouragement from the rail. Who's helped you out with your game the most? Who have you learned from and turned to for advice in poker?
I have some solid poker friends that I consult with when talking poker strategy. I have a group of friends who are primarily live players and a few who are primarily online players. I like to get the best of both worlds when it comes to advice in regards to strategy. I will take all their opinions in and go from there. Even if I disagree with one's analysis of a hand and/or strategy, it still helps me get an idea of what some people might be doing in certain situations in future tournaments. If a really solid online pro friend of mine has a particular strategy (i.e. reshove ranges, 20 big-blind opening ranges, positional shove ranges, etc.) I might run across a player in a tourney whom I believe to be a solid player who has that same range in mind and I'll play my hand accordingly.
The two most influential people in my life and career as a poker player have been my parents. [They are] far and away the most influential people in my life and they have supported me completely throughout the years. I wouldn't be able to pursue this game as a career without their love and support and for that I am forever grateful.
Who do you respect the most in the game and do you have any tips you'd like to share with us?
I respect everybody who makes a living playing poker. Honestly, it's very difficult to make a living playing this game. I love poker and I love the freedom that it allows me in my life, but it's definitely not the easiest way to earn a living. So in that regard, anybody who makes a living and sustains a comfortable living through poker as their sole income, I definitely respect.
As a followup to that idea, I believe successful professional poker players are those who have a strong work ethic, love the game, obviously, are ultra competitive, and most importantly, have good bankroll management skills. Staying confident in yourself is also a must. Even when I was going through a rough patch in my game and running badly, my confidence never wavered. Last, if you want to be great at this game, it can be attained through playing and studying the game as much as humanly possible and dedicating yourself 100% to this incredible game. My ultimate goal is to be the best and I will work harder than anyone to achieve that goal.
To follow more of Calenzo's success and everyone else's, as well, be sure to stick with our Live Reporting Team as we cover the biggest and best events around the globe. PokerNews provides all live coverage of the 2010-2011 WSOP Circuit so don't miss out!