PokerNews Interview: Catching Up with WSOP-C Regular Chris Tryba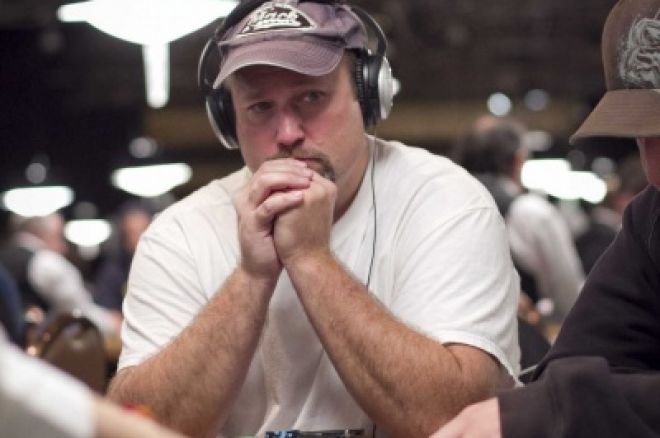 This past Sunday, the Main Event of the World Series of Poker Circuit Harrah's Tunica kicked off with 480 players. One of those entries was a likable grinder who travels from stop to stop on the long, grueling Circuit in the hopes of qualifying for the WSOP-C National Championship $1 Million Freeroll. His name is Chris Tryba and he is no stranger to poker.
To say that Tryba is a Circuit regular is an understatement. Last August, he left his home in Vegas to follow the WSOP-C and hasn't returned home since. He simply packed his car, found some friends, and hit the road, driving to whichever casino offered the best action. While it is a tough lifestyle, Tryba has managed to find some success. He has four WSOP cashes in Vegas totaling $48,353 and an even more impressive 14 WSOP-C cashes, good for $170,444. His biggest score of $51,350 came during the 2009/2010 WSOP-C when he finished second to Gabriel Cook in the $5,000 Main Event of the Horseshoe Southern Indiana stop. So far this year, Tryba has strung together six cashes on the circuit and accumulated 65 points on the National Leaderboard.
PokerNews had the chance to catch up with Tryba at the WSOP-C Harrah's Tunica stop and ask him a few questions about the life of a circuit traveler.
Can you tell us a little bit about yourself, like where you're from, how you got into poker, etc.?
I'm from just west of Boston, small town called Sturbridge, where I also started playing cards with friends and family. My parents have never gambled other than an occasional scratch ticket . . . me, well I guess it's in my blood. I remember around nine or ten I was playing "poker" with a neighborhood friend and I beat him for several albums, Foreigner's "Cold as Ice" and The Kinks "Low Budget" are the only two I remember. I still have them but haven't looked at them in a long time.
It wasn't until after college that I got serious about "real poker" around '98-'99. I would make an occasional trip to Foxwoods and donate in the pits. One day I stumbled in the poker room and haven't left yet. At first I found I lost a lot less in the poker room, then I met some good friends, that are still friends today, and we just wanted to crush the game, so we read, talked and got better. All of which I continue to try and do today. It's not an easy gig!
You're a regular on the WSOP Circuit. What attracted you to the WSOP-C? What are your goals? Are you aiming to qualify for the National Championship?
I started following the Circuit this year only to qualify for the $1,000,000 Freeroll. It's pretty much the only reason I continue. Once I set my sights on something, I sort of get tunnel vision.
Have you had the chance to meet any friends while traveling the Circuit?
I have made a few new friends. It is always nice to meet new people.
What can you tell us about your good friend, and fellow Circuit regular, Kevin Calenzo?
Kevin and I have become great friends since we left Vegas in August, that'll sort of happen when you drive from stop to stop, that, or one of us kills the other. Most people probably don't know that he travels and sleeps with a teddy bear [laughs].
Have you been to all the WSOP-C stops so far? Which stop has been your favorite and why? Which has been your least favorite and why?
I've been to all except Lake Tahoe, which bums me out because that is one of the most beautiful spots on earth and reminds me of my time living in Switzerland. But, as I had my car in Biloxi, Tahoe started the day after that event, and Atlantic City started right after Lake Tahoe, it was a gross scheduling spot.
From a players perspective Hammond was far and away the best due to all the added money. We also rented a decent apartment two miles away, so it was a fun stop. A close second was Biloxi as we rented a sweet spot in Ocean Springs and got to check out the ocean on our drive in over the bridge. My least favorite, hmmm . . . well, I don't know. They sort of all blur together. I guess they all fit the same category since my main goal is to make money. Unfortunately, that's not happening.
What has been your favorite moment on the Circuit thus far?
Poker wise, railing Calenzo in his second-place finish in [Southern] Indiana [to [B]Charles "Woody" Moore[/B]. Fun times. Life wise was Biloxi. I love the ocean.
Can you give us an idea of what sort of grind it can be traveling the circuit?
Well, you know about the traveling part of the grind for the most part, but when I have to win to eat, I think it adds to the grind a little bit. I've always loved traveling so that part sits well with me. Being able to drive all over allows me to travel with things that make life a little better. However, I don't think the average player, who doesn't travel, understands how difficult it can be.
To be honest, [grinding the Circuit is] probably not going to work for 95 percent of the people out there, maybe higher. But I am single, without kids, and I get to combine two loves, travel plus poker. So it is ok for me. I'm really looking forward to the West Palm Beach stop. I think that'll be my favorite stop as I'm going to get some scuba diving in as they have the best drift diving anywhere.
What are your plans for the rest of 2011? Can we expect to see you in Vegas come the WSOP?
Well, I live in Vegas so, yes, I'll be there. Although I haven't been there since August. Until then, I'll see you on the Circuit including West Palm Beach, Caesars Atlantic City, and St. Louis for sure, or until I qualify. I figure I'll need another 55 points, a total of 120 or so, to do it. The ice has to melt eventually.
There are still a number of stops remaining on the 2010/2011 WSOP-C schedule. Be sure to follow us on Twitter and like us on Facebook for all the updates from the circuit trail.
Executive Editor US, PokerNews Podcast co-host & 2013 WSOP Bracelet Winner.