World Series of Poker Circuit Harrah's New Orleans Day 3: Poche Plays Hometown Hero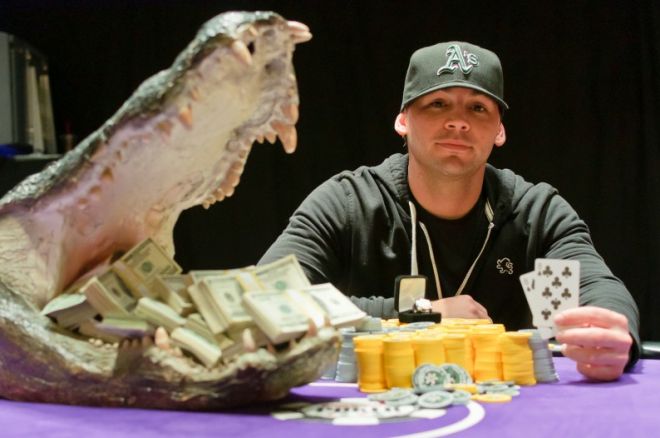 The final Main Event of the 2010-2011 World Series of Poker Circuit season is in the books. A total of 382 players turned up with $1,600 to spend on Monday, and three days later, a champion has been crowned. Emerging from the unusually quick final table with all the chips was Jonathan Poche, a 29-year-old poker pro from nearby St. Martinville, Louisiana.
Day 3 dawned with ten players after a stalemate on Day 2 forced play to be called around 2:00 a.m. When everyone returned twelve hours later, the action was still hard to come by for a while. It took more than an hour to find the first big confrontation, and it was the self-proclaimed "man of leisure" Lance Craig who fell victim. It took a serious cooler to break the deadlock. Craig confidently stuck his money in with
, only to see the chip leader Todd Wood snap him off with
. "That's not fair," tournament director Steve Frezer chimed in on the mic. The
board missed Craig, and he was out in tenth place on the bubble of the official final table. Wood's chip lead was growing.
Once Craig departed, the floodgates seemed to open. Just a few minutes later, the elder of the table, Jim McBride dropped out next. He had less than 15 big blinds when he was eliminated with
. He seemed content to flip for the double up against Wood's
. A queen on the flop was a disaster for McBride, though, and he could not catch up as the board ran out
to seal his elimination in ninth place. Wood seemed unstoppable.
The next man to fall was one of the betting favorites. Even with a middling stack as was the case today, Matt Waxman knows his way around the table, and he was the most accomplished player in the room until his elimination in eighth place. Waxman was whittled all the way down to just five big blinds when he stuck it in with
under the gun. Bobby Toye found
in the hole, and the
board was the end of Waxman's day. You'll see him again next week, though. Waxman took down the Main Event in Atlantic City earlier this year, locking up one of the 100 coveted seats in the National Championship at Caesars on May 27.
The chips were passed back and forth for the rest of the level until another flurry of action broke out. Billie Payne was eliminated in seventh place when his
ran up against Poche's
to no avail. Right behind him, Jake Bazeley three-bet shoved
into Wood's
to end the run of "Bazeman" in sixth place. He's made a few million dollars playing online, but has yet to taste victory on the live felt. Scott Zakheim's stack never moved all day as he did a fair job of laddering himself to a fifth-place finish. The fittingly tan Floridian had a chance to climb back into the match when he called off his last 17.5 big blinds. His
was racing against Poche's
. The board never materialized, though, coming
to reduce the field to four.
Todd Wood managed to retake the lead during four-handed play, but Josh Evans soon wrestled it away. Wood made a bit of a misstep when he was committed with
facing a five-bet shove from Evans. It wasn't much more to call, and Evan's
held as the board came
to swap Wood to the bottom and Evans to the top. In the midst of a volatile few hands, Evans was promptly crippled when he called Toye's shove with
. Toye wasn't messing around with
, and his cowboys held to drag the largest pot of the tournament and polarize the match once again.
Evans and Wood were battling for the bottom spot by that point, and Evans'
would take care of his rival's
to send the start-of-day chip leader out with a fourth-place cash worth $40,573. The knockout pot put Evans back in contention, but both he and Poche were still trailing Toye by a wide margin. About that time, the blinds were making an enormous jump to put the pressure on the stacks, and it sparked the final sequence of hands for the table. The two short stacks raced with Evans'
falling to Poche's
to all but end his day. Poche got his opponent's last few chips on the next hand, and he did not relent once he got ahold of the chip lead.
The heads-up match began with the chip stacks nearly even, but every big pot went to Poche's corner during the quick scrum. Within an hour, Toye had fallen from 3.5 million to just 860,000, and the last of his chips went into the middle preflop with
. Poche was lucky enough to wake up with
and called. The
board is the one that gave Poche the title. Toye, from New Orleans, collected almost $75,000 for finishing runner-up.
As straight-forward as that story reads, it was something of an unusual final table. The best hand held up in every all-in showdown — how often can that be said? — and the two most accomplished players were out within the first two levels. In the end, it was Poche, playing at his first career final table and sitting quietly alone with all the chips stacked neatly in front of him. His timing was impeccable Wednesday, and he certainly handled the setting and the pressure with admirable confidence. Formerly an oil field engineer, Poche has struck it rich in New Orleans, locking up a seat in the National Championship, a new piece of jewelry, and $121,017 in cash. Congrats to the new champ!
| Place | Player | Prize |
| --- | --- | --- |
| 1 | Jonathan Poche | $121,017 |
| 2 | Bobby Toye | $74,783 |
| 3 | Josh Evans | $54,644 |
| 4 | Todd Wood | $40,573 |
| 5 | Scott Zakheim | $30,595 |
| 6 | Jake Bazeley | $23,416 |
| 7 | Billie Payine | $18,185 |
| 8 | Matt Waxman | $14,324 |
| 9 | James McBride | $11,441 |
| 10 | Lance Craig | $9,263 |
That's all from the Main Event, but we're just getting started in New Orleans. The $10,000 Southern Regional Championship begins at 1200 CDT (1900 GMT) on Thursday, with four great days of poker in store. Follow us on Twitter, too!