The Nightly Turbo: How Many Will Enter the Main Event, Annie Duke the Author, and More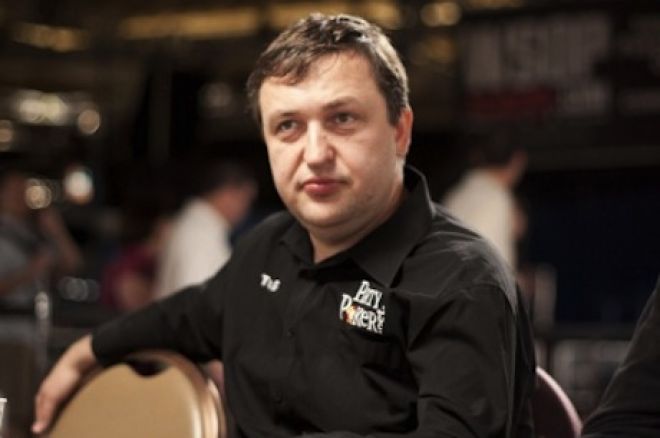 We like contests. So when we found out about the latest one from Tony G, we were pretty excited about it - especially since we don't really have to do much to enter. We'll tell you about it, give you the details on Annie Duke's new book, and more.
In Case You Missed It
Sunday marked the first online poker Sunday since the 2011 World Series of Poker started. What was the effect on the numbers and who took home the massive prizes? Find out in the Online Railbird Report.
FSN's coverage of the World Poker Tour continued this weekend with the LA Poker Classic. DVR not record the show? Poor you. Catch up on what you missed in our WPT recap.
Three bracelets were awarded on Day 6 of the 2011 World Series of Poker. Want to know who took home WSOP gold? Check out the WSOP recap.
Has Senator Jon Kyl changed his mind about online poker?He may have.
Pick a Number, Any Number
We're notorious for betting here at PokerNews HQ. Most of our bets are just for fun, but sometimes they get serious - like who gets to install these.
Anyway, Tony G wants to give you $50, but only if you can guess the correct number of entrants in the 2011 World Series of Poker Main Event. All you have to do is read this blog entry and post your prediction in the comments section. The person closest to the official number gets $50 deposited to his or her account.
If you want to check out odds before you make your decision, here they are:
| Entrants | Odds |
| --- | --- |
| 4,000 or less | 4/1 |
| 4,001 - 4,999 | 6/4 |
| 5,000 - 5,500 | 2/1 |
| 5,501 - 6,500 | 7/2 |
| 6,501 - 7,000 | 5/1 |
| 7,001 or more | 8/1 |
The G is going with 3,999. Tell him what you think of his pick on Tony G Twitter. And make your decision known in the comments section of his blog.
Decide to Play Great Poker
Annie Duke's new book, Decide to Play Great Poker is officially released on June 7, but has already been released on Kindle. If you're more of a "real book" person, you can order it on Amazon.
In anticipation of the release, Duke was posting excerpts from the book on her website. She also detailed the approach of the book and says that it is a different take on the game of poker and and looks at the decision making point of view.
"The goal of the book is to get the reader to really start playing purposeful, goal oriented poker, problem solving situations, understanding deeply all the factors that good play in a hand depend on. As an example, much of the book is dedicated to post flop play but in a way which really gets the reader to understand how small changes in a situation can drastically change how a hand is played."
If you want to check out some of the excerpts, head on over to AnnieDuke.com, and if you want to order it, do so at Amazon.com.
From Online Site to Affiliate
In the months since Black Friday, Victory Poker has gone from an online poker room to an affiliate site for Cake Poker.
"The brand will continue doing strategy, news (and) videos as an affiliate site," Dan Fleyshman, CEO of Victory Poker, wrote on his Facebook page. "I will be focusing much more on my upcoming charity, consulting other companies and helping with Victory marketing."
As of June 1, players were told that their accounts had been migrated to Cake Poker accounts and all funds, Gold Cards, and Gold Chips would be transferred.
Want to know more? Head on over to CasinoCityTimes.com.
The Aftermath
While everyone is focused on the stories coming out of the 2011 World Series of Poker, we still have to remember that there are players affected by Black Friday. Brian Mogelefsky from Charlotte, North Carolina, is one such player. He started playing poker after the real-estate bubble a couple of years ago. After taking up poker, he was spending more time with his kids and this year was on pace to bring in $80,000 to $90,000. And then April 15 arrived.
"If I was single and on my own it would be a lot easier to deal with, or if it was just like a hobby. But it's my wife and my kids who depended on me – that's why it really hurts," Mogelefsky said.
Mogelefsky plans to go to Las Vegas to try his hand at the cash games at the World Series of Poker but isn't too happy with possibly having to make the transition to live poker.
"It also sucks because I will be forced to be away from my wife and kids. I have never been away from them for longer than two days."
Find out more about Mogelefsky's story at FoxNews.com.
Strategy with Gavin Griffin
Kristy Arnett caught up with Gavin Griffin during Day 1b of the $1,000 No-Limit Hold'em event Sunday. He recounted a hand he played during the event and broke it down for us. We know how much you guys like strategy.
Are you following us on Twitter? How about Facebook?