The Nightly Turbo: Wynn Classic Kicks Off, Commerce Million Dollar Tournament, and More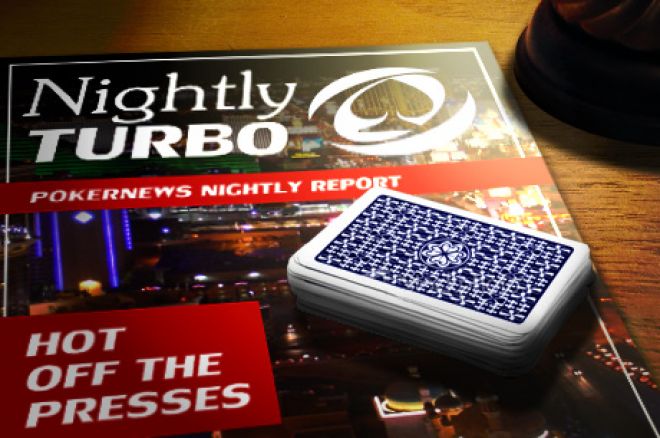 If you're looking to take a day off from the 2011 World Series of Poker, you might want to check out the Wynn Classic Summer Guarantee events. We'll give you those details and tell you about Commerce Casino's Million Dollar Tournament that is currently running. Keep reading for more.
In Case You Missed It
Jason Mercier added to his World Series of Poker bracelet collection on Wednesday. Find out what event he topped and everything else that happened on Day 23 of the 2011 WSOP in our daily recap.
It's no secret that poker players are backed and staked. Ever wonder about the percentages and how it all works? We did, so we spoke with Faraz Jaka about it.
Our video team puts together numerous videos a day during the WSOP. We'd like to think you watch all of them, but just in case you don't, here are Lynn Gilmartin's top videos from week four of the WSOP.
A Summer with a $1 Million Guarantee
The Wynn Poker Summer Guarantee kicked off on Thursday. The WPSG (yes, we shortened it because we're lazy) is a series of daily tournaments that runs from June 23 through July 12.
Each day at 1 p.m., a $50,000 guarantee tournament kicks off. The buy-in for the tournament is $250 + $25 and it features unlimited rebuys through the first four levels and an add-on. The WPSG is guaranteeing $1 million over the 20 events.

If you're a structure nit or want to know more about the tournament, you can head on over to WynnPoker.com.
Commerce Casino $1 Million Guarantee
While a lot of you may be braving the Las Vegas sun for the 2011 World Series of Poker, those of you who haven't made it out yet might be interested to know about another tournament going on. Commerce Casino is currently holding its Million Dollar Tournament, where $1 million is guaranteed and first place will take home a whopping $250,000.
After speaking with tournament director Matt Savage, we've learned that 927 players have signed up for the $335 buy-in event through the first four starting days. Registration is still open and Commerce is running nightly mega satellites that are guaranteeing anywhere from 50 to 100 seats. At the moment, a $300,000-$400,000 overlay is expected.
"The management at the Commerce is standing by its word, not adding extra heats or putting players in to make the guarantee. We have the strongest reputation in Los Angeles and maintaining it is our number one priority. The Commerce is not afraid to take chances, and if we fall flat it only benefits the players which we can live with," said Savage.

We don't want to tell you what to do, but if we were you, we'd probably head out to Commerce Casino and get in on this action.
Inside Deal
ESPN'sInside Deal is back this week with a look at the goings on at the 2011 World Series of Poker. Jon Anik and Andrew Feldman discussed Jason Mercier's bracelet win, Phil Hellmuth's second second-place finish, and more.
Must Be Nice
Spencer Cossette plays a lot of poker and has two Porsches to show for it. In 2005, he deposited $50 on PokerStars and hasn't looked back. He's earned Supernova Elite status three times since his initial deposit and is a sit-n-go specialist.
"I can find a game 24 hours a day and be playing within minutes," Cossette said. "I can basically stop playing at any time. I don't know how guys can play MTT's and be stuck at the computer for 10 or more hours."
If you've ever perused the FPP store on PokerStars, you know that among the keychains and t-shirts, there's a Porsche available to "buy." With all the FPPs Cossette earned he managed to get a Porsche Cayenne a few years ago.
"I decided to get the first Porsche to motivate me to play more hours which thus would make me more money and also more points," he said. "I guess it was sort of a reward for my hard work and also it was--and still is--the best value per FPP from the store."
He gave the Cayenne to his parents and is now the owner of a Porsche Panamera, worth about 5 million FPPs or $75,200 MSRP. Must be nice.

Check out Cossette's entire story on the PokerStars Blog.
Rowdy Rails
Jason Mercier has one of the rowdiest rails we've seen in a while. Check out the video below to find out what we mean.
Follow us on Twitter for up-to-the-minute news.