WSOP Rookie Roundup Recap: 2 Final Tables, 10 cashes, & $381,278 Won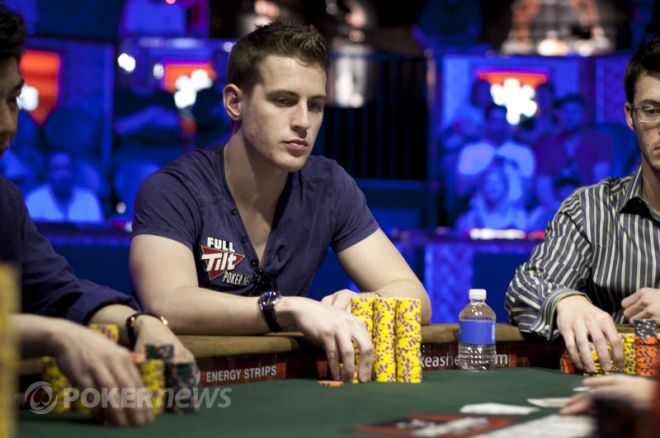 With the 2011 World Series of Poker in the books, at least until November, we thought it was time to sit down and have a look at our Rookie Round-Up predictions from May. For those who may not know, the Rookie Roundup is an annual series of predictions featuring players who are making their WSOP debut.
Traditionally, the Rookie Roundup, compiled by members of Team PokerNews, has proven accurate and successful; in fact, in 2010 we successfully predicted two bracelet winners. While last year's foresight was evidenced by some impressive performances, this year's failed to bear the sweet fruit that is WSOP gold.
That's not to say our latest lineup didn't do us proud. Many of our selections lived up to expectations, but we admit that a few failed to impress. Shown below is a look at our Rookie Roundup selections and how well they performed, or failed to do so, at the 2011 WSOP.
Mike "Timex" McDonald – 2 cashes for $94,664

Event #35 $5,000 Pot-Limit Omaha/Six Handed: 6th ($73,965)
Event #42 $10,000 Pot-Limit Omaha Championship: 32nd ($20,699)
Kyle Cartwright – 1 cash for $64,788

Event #32 $1,500 No-Limit Hold'em: 8th ($64,788)
Toby Lewis – 2 cashes for $54,258

Event #7 $10,000 Pot-Limit Hold'em Championship: 11th ($40,890)
Event #24 $5,000 No-Limit Hold'em Shootout: 23rd ($13,368)
Mickey "mement_mori" Petersen – 3 cashes for $36,157

Event #15 $1,500 No-Limit Hold'em: 26th ($7,043)
Event #20 $1,000 No-Limit Hold'em: 247th ($2,114)
Event #28 $1,500 No-Limit Hold'em: 15th ($27,000)
Brendon "Brendooor" Rubie – 1 cash for $31,135

Event #40 $5,000 No-Limit Hold'em/Six Handed: 13th ($31,135)
Zach "HustlerGrune" Gruneberg – 1 cash for $5,612

Event #14 $3,000 Limit Hold'em: 35th ($5,612)
Out of the eight players, two were skunked and failed to notch a single cash. Taylor von Kriegenbergh's and Daniel "jungleman12" Cates' performances certainly didn't lend our prediction skills any accolades; however, it is on par with our past Rookie Roundup selections (neither Ashton Griffin nor Luke Schwartz cashed in 2010).
Not surprisingly, the top two performers were the same players who accounted for the pair of final table appearances: Mike "Timex" McDonald and Kyle Cartwright. The latter, who rose to fame on the WSOP-Circuit, is new to tournament poker and only played the small buy-in no-limit hold'em events this summer. Being a no-limit hold'em specialist who had planned to play the "donkaments," made Cartwright a high-risk/high-reward pick. With that said, we weren't surprised to see the 23-year-old final-table a $1,500 event, ultimately finishing eighth for $64,788.
The other name is much more recognizable to the poker masses. McDonald rose to fame online but made a successful transition to live poker when he took 14th in the European Poker Tour Prague in 2007. With his first cash out of the way, McDonald proceeded to add a major title to his résumé when he won the EPT Dortmund for $1.37 million, making him the youngest EPT champion at 18. By the time he turned 21 and headed to Vegas, McDonald already had over $2.7 million in live career earnings.
The man known as Timex quickly proved himself on poker's biggest stage when he went deep in Event #35 $5,000 Pot-Limit Omaha/Six Handed, eventually making the final table, which included heavyweights Jason Mercier and David Chiu. It was against the latter that McDonald met his demise after getting his short stack all-in preflop with
against Chiu's
.
The board ran out
and Timex was eliminated in sixth place for $73,965. Not a bad showing to say the least; especially considering that he went on to add another cash in the PLO Championship, more than proving his mettle in that game.
Rounding out the Rookie Roundup lineup were Toby Lewis, Mickey Petersen, Brendan Rubie, and Zach Gruneberg. The first three each put up five-figure scores, while Gruneberg earned a min-cash. It's worth noting that Lewis barely missed out on his first WSOP final table, finishing 11th in the Event #7 $10,000 Pot-Limit Hold'em Championship. With an impressive performance so early in the summer, it seemed as though Lewis was primed to score big in 2011. Unfortunately, he added just one other cash in Event #24 before bricking the remainder of the Series.
All told, the PokerNews' 2011 Rookie Roundup roster attained a modest level of success. The eight players combined for two finals tables, 10 cashes, and $381,278 in winnings, although that is a far cry from last year's stats of two bracelets, four final tables, 21 in-the-money finishes, two Main Event cashes and over $2.4 million profit. It may have been an off year for us, but we guarantee we'll be back in 2012 with a fresh lineup of rookies for the 43rd Annual World Series of Poker.
Are there any rookies you were surprised by during this year's WSOP? If so, be sure to use the comments section below to tell us why; in the meantime, be sure to follow us on Twitter and like us on Facebook.