Around the World with Lynn Gilmartin: LAPT Punta del Este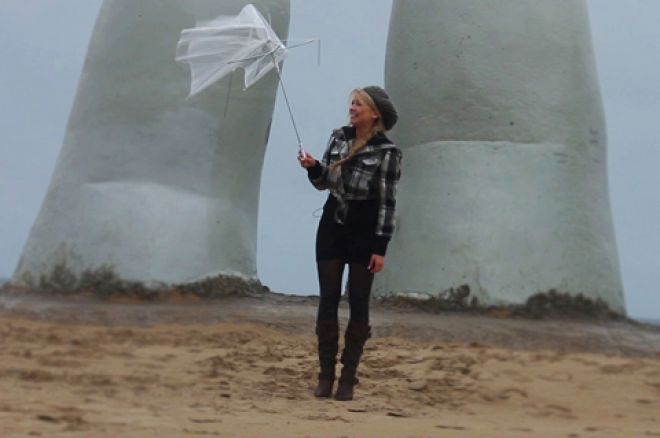 I've been in Punta del Este, a.k.a "Punta," for two days now, staying at the luxurious Mantra Resort, Spa and Casino, which is once again the host of the PokerStars.net Latin American Poker Tour. After the epic journey here from Australia, I couldn't have been happier to check into my room on Tuesday night and have a solid night of sleep, considering that it had been about 50 hours since my last one! I bounced out of bed on Wednesday morning ready to explore. The Mantra is an awesome resort tucked away on a hill in the hip little town of La Barra, about a 10-minute drive from downtown Punta.
Punta del Este is known as the Miami of South America, obviously because of the coast surrounding the long, thin strip of this party town. Although because it is the middle of winter here, we're not quite able to enjoy what Punta is most famous for - beaches fully equipped with beach parties. As you can see in the picture above, I struggled to even keep my umbrella together! If that's the kind of trip you're looking for, then this is a must-visit between November and March. As for now, it's not the time of year to be enjoying the outdoors, but there's plenty more to do.
Punta del Este is the most exclusive resort town in this corner of the world, which comes hand in hand with indulgent day spas. This is also home to many artists, particularly Carlos Páez Vilaró, the crafter of one of Uruguay's most popular tourist attractions. Just over 10 kilometers from downtown Punta is Casapueblo. Once Vilaró's home, it is now a gallery, and only a few years ago, a hotel was added. The architecture of this living sculpture is stunning, like something you would think to find on a Greek island.
Despite being in South America, which is notorious for providing inexpensive holiday destinations, that's not quite the case in Punta. This is the place where Argentina's rich and famous go to buy their Louis Vuitton and Fendi. With that comes overpriced meals. On Wednesday night, a group of us went to a cozy restaurant by the water called Company. The pizza was nice, the shrimp was horrible, and the wine was amazing. My mixed emotions were then settled on dissatisfaction after receiving the check! However, I did have an awesome (and cheap) Chivito for lunch at a little cafeteria downtown called La Pasiva. A Chivito is a Uruguayan specialty and can be as simple or as extravagant as you want. If you're not fussy about your ingredients and love your food to be loaded with the works like I do, then you will love Chivitos! You can take a look at all of these adventures, plus more, in our following tour of Punta.
As for the poker, Day 1 is done in the Main Event. We've lost the defending champion Jose "Nacho" Barbero and his fellow Team PokerStars Pro Angel Guillen, both of whom were sharing the same table. Before their departures, we filmed the following feature, quizzing them on each other. Nacho accused me and the PokerNews cameras of being cursed. It's a common accusation that the PokerNews hostesses hear, but perhaps it's true because neither of these guys survived the rest of the day!
Click over to the PokerNews Live Reporting page for more coverage of the PokerStars.net LAPT Punta del Este, and follow @PokerNews_Live on Twitter for all the action from the event.